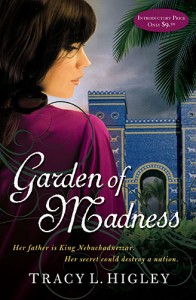 Synopsis:~
For seven years the Babylonian princess Tiamat has waited for the mad king Nebuchadnezzar to return to his family and to his kingdom. Driven from his throne to live as a beast, he prowls his luxurious Hanging Gardens, secreted away from the world.
Since her treaty marriage at a young age, Tia has lived an opulent yet oppressive life in the palace. But her husband has since died and she relishes her newfound independence. When a nobleman is found murdered in the palace, Tia must discover who is responsible for the macabre death, even if her own freedom is threatened.
As the queen plans to wed Tia to yet another prince, the powerful mage Shadir plots to expose the family's secret and set his own man on the throne. Tia enlists the help of a reluctant Jewish captive, her late husband's brother Pedaiah, who challenges her notions of the gods even as he opens her heart to both truth and love.
In a time when few gave their hearts to Yahweh, Tia must decide if she is willing to risk everything-her possessions, her gods, and her very life-for the Israelites' one God. Madness, sorcery, and sinister plots mingle like an alchemist's deadly potion as Tia chooses whether to risk all to save the kingdom-and her family.
My take:~
Ancient history, palace intrigue, life threatening faith and a dangerous attraction combine to make Tracy Higley's Garden of Madness an enthralling and powerful read.  Bringing to life the famous hanging gardens of Babylon with a credible story of what might have been in the latter years of Nebuchadnezzar's madness, Higley populates her story with complex characters molded by their culture and beliefs.  The interplay between Tiamat and Pedaiah is fascinating as the Babylonian princess finds it hard to fathom that a Jewish man held captive by her kingdom can be so proud and defiant. I loved her courage and determination, reflected in her love for her father and her search for truth.  Higley's portrayal of Daniel reveals him as a wise and measured man, patient with the slow revelation of God's prophesy about his people and their captivity.  Garden of Madness is an excellent read for anyone who loves a great story in a unique setting and takes its place as my favourite Higley excellent novel.
With thanks to Thomas Nelson for my review copy
Relz Reviewz Extras
Reviews of Pompeii, Petra, Guardian of the Flame, Shadow of Colossus and City of the Dead
Character spotlights for Pompeii, Petra, Guardian of the Flame, Shadow of Colossus and City of the Dead
Visit Tracy's website and blog
Buy Garden of Madness at Amazon or Koorong