The Reading Habits
of
Cynthia Ruchti
*****
Are you a re-reader? Why, or why not? And if you are, what are some of the books you have read over and over?
I'm not normally a re-reader…and I rarely watch a movie more than once. I suppose one reason for that is because I always have an unconscionably high stack of to-be-read books and don't allow myself permission to re-read until that stack is whittled down. As they say, "So many books. So little time." Looking back on the years before I was published, before I even dreamed of being published, I re-read several of Gladys Tabor's books like Stillmeadow, Stillmeadow Journal, and others purely for the elegance in the simplicity of the language she used to describe an elegantly simple life. Her work probably informed mine in subconscious ways.
When is your optimal time to read – do you prefer to read in one long block, or do you also read for five minutes here or there when you can?
I do both, but these days find fewer of those long blocks. It's a season. That joy will come around again someday. Right now I read when I'm waiting for the car to be repaired, or waiting for an appointment or a train. I catch five minute snippets while waiting for the spaghetti water to boil or fifteen minute before I fall asleep at night.
Optimally, I'd prefer an Adirondack chair on the beach and no time limit.
I'd love your thoughts on novellas. Are you thumbs up or down? Or does it depend?
I both write and read novellas. I believe they play a distinct role—offering one subject with four or more authors' voices and viewpoints, as in a novella collection, or offering a complete story with a shorter investment of reading time if a stand-alone, single-author novella. Writing a novella is a unique challenge—a Goldilocks challenge—not too much, not too little, just right.
Are you faithful to a genre, an author, or simply quality writing?
It's interesting you asked the question that way. I appreciate many genres and many authors, but I am always drawn to quality writing—a well-told story. I lean toward most appreciating a more literary feel to the novels I read and books that tug at the taproot of emotions.
Which factors most influence your selection of a book?
Covers and titles win me over. It's rare that I bypass a bad cover (in my opinion) to read the book anyway. Again, so many books. So little time. But in a bookstore, if the cover and title pique my interest, I open to somewhere in the middle of the book and read a few lines. If I find something quotable, memorable, or intriguing within the interior of the story, I'm far more likely to take the book home with me.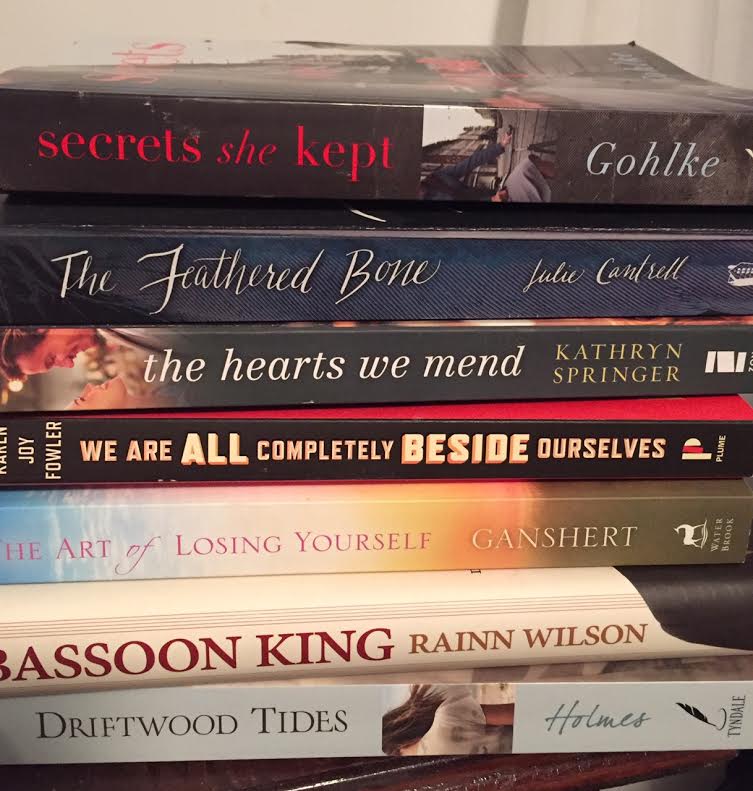 Cynthia's TBR
Your fiction pet peeve?
Unnaturally happy endings. I know some people don't mind it, but I cringe when a hero and heroine hate each other throughout the book, then in the last chapter decide they not only can tolerate each other but decide to marry. I'm all for marriage, but appreciate an unfolding of love rather than an abrupt jolt that is more like repenting from hate rather than true love.
What book have you read this year that you could not put down, and why?
I found For Such a Time by Kate Breslin unputdownable because of her writing talent coupled with a plotline that seemed at first blush familiar, but then turned completely unexpected.
How do you mark your spot – folded page corner, bookmark, dollar bill, whatever is at hand?
I sometimes use an emery board to mark my spot! If you promise not to tell anyone, I'll admit that I flip the book upside down at the open spot. Hard on the book, but also a hard habit for me to break. I fold down page corners when I find an especially quotable or memorable line but don't have a pen with me at the moment. I'm not a book conservationist's friend.
Whose debut novel impressed you more than you anticipated?
Again, For Such a Time by Kate Breslin. I haven't read her next book yet, but hope to do so soon.
When reading, what makes or breaks a story for you?
If a character acts "out of character" without a reason, I'm yanked from the story experience. Or if the actions of a character in a suspense novel depend on a character showing a lack of common sense…like going into a darkened room without turning on the lights, or going into a cobwebbed draped basement for ANY reason.
What are some of your favourite CF reads from around 10 years ago, or further back?
Peace Like a River by Leif Enger and Gilead by Marilynne Robinson for similar reasons—brilliant, emotionally evocative use of language and story. Secret Life of Bees by Sue Monk Kidd, for the same reasons.
Snack/drink of choice while reading?
Tea. Since visiting a friend who married a man from Ireland, I'm hooked on a clear, simple, but solid Irish imported tea—Barry's.
What book cover has really caught your eye?
The School of Essential Ingredients by Erica Bauermeister; Clutter Free by Kathi Lipp; and honestly, every time either Worthy or Abingdon has handed me a cover, I'm almost instantly in love. Each one more beautiful than the one before.
Which author makes it easy to turn off your internal editor?
Chuckling. Good authors keep me from being tempted to turn on my internal editor!
What book do you wish you had written? Why?
Love Comes Softly by Janette Oke, because that would mean I had started publishing in 1979 rather than in 2010!
Don't miss Cynthia's latest novel..
Song of Silence

Lucy and Charlie Tuttle agree on one thing: they're committed to each other for life. Trouble is, neither of them expected life to look like this. While Charlie retired early, Lucy is devoted to a long-term career . . . until the day she has no choice.

Forced to retire from her position as music educator in a small Midwestern K-8 school, Lucy can only watch helplessly as the program her father started years ago disintegrates before her eyes. As the music fades and a chasm separates her from the passion of her heart, Lucy wonders if her faith's song has gone silent, too. The musical score of her life seems to be missing all the notes.

When a simple misstep threatens to silence Lucy forever, a young boy and his soundless mother change the way she sees—and hears—everything.
~~~~~~~~~~~~~~~~~~~~~~~~
Cynthia Ruchti tells stories hemmed in hope through her novels, novellas, nonfiction books, articles, and devotionals, drawing from 33 years of on-air radio ministry. Ruchti has 17 books in print, and her books have received numerous awards and nominations.
One of Ruchti's greatest joys is helping other writers grow in their craft. To that end, she has served as worship and devotions staff and faculty for the Write-to-Publish conference and teaches at other writers' conferences across the country and internationally as opportunities arise. She also serves as the Professional Relations Liaison for American Christian Fiction Writers.
To keep up with Cynthia Ruchti, visit www.cynthiaruchti.com. You can also follow her on Facebook (Cynthia Ruchti), Twitter (@cynthiaruchti), and Pinterest (cynthiaruchti).

Relz Reviewz Extras
All things Ruchti @ Relz Reviewz
Visit Cynthia's website and blog
Buy at Amazon: Song of Silence or Koorong