The Reading Habits
of
Janice Cantore
*****
Are you a re-reader?
There are a few books that I have reread, but I don't do it often. Some writing books I have read over and over include The First Five Pages by Noah Lukeman, Story Trumps Structure by Steven James, and Write Away by Elizabeth George.
Some fiction titles I have read and reread are Demolition Angel by Robert Crais, Deadline by Randy Alcorn, all the Narnia books, and The Once and Future King by T. H. White.
Why, or why not?
I reread the writing books because they inspire me, especially when I'm stuck, and I guess the same could be said for the fiction. Great writing inspires me, and my prayer is that each book I write is the best I have written.
When is your optimal time to read – do you prefer to read in one long block, or do you also read for five minutes here or there when you can?
I love to read in the tub. I can soak and read for forty-five minutes and get lost in a book. I try to read a little before I go to bed, but that doesn't always happen. If I'm between my own book deadlines, I read during the day. And a smartphone is great because I always have a book to read if I'm waiting somewhere.
I'd love your thoughts on novellas. Are you thumbs up or down? Or does it depend?!
Thumbs down. I like to get into a story, so novellas just don't do it for me.
Are you faithful to a genre, an author, or simply quality writing?
Genre and quality writing. I don't have time to waste on a poorly written book. If I'm not hooked by the first or second chapter, I won't keep reading.
Which factors most influence your selection of a book?
Author is the first—like I say, I don't have time to waste on a bad book, so I gravitate to authors I trust. But occasionally I'll read a review, or a writing class will use an example from a book, and I'll pick it up. I found Laura Lippman that way, and I think she is awesome.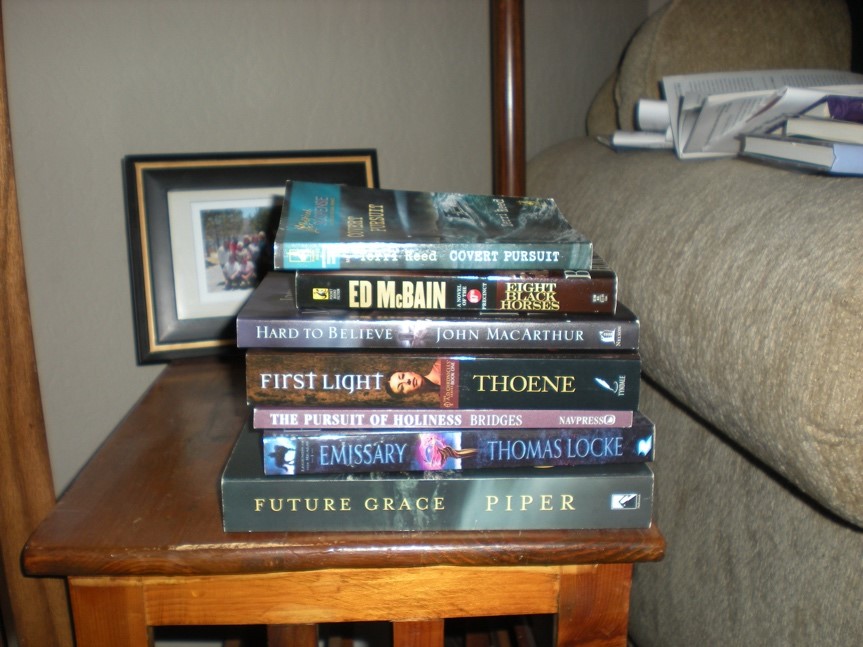 Janice's TBR
Your fiction pet peeve?
Implausibility. I hate that, especially in crime novels. A book where "shots ring out" and the shooter can disappear without a trace in a crowd, or cops written in a way that is so unreal or off base.
What book have you read this year that you could not put down, and why?
Laura Lippman's What the Dead Know was just great. It surprised me, and I am seldom surprised. (I have to provide a language warning for that book, though.)
How do you mark your spot – folded page corner, bookmark, dollar bill, whatever is at hand?
I use bookmarks.
When reading, what makes or breaks a story for you?
The characters—I must like the main character. And if I'm not invested by the second or third chapter, I put the book down.
What are some of your favourite CF reads from around 10 years ago, or further back?
Anything by Francine Rivers, Terri Blackstock, Randy Alcorn, or Frank Peretti
Snack/drink of choice while reading?
Water or tea
What book do you wish you had written?
Maybe I would say Deadline. Why? It's a page-turning thriller, and the Christian message is incredibly strong without being preachy.
Thanks Janice!
Be sure to get your hands on Janice's latest novel…
Tess O'Rourke dreams of becoming the first female chief of police in Long Beach, California. As commander of the East Division, she is well on her way . . . until the night she responds to an officer-needs-assistance call and fatally shoots an unarmed teenager. Despite being cleared of wrongdoing by a grand jury, Tess is so hounded by the public that she takes a job in Oregon to escape the bad press.

Winning over the residents of Rogue's Hollow might be more difficult than adjusting to her new role as police chief in the small, backwater town. Especially when her closest friend, the pastor's wife, goes missing and the woman's cousin is found shot. Tess finds an ally in sheriff's deputy Steve Logan, but as they track down Rogue's Hollow's first murderer, she worries that she's breaking one of her rules and getting too close to him.
Janice Cantore is a retired Long Beach police officer who now writes suspense novels to keep readers engrossed and leave them inspired. Her twenty-two years of experience on the force lend authenticity to her stories. She has penned eight novels: the Pacific Coast Justice series, Critical Pursuit, Visible Threat, and the Cold Case Justice series. Her latest book, Crisis Shot, releases from Tyndale House Publishers in September 2017. Visit Janice's website at janicecantore.com and connect with her on Facebook at facebook.com/JaniceCantore.
Relz Reviewz Extras
Visit Janice's website and blog
Enter the FALL INTO SUSPENSE giveaway
Buy at Amazon: Crisis Shot or Koorong