The lovely Karen Witemeyer shares her love of novellas, a fiction pet peeve, and a book cover that has recently caught her eye! Be sure to enter the giveaway below for a chance to win a copy of her latest, Heart on the Line!
Are you a re-reader? Why, or why not? And if you are, what are some of the books you have read over and over?
I have been known to re-read favorite books, but I usually wait about five years or more before diving in for a second helping. That way I don't remember every detail of the story and can discover new things to love about it. Now that my writing career is in full swing, though, I haven't re-read a book in a long time. Probably because I can't keep up with the new books filling my TBR pile. There's just not enough time in the day anymore.
When is your optimal time to read – do you prefer to read in one long block, or do you also read for five minutes here or there when you can?
I read non-fiction in the morning with breakfast and fiction in the evening right before bed. The non-fiction is usually spiritual in nature and gets my mind and heart in the right place before tackling the day. Then when the crazies of the day are over and the house is quiet, I tuck into a novel and savor the story before the sleepies take over.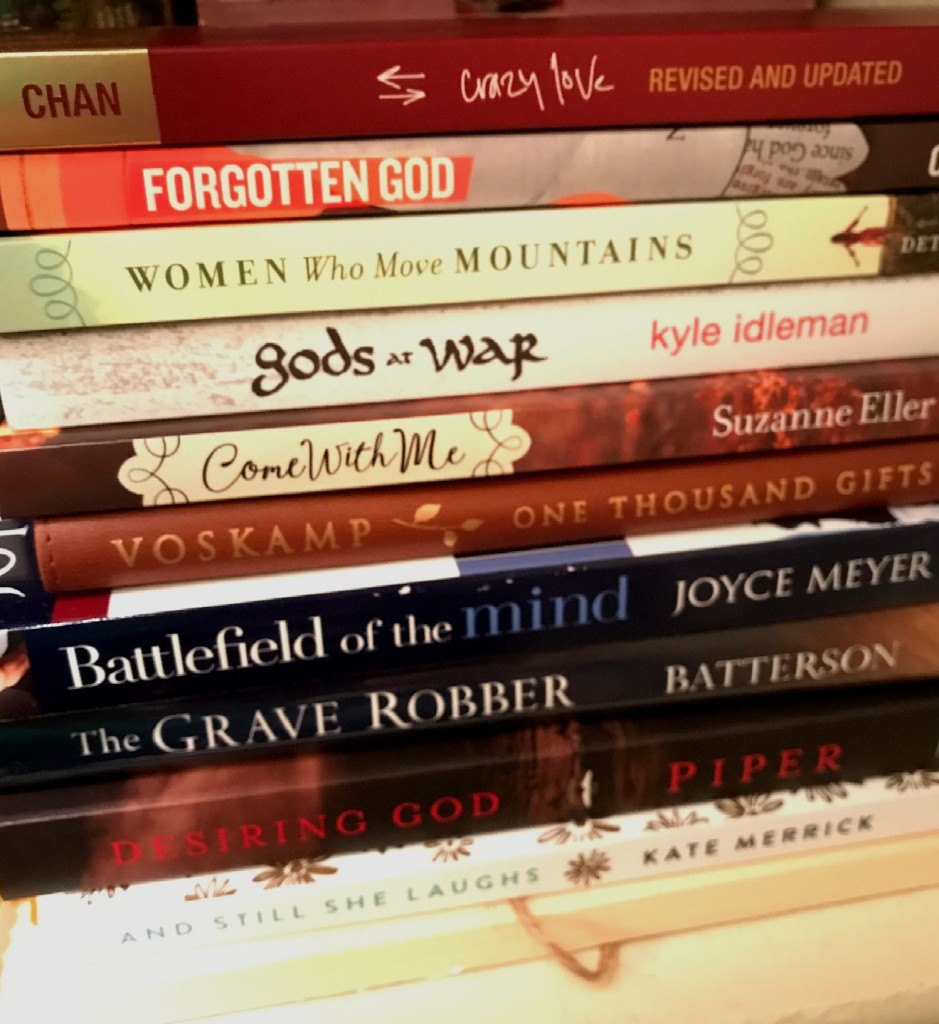 Karen's Non Fiction TBR Stack
I'd love your thoughts on novellas. Are you thumbs up or down? Or does it depend?!
I personally like novellas. I like reading them as well as writing them. I especially love novellas at Christmas. There's just something about Christmas novellas that I love. They're quick and festive and put me in the holiday spirit. It's the one time of year I actively seek them out.
Are you faithful to a genre, an author, or simply quality writing?
I am a historical romance reader, nearly exclusively. I rarely read outside this genre. It has always been my favorite, since my days with Little House on the Prairie and Anne of Green Gables. I write it and read it because I love it.
Which factors most influence your selection of a book?
Is the author a favorite of mine?
Did the back cover blurb draw me in?
Are the reviews positive?
Since I have so little free time these days, I am very picky about which books I add to my TBR pile, which means I investigate before I buy. If #1 and #2 are in place, I can skip #3. If not, #3 is the deciding factor.
Your fiction pet peeve?
I have very little patience with the romance trope of I hate him/her for 75% of the book until I finally realize that all those strong feelings were really love not hate. Maybe it is because my own love relationship blossomed from friendship, but I just don't see how a long-term happy ending can take place if you don't like/respect/get along with the person you're attracted to.
How do you mark your spot – folded page corner, bookmark, dollar bill, whatever is at hand?
Well, bookmarks are never in short supply around my house. Ha! I have boxes of them laying around. I have a collection of other bookmarks, though, that were given to me from friends and family over the years, and those are the ones I use for my personal reading. However, I have been known to use a receipt or any handy paper when in a bind. I'd rather memorize the page number than dog-ear the corner.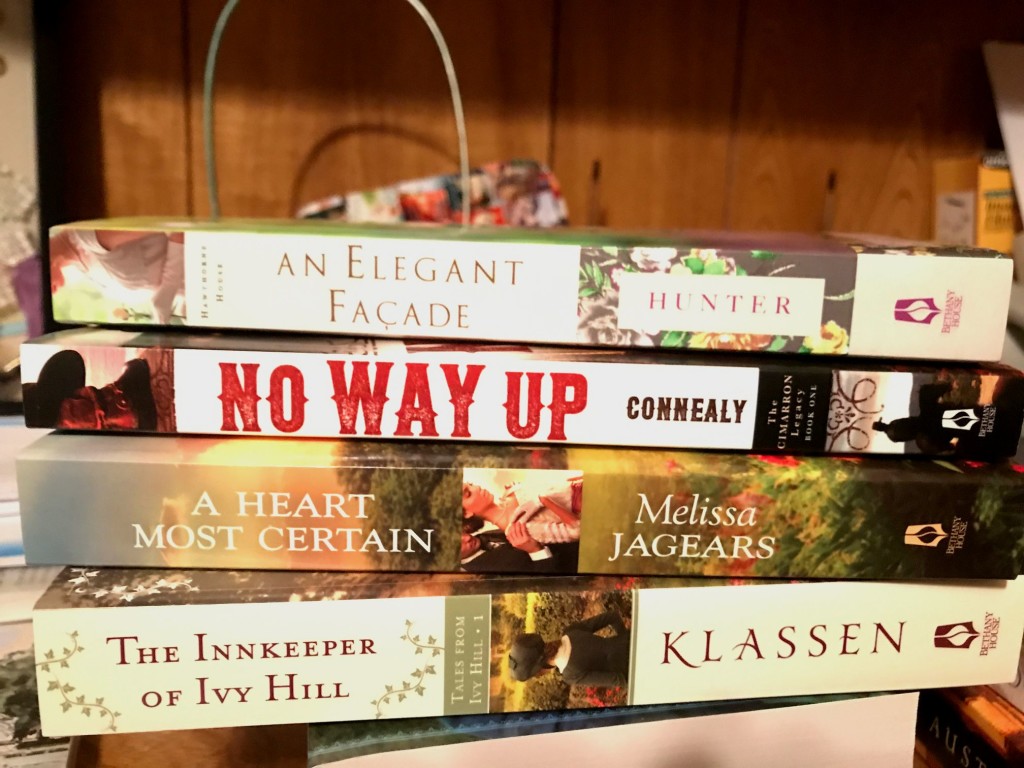 Karen's Fiction TBR Stack
What are some of your favourite CF reads from around 10 years ago, or further back?
The classic Christy by Catherine Marshall was my first Christian fiction book. I read it in high school and was immediately captivated.
Snack/drink of choice while reading?
Hot tea flavoured with honey.
What book cover has really caught your eye?
The book nerd in me really loves the cover of Roseanna White's new release, A Name Unknown. Love all those old books! That and I love historical covers where the women have updos. 😊
I recently participated in a writer's retreat in Washington, DC, and one of the highlights of the trip was touring the Library of Congress. Julie Klassen, Jody Hedlund, and I spent an hour looking at all the old books from Thomas Jefferson's collection. Hundreds of years old. So much history and knowledge encased there. Fabulous!
What book do you wish you had written? Why?
In truth – none. God gave me the stories he wanted me to tell, and wishing I received someone else's story is dangerous. It opens my heart to envy and discontent. I've fallen into that trap before, so I try very hard to avoid it. Instead, I choose to thank God for the stories he gives me, continue to pray for guidance and skill and creativity as I write, and rejoice when I see other authors making an impact on the world with the stories the Lord gave them.
Be sure to get your hands on Karen's latest novel…
Grace Mallory is tired of running, of hiding. But when an old friend sends an after-hours telegraph transmission warning Grace that the man who has hunted her for nearly a year has discovered her location, she fears she has no choice. She can't let the villain she believes responsible for her father's death release his wrath in Harper's Station, the town that has sheltered her and blessed her with the dearest friends she's ever known.

Amos Bledsoe prefers bicycles to horses and private conversations over the telegraph wire to social gatherings with young ladies who see him as nothing more than an oddity. His telegraph companion, the mysterious Miss G, listens eagerly to his ramblings every night and delights him with tales all her own. For months, their friendship–dare he believe, courtship?–has fed his hope that he has finally found the woman God intended for him. Yet when he takes the next step to meet her in person, he discovers her life is in peril, and Amos must decide if he can shed the cocoon of his quiet nature to become the hero Grace requires.
Thanks Karen!
Winner of the HOLT Medallion and the Carol Award and a finalist for the RITA and Christy Award, bestselling author Karen Witemeyer writes historical romance to give the world more happily-ever-afters. Karen makes her home in Abilene, Texas, with her husband and three children. Learn more about Karen and her books at www.karenwitemeyer.com.
Relz Reviewz Extras
All Things Witemeyer @ Relz Reviewz
Visit Karen's website
Buy from Amazon: Heart on the Line or Koorong