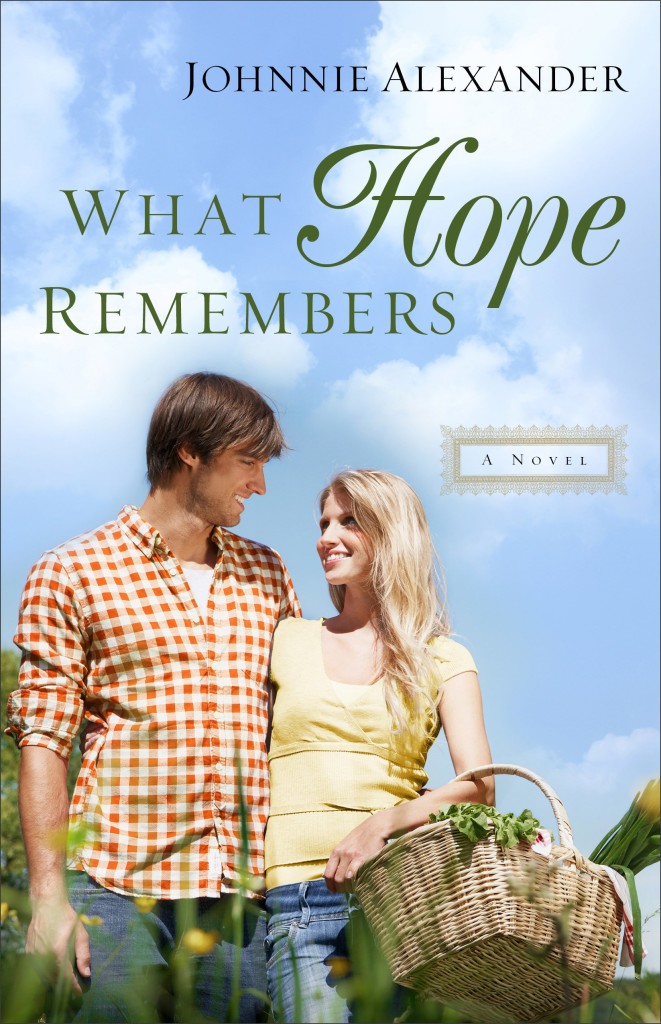 Meet a lobbyist and a former Marine in
Johnnie Alexander's
contemporary romance
What Hope Remembers
Revell
*****
The Story

When Amy Somers loses her job as a lobbyist, she moves to Misty Willow, well aware that she's crossing bridges she'd burned years before. With all the mistakes she's made and the uncaring things she's done–even to her own family–she can hardly believe that happiness will find her, especially when Gabe Kendall, her first crush and her first kiss, rides back into her life atop a buckskin mare.

A former Marine, Gabe is at loose ends after serving a prison sentence for being in the wrong place at the wrong time. He sees beyond Amy's hard exterior to the girl he once knew and loved, and he longs to see her open her heart. Yet with his vision clouded by shame for his past and fears about the future, he finds it difficult to see the path ahead.

But the memory of that long-ago kiss just may have the power to reignite a romance that brings out the best in both of them.
Introducing Amy & Gabe
Brief physical description
Amy Somers towers over her diminutive sister-in-law and she's fine with that! The sophisticated blue-eyed blonde inherited her father's Scandinavian coloring and her mother's gorgeous features. Her dimples aren't deep as her brother's but her smile is just as charming . . . when she wants it to be.
Now that he's out of the military—and out of prison—Gabe Kendall wears his brown hair just a tad too long. His hazel eyes don't miss much and he's very aware of his surroundings. Most comfortable riding his horse or driving an old Ford F150, Gabe is scruffy-handsome.
Resembles…
Is it lame to say they resemble the characters on the cover of the book? It's true, though! Unlike many authors, I only have visions of the characters in my head. I don't "cast" them as famous actors unless I'm asked to do so.
When I saw the cover, I thought: That's them!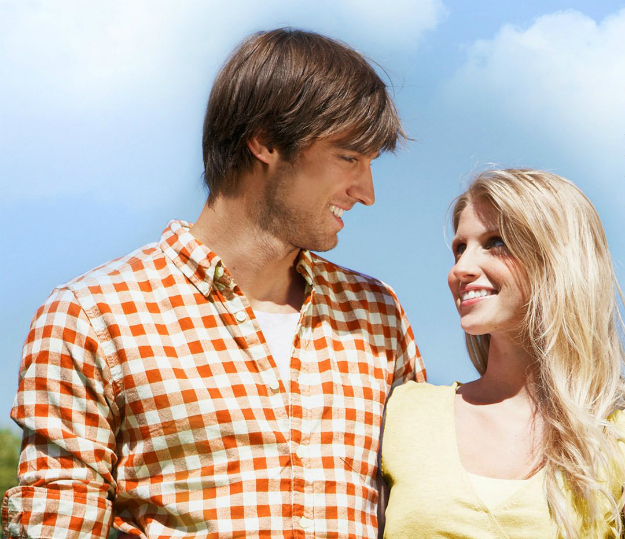 Book cover Amy has strength in her features. She's no dime-a-dozen beauty.
Book cover Gabe exudes an easy-going country charm.
Together, they're perfect.
Strengths and weaknesses
With her intelligence, political savvy, ambition, and connections, Amy was a successful lobbyist until her destructive lifestyle caused her collapse. Now she's trying to make a new start away from the state capital. Her strong sense of self and can-do spirit may seem like weaknesses when her goals create trouble for her cousin (in an earlier story). But these qualities also help her overcome the grief that's haunted her since she was a child.
Gabe's strength and weakness is the same—his loyalty. He's always got your back, and he risks his freedom and his life for those he loves.
Quirk (if any)
Gabe's life has been regimented for several years, first in the military and then in prison. He awakes at the same time every morning, is hyper-vigilant, and gobbles down his Aunt Tess's snickerdoodle cookies.
Amy slides strands of her long hair between her fingers, an unconscious gesture she's had since she was a young girl. She's a tea drinker and sensitive to her brother's misguided efforts to monitor her eating.
Your inspiration for the character
Gabe's character was inspired by "I Hold On," the country western song by Dierks Bentley. He holds on to his deceased uncle's beaten-up truck and weathered Stetson. And he holds on to his first love even when she says she doesn't remember him. (Secret: She's lying.)
Amy just happened.
She's in the first two Misty Willow books (Where She Belongs and When Love Arrives) as a secondary character. She fulfilled her role as antagonist in those stories very well. I didn't know then she'd be the heroine of her own story so I had to work with what I already had written.
Amy is first given her own voice in this story. We see her perspective and her pain, and we see her through the eyes and heart, Gabe's, of someone who knew her before she became hard and nasty. As the story unfolds, she becomes a heroine worthy of Gabe's love and respect.
Background to the story
Drive along a certain country road south of Columbus, Ohio, and you'll pass a stately brick house shaded by old trees. Built in the mid-1800s, it may have been part of the Underground Railroad. The farm has been known by a couple of names—Maple Lane, Twin Oaks—but when my family lived there during my teen years, we simply called it The Brick. (Photo, courtesy of Johnnie Alexander)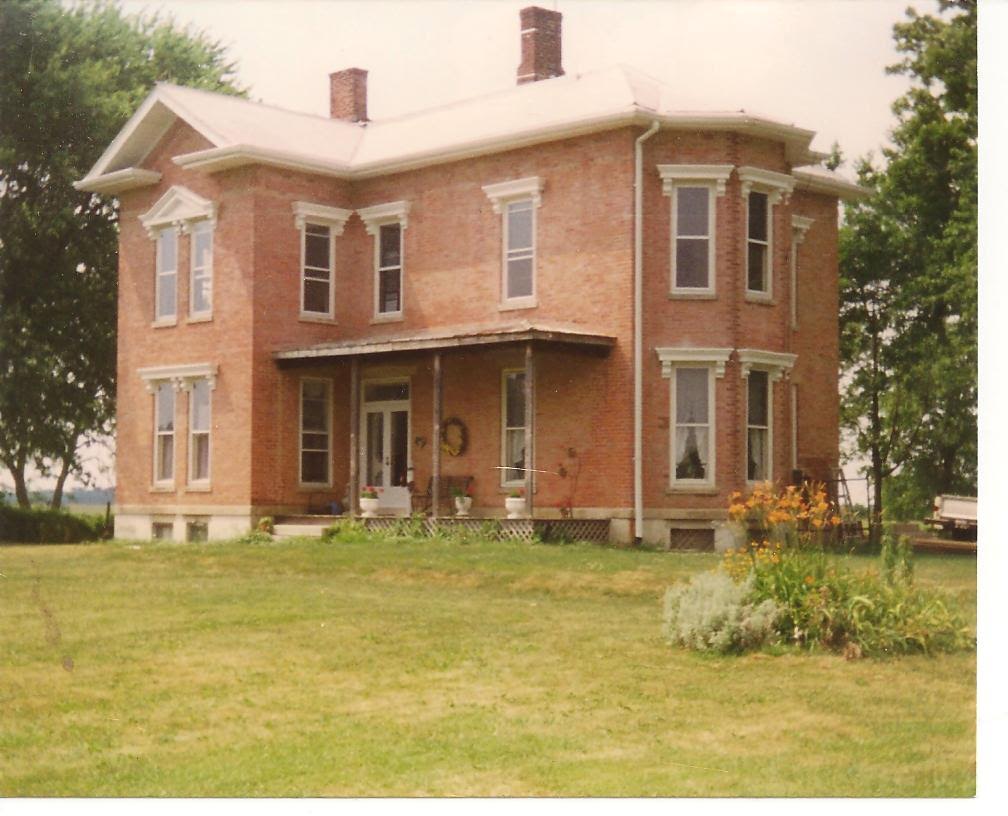 After my parents moved away, the owners neglected the house. I'd drive by sometimes, my heart aching with the forlorn air that now surrounded the home I loved.
There wasn't anything I could do about it except imagine a heroine who felt the same way about a house from her childhood. Maybe she could do what I couldn't.
That was the inspiration behind Where She Belongs, the first novel in the Misty Willow Series.
The next two novels grew from the first one, and the main characters—including not-very-nice Amy, slowly revealed their heartaches and their fears. Most of all, they revealed their need for God's steadfast love.
Thank you Johnnie!
Relz Reviewz Extras
All Things Alexander @ Relz Reviewz
Visit Johnnie's website
Buy at Amazon: What Hope Remembers or Koorong