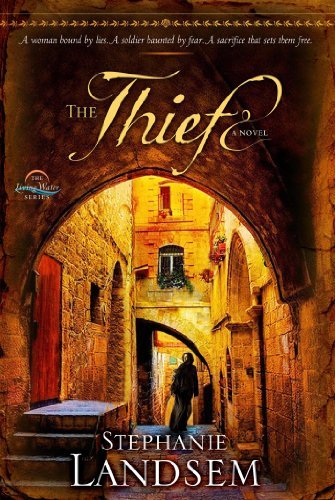 Synopsis:~
Longinus is a Roman centurion haunted by death and failure. Desperate to escape the accursed Judean province, he accepts a wager. If he can catch the thieves harassing the marketplace before Passover, he'll earn a transfer away from the troublemaking Jews.
Nissa is a Jewish woman with a sharp tongue and no hope of marriage. Only with the help of Mouse, the best thief in Jerusalem, can she keep her blind brother, Cedron, fed and a roof over their heads.
When a controversial teacher miraculously heals Cedron, Longinus longs to learn more about the mysterious healer. Instead, his journey leads him to Nissa, whose secret will determine the course of both their futures.
Unexpectedly caught up in the arrest, trial, and crucifixion of Jesus, they wonder who this teacher is who heals others but does nothing to save himself. Is the mercy he offers in his teachings real, or just another false promise? Can Nissa and Longinus overcome their pasts to find a future free of their shackles?
My take:~
I've been meaning to read Stephanie Landsem's debut novel, The Well, for some time but haven't managed it. Rest assured, after reading The Thief I'll be making time! The Thief is an intricately woven tale of a desperate woman, her blind brother, and a jaded centurion, set against the backdrop of unrest and political manoeuvrings that plagued Jerusalem during Jesus' ministry. With well drawn, unique characters, Stephanie immerses the reader in the sights and smells of the day, the plight of Nissa trying to provide for her family and negotiate both the advances of one man and the concern of another, both detrimental to her chosen method of survival. With vivid storytelling that weaves fact and fiction effortlessly, from Jesus' healing ministry to an impossible love, Stephanie Landsem has made a mark for herself in Biblical fiction. Be sure to capture yourself a copy of The Thief!
With thanks to Howard books for my review copy via Net Galley
Relz Reviewz Extras
Visit Stephanie's website and blog
Buy The Thief from Amazon or Koorong