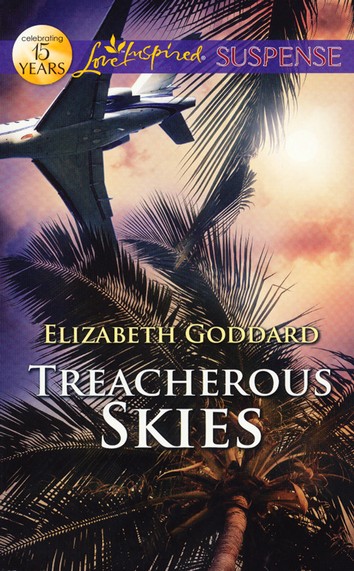 Synopsis:~
After years of peace and quiet, Maya Carpenter thinks she's safe—that her drug-lord father's world will never catch up with her. Then she's abducted and secretly stashed on a plane. And once she and the test pilot who finds her land in the Keys, the real threat begins….
Daredevil pilot Connor Jacobson is no one's hero. And this time, he's in way over his head. Yet he can't leave Maya to face danger alone. Besides, he has a few tricks up his sleeve that might keep them safe…as long as he's willing to put everything at risk, including his heart.
My take:~
While remaining true to the formula for a Love Inspired Suspense novel, Beth Goddard stamps it as her own in Treacherous Skies, with a unique vocation for her quietly courageous hero and some exotic locales. Connor is an intriguing character, a risk taker who repossesses expensive aircraft for a living, yet lives in the shadow of his FBI brother while Maya is woman coming to terms with a father whose choices have placed her life in danger. Elizabeth does well to keep the plot moving at a fast clip while giving her characters moments of introspection, emotion, and tenderness. If you enjoy the short and snappy format of Love Inspired romance, Elizabeth is an author you don't want to miss.
Relz Reviewz Extras