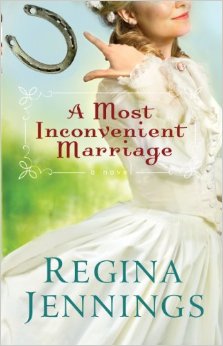 Meet a nurse & a soldier in
Regina Jennings'
historical romance
A Most Inconvenient Marriage
Bethany House
********
The Story
Abigail Stuart Thought She was Jeremiah Calhoun's Widow.
But Jeremiah Calhoun Is Very Handsome, Very Alive, and Very Perplexed.
Most Inconvenient Indeed.
With few options of her own, nurse Abigail Stuart agrees to marry her patient, a gravely wounded soldier calling himself Jeremiah Calhoun. They arrange a quick ceremony before he dies, giving Abigail the rights to his Ozark farm and giving Jeremiah the peace of knowing someone will care for his ailing sister after he's gone–a practical solution for both of them.
Jeremiah Calhoun shows up, injured but definitely alive, and wastes no time in challenging Abigail's story. Abigail is flummoxed. After months of claiming to be his widow, how can she explain that she's never seen this Jeremiah Calhoun before? How can she convince him that she isn't trying to steal his farm? And will she find a way to stay, even though this practical arrangement has turned into a most inconvenient marriage?
Introducing Abigail & Jeremiah
Abigail Stuart
Brief physical description
Abigail is tall and willowy. She's light complected with blonde hair.  Jeremiah thinks she's confident enough to attempt a heist and pretty enough to think she'd get away with it.
Resembles…
Katherine Heigl
Strengths and weaknesses

Abigail is hard-working, compassionate and sacrificing—almost too sacrificing. Her weakness is that she doesn't want to confront the accusations in her past. She'd rather run and start fresh than work to clear her name.

Quirk
Having worked in a prison hospital, Abigail isn't very concerned about modesty. She's also experimented with some techniques for rehabilitation that were invented by Dr. Pehr Ling, the founder of physical therapy. Naturally, she doesn't think twice about laying hands on Jeremiah during his exercises. Jeremiah, on the other hand, can't help but wonder if Abigail has designs on something besides his health.

Your inspiration for the character
Who would be brave enough to marry a stranger, and then head out for his farm after his death? I had to have a strong woman, strong enough to strike out on her own, but still too sensitive to return to her home. But I don't think that's uncommon—being tough with strangers, yet refusing to deal with family issues you're trying to put behind you.
Jeremiah Calhoun

Brief physical description
Jeremiah is in his mid-twenties, with dark hair. He isn't classically handsome, but very striking. His leg was injured during the War Between the States, but don't mention it. He really tries to carry on like there's nothing wrong.
Resembles… Tim Tebow
Strengths and weaknesses
Jeremiah is passionate, determined and stubborn. He sticks with his plan, but sometimes his inflexibility leads him astray. He also must guard against manipulating people. He's very persuasive and doesn't understand how far is too far when it comes to getting his way.

Quirk 
He goes around letting everyone believe he's dead, and then decides to show up alive without their permission.

Your inspiration for the character
What would happen if a man came home from war to find a woman living with his family, pretending to be his wife? I wanted a man who had specific goals for his farm, his family, his future wife—the kind of man who would be most inconvenienced by Abigail's appearance. Jeremiah is delightfully frustrable.
Background to the story
My family has lived in the Ozark Mountains for over 150 years, but the plot inspiration for A Most Inconvenient Marriage came from a very different source—Downton Abbey.
So, if you're a fan of the show, you might remember when William, a dying WWI soldier, wanted to marry Daisy. Although Daisy didn't return the sentiment she married him anyway, feeling that it was her patriotic duty. Watching that episode, I told my husband—don't tell anyone he watches it with me—I said, "He's not going to die. Just wait. He'll get better and then she'll be stuck with him." I was wrong. He did die, leaving Daisy free to go on with life.
But the potential for conflict in that step-up spoke to me. What if a nurse married a dying soldier as part of a bargain, and he didn't die? What if there was a mystery concerning the identity of the soldier? Is the man who appears after the war really who he says he is? It was a great start to the story, and a perfect excuse for watching more Downton Abbey.
Thanks Regina!
Relz Reviewz Extras
Character spotlight on Anne & Nick
Review of Sixty Acres and a Bride
Character spotlight on Molly & Bailey
Character spotlight on Rosa & Weston
Visit Regina's website and blog
Buy at Amazon: A Most Inconvenient Marriage (Ozark Mountain Romance Book #1)or Koorong