Richard Mabry returns to Relz Reviewz to share about his latest medical suspense, once again combining his years of medical experience with his writing talent to produce an intriguing novel. Learn more about the Doc as he shares some fun preferences. Don't miss your chance to win a copy of Surgeon's Choice via the Rafflecopter form below.
Cake or Cookies:  Cookies—especially my wife's oatmeal-raisin cookies.
Call or Text: Call. I understand the role of texts, but they can be interpreted more than one way, depending on the tone of voice of the sender.
Coke or Pepsi: Actually, I prefer Dr Pepper (and there's no "period' after the "Dr"—learned that from my step-son, who works there).
Dogs or Cats: Neither to live in my house, but if I have to pick one, it would be a dog. (You can call a dog. With a cat, you leave a message).
Eggs or Pancakes: Depends on the day, but on-balance I'd have to stick with eggs—fried, and accompanied by bacon.
Facebook or Twitter: I have a presence on both. I used to prefer Facebook, but lately they've changed so many rules I'm not sure.
First person or Third person: For my own writing, always third person. For reading, some authors do first person well, so it depends.
Instagram or Pinterest: Pinterest. I don't have an Instagram account (at least, I don't think I do), but I do have one on Pinterest.
Marvel or DC: I have no idea about either—when I was growing up and reading comics, Batman was a hero. Now he's the "Dark Knight." My, how times change.)
Paperback or EBook: When I'm reading for pleasure, I prefer the print version of books. I still use Kindle when I'm sent a book to review, or when that format is available for a reduced price.
Summer or Winter: Summer. Of course, in Texas we sometimes get all four seasons in a matter of hours.
Sweet or Spicy: Sweet—you can make things too spicy for me, but I don't think there's such a thing as "too sweet.'
Tattoos or Piercings: Neither. Can't understand their attraction. Guess I'm old-school.
Tea or Coffee: Coffee in the morning. Decaf thereafter. Occasionally like iced tea with meals. Hot tea? With sugar and milk, but never with lemon.
Thornton or Darcy: Who? Never heard of either one.
Yoga Pants or Jeans: In Texas, men don't wear yoga pants. I prefer jeans, but do wear khakis at times.
Zoo or Aquarium: Zoo. Like the "open' feel.
Thanks Richard!
Surgeon's Choice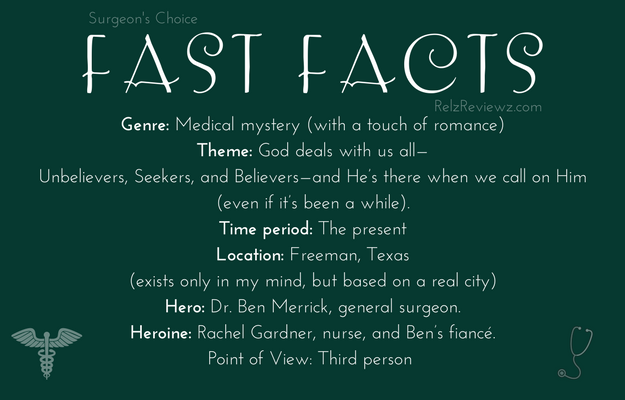 Dr. Ben Merrick and his fiancé, Rachel Gardner, can't get her divorced parents to stay in the same room, much less attend their wedding together. He is already looking over his shoulder expecting more trouble from a very senior surgeon who has shown he is still smarting from a previous dust-up, but Ben doesn't know if a series of mishaps and accidents are caused by a disgruntled patient's relatives or represent more from the older surgeon. Complicating it all is the question of whether Rachel's father is back doing drugs. Then, when people start dying, Ben and Rachel wonder if they can escape unscathed…and alive.
Dr. Richard Mabry is a retired physician, now writing "medical mysteries with heart." He is the author of one non-fiction book, four novellas, and eleven published novels. His novels have been finalists for the Carol Award, the Inspirational Reader's Choice Award, the Reviewer's Choice Award, the Selah Award, and others.
He and his wife live in north Texas. In addition to regular efforts (thus far unsuccessful) to improve his golf game, he spends much of his time trying to convince his family that sitting at his desk staring into space does indeed represent work.
Relz Reviewz Extras
All Things Mabry @ Relz Reviewz
Visit Richard's website and blog
Buy at Amazon: Surgeon's Choice