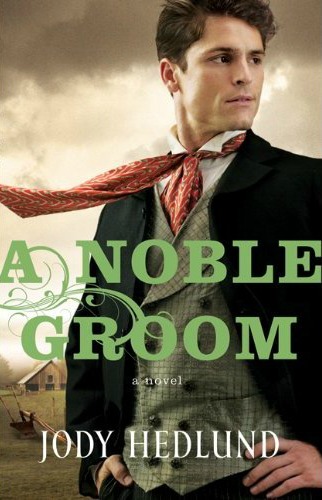 With dreams of a meaningful marriage shattered by the reality of an uncaring and selfish husband, immigrant Annalisa Werner is further tested and stretched when her husband dies and she is reliant upon bringing in a  good harvest if she is to retain her farm and feed her little girl. Her father's solution ~ write to his brother in Germany to send a suitable groom. Resigned to having to marry another man she doesn't love, Annalisa hopes for the best.
When Carl Richards arrives at the farm he is mistaken for Annalisa's new groom but when clarity comes, Carl offers to assist Annalisa until her new husband to be arrives. It quickly becomes clear that Carl is unfamiliar with farm work of any kind as he struggles to keep up with Annalisa's young brother who reluctantly teaches him the ropes. Nevertheless, Annalisa is charmed by his generous spirit, his tenderness to little Gretchen, and his kind and respectful manner towards her. Never has she met a man who would treat her in such an expected manner.
Carl is surprised by his burgeoning feelings for Annalisa and the love he has for her little girl. When he begins to entertain thoughts of a future family life he knows he must leave before Annalisa's intended arrives and certainly before the secret that could destroy his friendship with Annalisa, and endanger his very life, is exposed.
Jody Hedlund's latest historical romance will have women swooning everywhere, no corset necessary!
Humour aside, A Noble Groom is a beautiful story, filled with the drama and hardship of immigrant life in the 1880s, with a tender and passionate love story that captivates heart and mind. With a gentle and talented hand, Jody has created characters authentic to their era in Carl and Annalisa. Annalisa's acceptance of a marriage without love while harbouring a deep yearning to connect in a meaningful way with a husband is moving and deeply felt. Carl's struggle to cope physically with hard labour, and his lack of farming knowledge, leads to a number of light hearted moments but it is his care for Annalisa and Gretchen, despite opportunities to leave and pursue a career more suited to his abilities, that mark his character as noble, honourable, and true. Dialogue, characterisation, and historical detail are all exceptional, perfectly balanced creating an emotionally satisfying read. Evocative and engaging, A Noble Groom is memorable on every level, none more so than one pivotal scene that reflects love, passion, and restraint so beautifully that it made my heart pound and tears well up. The spiritual themes of sacrifice and forgiveness are woven seamlessly throughout with Carl and Annalisa drawing on God for strength and wisdom. I have enjoyed each of Jody's stories but A Noble Groom proves what I have always believed ~ if there was ver any doubt ~  Jody Hedlund is a gifted writer whose talents are a force to be reckoned with and her books, all a must read!
With thanks to Bethany House & Litfuse for my review copy

Relz Reviewz Extras
Reviews of Unending Devotion, The Doctor's Lady, and The Preacher's Bride
Character spotlight on Carl & Annalisa
Character spotlight on Lily & Connell
Jody's Pop Quiz
Q&A with Jody
Character spotlight on Eli & Priscilla
Visit Jody's website and blog
Buy A Noble Groom at Amazon or Koorong