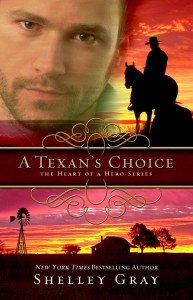 Synopsis:~
Texas, 1874. Long ago, Scout Proffitt gave up on ever being a man of honor like his Civil War hero brother Clayton. But when Scout steps foot on the rundown remnants of the Circle C ranch, he wonders if maybe-just maybe-the Lord has something different intended for him.
Rosemarie has lived most of her life doubting her worth and shouldering the blame for her brother's death. But when a stranger rides onto her ranch, claiming he owns it, she suddenly is given a choice: either keep looking at the dark side of life . . . or dare to dream.
My take:~
There is just something about Shelley Gray's historical romance novels that draws me in each time and A Texan's Choice continued the intrigue and connection I always feel when I peel back the cover of a Heart of a Hero novel. Readers of the series will know Scout Profitt as the little brother of Clayton Profitt who turned from his family, choosing a dangerous and reckless life as a killer for hire. The glimpse you see into Scout's life in the previous novel, A Texan's Honor, plays out in this story. Shelly peels back the layers of Scout's hardened heart to reveal a man who feels deeply, struggles with his choices and feels his past can't be redeemed. Rosemarie is a woman in need, financially and emotionally, after her father and sister desert her following her mother's death. Casting her off with ease,  reinforces her belief that she is unworthy of any love or care from another person. Both wounded, both afraid, they forge an unlikely alliance that develops into a meaningful and healing love readers will delight in. Shelley doesn't sugarcoat Scout's life nor does she allow him to escape the consequences of his sordid past, once again a refreshing approach to historical romance. A Texan's Choice is a satisfying and engaging read in every way. I look forward to more stories like this from Shelley Gray.
With thanks to Abingdon Press for my review copy via NetGalley