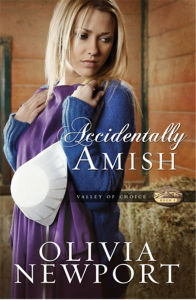 Synopsis:~
Annie Friesen, a software creator, needs to protect her intellectual property from her scheming partner. After escaping the hustle and bustle of Colorado Springs, she runs straight into the hospitality of an Amish family in San Luis Valley. When, after a little digging, Annie discovers her own ancestral connection to the plain people, her worlds collide. It appears she'll have to stay awhile, especially when she finds herself attracted to Rufus Beiler.
A cabinetmaker by trade, Rufus is having troubles of his own. Because of a competitor's false accusations, his business is in jeopardy. And so is his family when his sister, Ruth, leaves the Amish community.
Now Annie, an outsider, begins meddling in affairs that don't concern her. When Rufus tells her she can't continue to hide among the Amish and it's time for her to go home, Annie is torn. What will she choose-loneliness and the high-tech modern culture of Colorado Springs, or Rufus and the simplicity of the San Luis Valley Amish?
My take:~
So, you all know Amish stories are not ones I pursue let alone review so hang on to your hat because not only am I reviewing Olivia Newport's novel, I thoroughly enjoyed it! Accidentally Amish delves into the very contemporary life of IT guru, Annie Friesen and her unusual and unexpected introduction to the very Amish Rufus Beiler and his family. When the two worlds collide, sparks fly and not always the way you imagine. Underpinning the contemporary story is the fascinating historical story of Jakob Beyeler,  a man confronted with a momentous decision when tragedy strikes in the 1730s. Jakob's character is based on a man in Olivia's personal genealogy, a surprising discovery she made when researching the genre. This is not your average Amish novel, that's for sure and certain, with a unique take on the usual Amish fare. There is conflict, suspense, danger and romance and the ending may be quite unexpected for many.  Olivia Newport has a genuine talent for storytelling and for those who loved her debut historical novel, The Pursuit of Lucy Banning, will find she is equally at home with a contemporary tale. I'm delighted to recommend Accidentally Amish to anyone who loves characters with heart and a story with soul.
With thanks to the author for my review copy
Relz Reviewz Extras