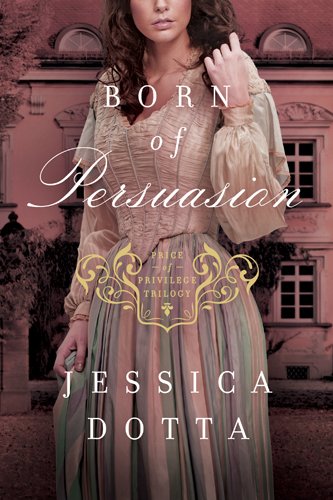 Publisher's Synopsis:
The year is 1838, and seventeen-year-old Julia Elliston's position has never been more fragile. Orphaned and unmarried in a time when women are legal property of their fathers, husbands, and guardians, she finds herself at the mercy of an anonymous guardian who plans to establish her as a servant in far-off Scotland.
With two months to devise a better plan, Julia's first choice to marry her childhood sweetheart is denied. But when a titled dowager offers to introduce Julia into society, a realm of possibilities opens. However, treachery and deception are as much a part of Victorian society as titles and decorum, and Julia quickly discovers her present is deeply entangled with her mother's mysterious past. Before she knows what's happening, Julia finds herself a pawn in a deadly game between two of the country's most powerful men. With no laws to protect her, she must unravel the secrets on her own. But sometimes truth is elusive and knowledge is deadly.
What I thought:
Jessica Dotta arrives on the scene as an incredibly gifted and masterful author of historical fiction with her debut novel, 'Born of Persuasion' (the first instalment of The Price of Privilege Trilogy).  This impressive book will no doubt launch a very successful career and garner a dedicated group of followers who eagerly await her next work of art.
'Born of Persuasion' reminded me, initially, of Jane Austen's 'Pride and Prejudice' with quirky characters and the twittering's of a matronly lady determined to find a good match for her dear friend's orphaned daughter.  Whilst this immediately snatched my attention it was the cast of engaging characters and an intriguing story line that kept me turning pages well into the night.
Julia Elliston is a shy, fragile young woman at the beginning of this story; at the mercy of those of social sway and a mysterious guardian.  It is hard to imagine one's own self in a situation where a female orphan is so at the mercy of the decisions of others for her future, yet Jessica Dotta deftly weaves Julia's story and enables the reader to imagine that very circumstance.  Julia is a likeable young woman and her friendship with Mrs Windham's daughter Elizabeth offers her the anchor she needs when her life is stormy.  I enjoyed Elizabeth's role in the story, as she offered a more sensible counterpoint to her mother's amusing and oft times ignorant carrying on.
Nothing is at as it first appears throughout this story and there is no predicable plot to be found, which makes 'Born of Persuasion' a gripping, intriguing book that had me completely absorbed right to the very end.  Indeed I spent almost the entire book trying to decide whether Mr Macy was a dangerous foe or someone to truly trust one's safety to.  The lurking danger surrounding Julia's guardian equally weaves threads of conspiracy into an already captivating tale.
It is with great anticipation that I will be awaiting the next instalment of Jessica Dotta's Price of Privilege Trilogy, 'Mark of Distinction' which is due for release in the middle of this year.  If you've been a little weary of the historical fiction genre this is the book to rekindle your attraction!
Guest reviewer: my dear friend Tracy from Beyond My Picket Fence
With thanks to Tyndale House for Tracy's review copy
Relz Reviewz Extras
Jessica's Author Alert
Visit Jessica's website and blog
Buy Born of Persuasion from Amazon or Koorong