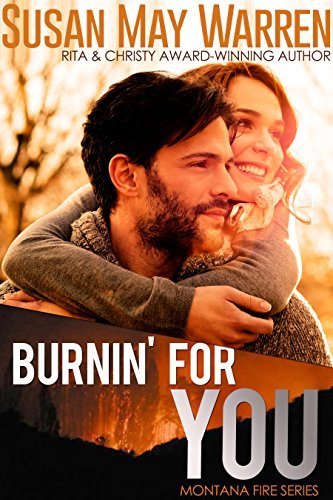 Synopsis:~
He's loved her for years . . .
Smoke jumper Reuben Marshall is harboring a deep regret—a split-second decision that cost the life of his crew boss in a fire. It's a grief that has paralyzed him, kept him from moving forward. It's mistakes, and regrets like this that keep him from pursuing his long-burning interest in Gilly Priest, their pretty, petite pilot. Not only is she not interested in dating a teammate, but she's also the preacher's daughter. And while Reuben's not the chiefest of sinners, he's no saint. Reuben feels like a buffalo next to her and worse, can't seem to string two words together when she's in his radar. He'll just have to love her from afar…
Her dark secret keeps her from trusting . . .
Gilly Priest has worked hard to carve out her niche as a female bomber pilot in the dangerous world of firefighting. Sure she's small, but she's made up for her stature in courage, grit, and the tenacity to face danger other pilots wouldn't dare to confront. And yes, she's noticed handsome Reuben Marshall—who wouldn't? Dependable and strong, he takes up most of the space in the room. But Gilly's dark secret won't allow her close enough to talk to him, let alone let herself fall for him.
A race to rescue the people they love . . .
When their smokejumper plane goes down in the northwestern Montana mountains, wounding their team, Gilly and Reuben are the only ones able to hike out to find help. But when their rescue mission turns out to be a fight for their lives against the terrain, a saboteur, and a forest fire, they discover they'll have to put aside their fears and learn to trust each other. But will trust lead to igniting something they both long for…and fear? And can they save their team before tragedy strikes—again?
My take:~
Susan May Warren completes her Montana Fire trilogy in brilliant fashion with Gilly and Reuben's intriguing love story in Burnin' For You. Both characters were a little different from the norm, which was refreshing and fun, as they wrestled their feelings, flaws, and fears. Danger abounds, a hallmark of this stellar series, the tension increasing with each unfolding page. This series is a wonderful introduction to Susie's new series with Revell, beginning with Wild Montana Skies, releasing this October. If you love electrifying romance laced with nonstop danger and thrills, this series is for you.
With thanks to the author for my review copy
Relz Reviewz Extras
Reviews of Where There's Smoke and Playing with Fire
All Things Susie May @ Relz Reviewz
Visit Susie's website and blog
Buy from Amazon: Burnin' For You