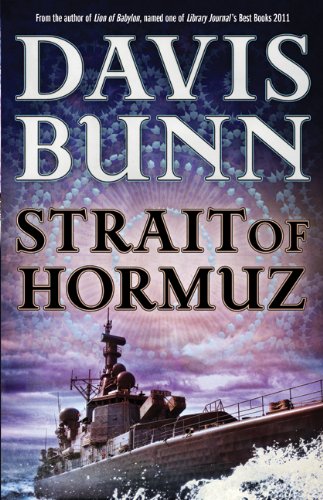 Meet an American and an Israeli in
Davis Bunn's
international thriller
Strait of Hormuz
Bethany House
The Story
An under-the-radar phone call from the U.S. State Department puts Marc Royce once again on assignment–ferreting out rumors of a clandestine operation stretching from Asia to the Mideast. At stake is Iran's threat to blockade the narrow Strait of Hormuz, cutting off vital shipping routes and escalating global tensions beyond the breaking point.
Under the guise of investigating money laundering via high-end art purchases in Europe, Royce finds himself in Switzerland with only sketchy information, no backup, and without a single weapon other than his wits.
His appointment with a gallery owner in Geneva is a dead end–the man is on the floor with a bullet through his chest. But it turns out Royce does have backup. The Mossad has sent someone to keep an eye on this undercover op, which is of more than casual interest to the Israelis. And it's someone Royce knows…
Enjoy meeting Marc & Kitra
Brief physical description
Marc Royce has no idea how good looking he is.  It is one of his most endearing traits.  He counterbalances this with a very cautious reserve.  Many people, at least at first, think of him as cold.  But in truth he is simply cautious.  He has endured some very tough times, both in the field as an operative, and in his personal life.  The result is a man with the tensile strength of a dueling sword, and the awareness of a heat-seeking missile.  He is a man of enduring faith, which leaves him both vulnerable and hopeful.
Who he looks like is a problem, because most good-looking film stars are constantly aware of their attractiveness.  It defines them.  Marc could not be further from this.
Kitra Korban is an Israeli, but her mother is French.  Her family are followers of Jesus, and she was raised on a Christian kibbutz in the fertile plains northeast of Tel Aviv.  She has her French mother's looks and poise, and her father's feiry determination.  She knows she is beautiful, she's been told this all her life, and yet she holds this in the casual disregard of someone who has been raised in the kibbutz's unique atmosphere.
I often thought of her as looking like Natalie Portman.
Strengths and weaknesses
Marc Royce was married to a woman whose example and walk brought him to faith and taught him to love, only to lose her to an illness when he was thirty-three.  While caring for her, he was fired from his job as an intelligence field operative, and he used the time to finish his training as an accountant.  It took him four years to heal enough to lift himself out of the tight little cubicle where he had hidden away.  Marc emerges burdened by questions, with very few answers.  What does he want from life?  Can he possibly ever love again?  Is there a future that possibly beckons enough to deserve the days he has left?  Could he ever love again?  Marc considers even asking these questions to be a sign of weakness.
Kitra Korban wants nothing more than to grow into the position her father now holds, and lead the kibbutz he helped found.  But the Messianic believers of Israel are ostracized by their own nation, and Kitra is determined to do more than help her community survive.  She seeks a way to make them thrive.  Her goals place both her and her brother in very grave risk, and she meets Marc when her brother is kidnapped.  Kitra is both proud of her determined focus, and wounded by the burdens it places upon herself and those who love her.
Quirk (if any) 
Marc is defined by a visceral hunger to be more than he is, even when he doubts that it is even possible.  The result is a man who is oddly humble and intensely aware of everything he isn't.
Kitra has all the makings of a Jewish mother, but with French flair.  She remains determinedly aloof, even though she desperately yearns for love.  She longs for Marc, and she pushes him away.  She wants him to love her, and is proud of all the reasons why he could never move to Israel.
Your inspiration for the character 
Marc came into being after I had the opportunity to meet with a prayer group that runs inside our country's intelligence divisions.  These people welcomed me with a remarkable open-heartedness, given the nature of their work and lives.  It was a powerful testimony to faith at work, and something I felt I had to use in a story.
Kitra was based upon several people I came to know while researching the last trilogy I wrote with Janette Oke—Biblical novels based around the first chapters of Acts.  I had the honor of studying and traveling with an Israeli rabbi who has become a follower of Jesus, and now runs underground churches within the Israeli Orthodox community.  He and his family are shining lights, and I based Kitra and her family around them and the struggles they endure on a daily basis.
Thanks Davis
Relz Reviewz Extras
Get to know Davis
Reviews of Full Circle,  My Soul To Keep and All Through the Night
Interview with Davis
Visit Davis' website
Buy Davis' books at Amazon or Koorong