Meet a musician and a miner in
Judith Miller's
historical romance
The Chapel Car Bride
Bethany House
*****
The Story

Intriguing Glimpse into the Past by Bestselling Historical Author Judith Miller

With her penchant for seeing the best in everyone, Hope Irvine sees a world full of good people in hard places. When her father accepts a position traveling in a chapel car as an on-the-rail missionary, she is determined to join him in his efforts and put her musical skills to good use by serving the mining families of West Virginia, saving their souls, and bettering their lives.

Luke Hughes shares Hope's love of music and her love of God, but as a poor miner he knows he can offer her no future. Still, the notes she sings resonate in his heart. When she begins to travel with a young mine manager to neighboring counties, Luke can hardly suppress his jealousy. It isn't until he begins to suspect these missions of mercy might be the mine manager's cover for illegal purposes, though, that Luke feels justified in speaking up. But how can he discover the truth without hurting Hope or, worse, putting her in danger?
Introducing Hope & Luke
Brief physical description
Hope Irvine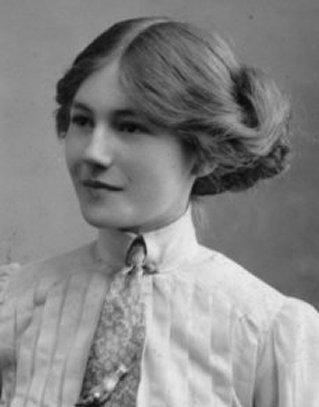 Hope has reddish-brown hair, rather unruly curls and hazel eyes. She is a kind-hearted young woman, an only child, who longs for a closer relationship with her father.
Luke Hughes
Luke is a broad-shouldered young man with bottle green eyes and light brown, sun-bleached hair. He works in the coal mines, is protective of his mother and younger siblings, and yearns to serve God.
Resembles…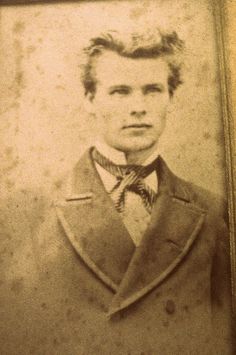 I usually find pictures, print them and keep them on my desk for reference while I'm writing.
Strengths and weaknesses
Hope has a deep love for children and desire to help others, but she can be wilful. She loves the Lord, but doesn't always wait on Him for answers—sometimes to her own detriment.
Luke can be overly protective at times and can occasionally be quick to judge others. He has a deep desire to serve God, but sometimes lacks a genuine confidence in his abilities.

Your inspiration for the character
My own father died when I was only six weeks old and I can remember the longing I possessed for a father figure in my life. This was many years before single parent families became more common, so I grew up surrounded by two-parent families. I wanted to reveal some of the yearning young women develop when they have been separated from their fathers for either a few years or a lifetime.
Behind the story
Many years ago a woman in Sunday School gave me an article that had been published in the Roto, a small news magazine published and distributed with Sunday newspapers. The article highlighted chapel cars that had been used during the late 1800s and early 1900s. These churches on wheels provided preachers an opportunity spread the gospel to remote areas of the country. The cars were outfitted as small chapels with living quarters by train manufacturers. Upon completion, the chapel cars would be attached to trains moving throughout the country. (Below is a picture of the Herald of Hope chapel car after a children's service.)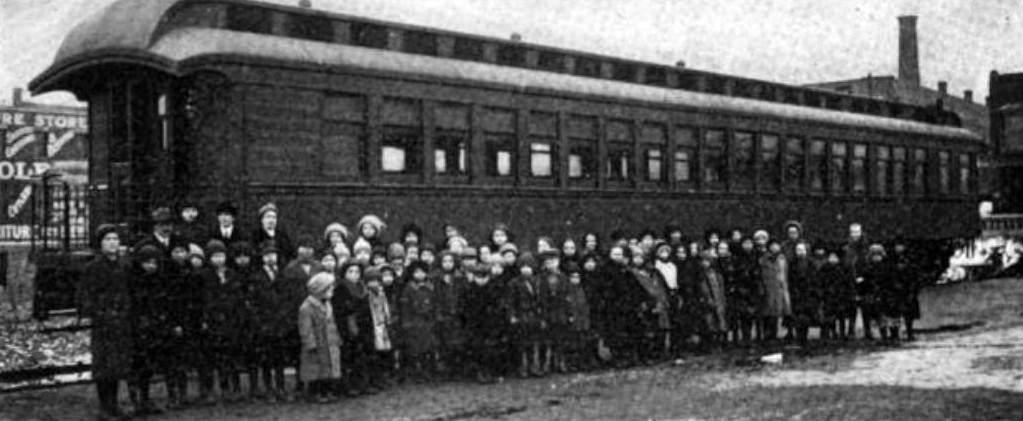 Since the railroad companies pulled the cars without charge, the cars were sometimes pushed off onto spurs for days or weeks before moving onto their final destination. During those times, the preacher and his wife, if he had one, would hold church services if the town didn't have a preacher or offer to assist the local preacher wherever needed.
I tucked the article away in a file of possible book ideas that I've developed over the years.
Then, about eighteen months ago, I received a call from Tracie Peterson telling me she'd had an e-mail from a woman about chapel cars. I had spoken with Tracie on several occasions about the chapel car concept, so she sent me the email so I could contact the lady. Long story even longer, this lady, Carolyn Poe, had conducted monumental research on chapel cars when she was in the process of writing a thesis for her Master's degree. She offered to send me her research material if I was interested in the subject. Needless to say, I gave her a resounding "Yes," and set to work on my proposal for the project. (The picture below shows the interior of the chapel with the preacher at the pulpit and his wife playing the small organ.)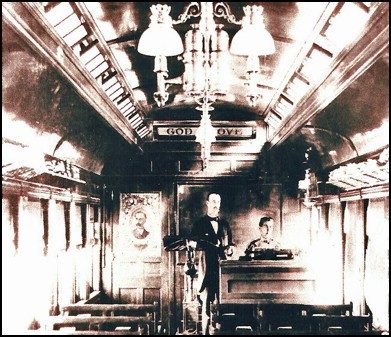 In most of the books that I've written, somewhere along the way I've felt God at work in the project. Whether it's how I discover a new idea, something that unexpectedly develops with one of my characters, or a spiritual concept I hadn't intended, I feel His presence in the project.
As I worked on this book, I was once again awed by how this all came together. From a tiny magazine article I received many years ago, to the kindness of Tracie Peterson sending me the e-mail, to the generosity of Carolyn Poe lending me her mounds of research books and commentaries, a snippet of an idea developed into The Chapel Car Bride.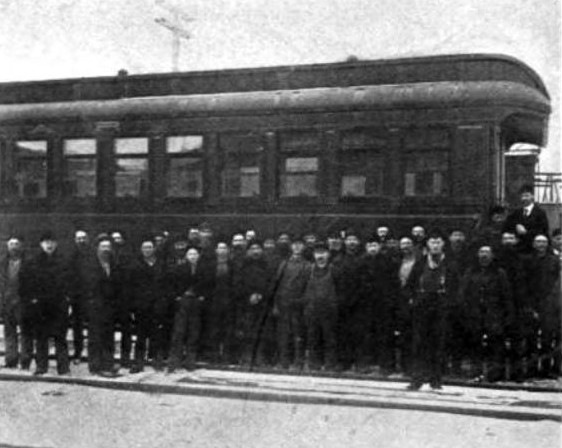 Living in those tight quarters and conducting many, many church services for both railroad workers (the picture above shows some of the many railroad workers who attended church services as often as possible) and families who were living in sparsely populated areas while facing difficult circumstances, was both challenging and rewarding for the men and women who dedicated themselves to the chapel car ministry.
Discovering the in-depth history of the early chapel cars provided me with more facts and history than I could put in one book, but I hope that The Chapel Car Bride provides readers with a new and interesting glimpse into life on the rails for these preachers and their families.
Thanks Judith!

Relz Reviewz Extras
All Things Miller @ Relz Reviewz
Visit Judith's website and blog
Buy from Amazon: The Chapel Car Bride or Koorong