I had the pleasure of meeting Kristi while I was at ACFW last August – she is super fun and such a delightful person! Today she chats about Wal-Mart, Lori Wick, and Lady Adelaide! Don't forget to enter the giveaway below for your chance to win a copy of her latest Regency, An Uncommon Courtship.
The Writer
Please describe yourself in three words (ask your best friend or family if you are struggling!)
Can't. Do. This.
Ok, according to my husband I should use: Awesome, awesome, totally.
My real answer would be passionate scattered dreamer. That should be nice and vague for you. 😉
What's your favourite season, and why?
We don't get much of it, but I love fall. I like it when the air has just a little bit of bite to it and you get to wear jeans and boots and sweaters but it's not cold enough to haul out jackets and scarfs. The changing leaves are really pretty, too. Unfortunately, fall in Georgia lasts about a week.
What is the best part of your day?
Sadly, it doesn't happen everyday. But my best days are when I get my momentum going early. If I can manage to accomplish something before 9:00, then it's going to be a good day. Otherwise it could be 11 before I really get going. Those productive days leave me feeling really accomplished, though.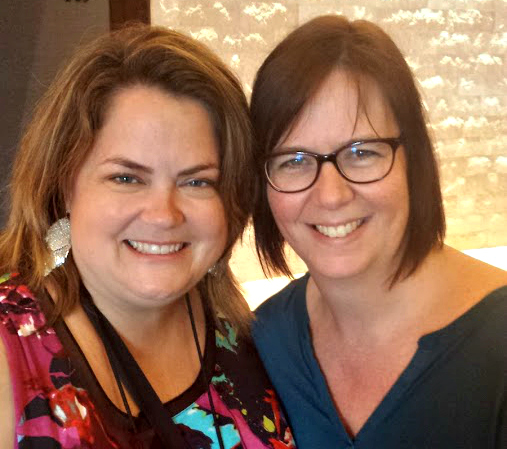 Kristi & Rel – ACFW, 2016
What do you miss most about your childhood?

That's hard. Because I really don't think I'd want to go back to my childhood unless I could do it knowing what I know now. I guess sometimes I miss the ignorance of childhood, but even that was problematic sometimes because it kept you from understanding things. I remember misunderstanding stories my parents told and things I heard on the news all the time. Still, it would be nice sometimes not to know how difficult the world can be.
Which TV talk show host would you like to be interviewed by? Why?
I don't even know who's available. I've never watched talk shows so I haven't got a clue who's still doing one. Is Rachel Ray still on? That would be cool because I bet they have great food in the green room.
You are at a fruit market – what do you reach for first?
A map to figure out how in the world I ended up at a fruit market instead of Wal-Mart.
I really don't like dealing with the shopping and food prep stuff. In the produce section, I tend to head for the apples first, though. They're good for sharing, I like them chopped up in salads, and they don't go bad very quickly. We also get strawberries, oranges, and occasionally bananas. I'm a big fan of pineapple but I don't get them often because they're a lot of work.
What was the first Christian Fiction novel you read?
The Hawk and the Jewel by Lori Wick. At least that's the first one I remember. I was in college and had a friend that was an avid reader of Christian fiction and introduced me to the genre.
What is one author and/or book you always recommend?
If they like historical, I recommend Karen Witemeyer every time. If contemporary is more their thing, I like to pull out a bit of an oldie but it's one of my all time favorite books, The Guy I'm Not Dating by Trish Perry.
What book character has stuck in your mind from a book you have read this year?
Well, given that the year is about 2 minutes old at this point and I've spent most of that editing, I'm gonna pull from a book that I read last year. There's two, actually, that really stick out to me. Miss Harriet Peabody from Jen Turano's After a Fashion and Abigail Stuart from Regina Jennings' A Most Inconvenient Marriage. What I liked about both of these heroines was how capable they were without being overly brash about it. So often the capable women are almost obnoxiously independent in books, but both of these characters struck a great balance between skilled and capable but also open to having other people in their lives. It made for great romance.
The Book


Life for Lady Adelaide Bell was easier if she hid in her older sister's shadow–which worked until her sister got married. Even with the pressure of her socially ambitious mother, the last thing she expected was a marriage of convenience to save her previously spotless reputation.

Lord Trent Hawthorne couldn't be happier that he is not the duke in the family. He's free to manage his small estate and take his time discovering the life he wants to lead, which includes grand plans of wooing and falling in love with the woman of his choice. When he finds himself honor bound to marry a woman he doesn't know, his dream of a marriage like his parents' seems lost forever.
What was the working title?
I think the original proposal called it Courtship by Marriage, but in my house it's always just been called "Trent's Book".
Describe your book in 5 adjectives
Fun. Real. Relatable. Personal. Different.
Which character took you by surprise?
The heroine, Lady Adelaide. My initial book outline had her as almost the complete opposite of what she turned out to be. When I started writing it, though, and really thinking about her backstory and what had happened in her life, she became an entirely different character. It changed a lot of the book because I realized I had planned out her actions and reactions all wrong.
What was the latest you stayed up working on this story?
I was behind in writing this novel, so I took a weekend and closed myself in my room and wrote in a rocking chair. I got 35,000 words written that weekend (it was a four day weekend) and I'm pretty sure that one night I actually fell asleep in the rocking chair a little after 3AM.
Which character's name was the hardest to choose? Why?
Most of the characters were in previous books in the series, so their names were of course very simple. For the entire first draft, my villain character didn't have a name, though. He was referenced throughout the book as Slimy Guy. Hooray for find and replace!
What's something that didn't make it into the final copy?
So, originally Adelaide's mother was going to play a much more integral part in trapping Trent and Adelaide in a compromising position and forcing them to marry. It was fantastic. The scene was funny, it immediately made you sympathetic to Adelaide, worried for Trent, and ready to send the mother careening down a hill in a horseless carriage. Adelaide's mother had noticed the ducal coach in the village and on the way home, kicked Adelaide out of the carriage so that the duke – who wasn't actually the duke but was his brother Trent – would be forced to offer Adelaide a ride. Then she had her grooms and footmen drag a large tree across the lane in the middle of a wooded area so that the duke's carriage wouldn't be able to turn around. In trying to get out of the predicament they wreck the carriage and Trent and Adelaide were stuck in it overnight. The problem was that as a plot point, it had too many holes in it. There were too many ways out. No matter how I wrote it, no matter what I did, it didn't work. So I had to scrap it and find an entirely new way to trap them together.
Thanks Kristi!
Kristi Ann Hunter graduated from Georgia Tech with a degree in computer science but always knew she wanted to write. Kristi is the author of the Hawthorne House series and a 2016 RITA Award winner and Christy Award finalist. She lives with her husband and three children in Georgia. Find her online at www.kristiannhunter.com.
Relz Reviewz Extras
Kristi's Reading Habits
Character spotlight on Georgina & Colin
Download the FREE ebook prequel, A Lady of Esteem
Visit Kristi's website and blog
Buy at Amazon: An Uncommon Courtship or Koorong