I had the pleasure of featuring Laura Frantz a week or so ago, with a fun Fast Favourites feature well worthy checking out if you haven't already done so. For some people, however, that simply wasn't enough of lovely Laura for them! By popular demand (read Rachel McMillan made a public plea on FB for a character spotlight on the very noble Noble Rynallt!), Laura graciously has given us more of her time with an insight into her latest hero, a patriot and gentleman who has readers swooning everywhere! Laura's heroes are always memorable but Noble seems to have a special hold on our hearts. If you want to know why, read my review of this stellar novel then get thee to a bookstore and purchase the gorgeous The Lacemaker without further delay!
*****
Noble Rynallt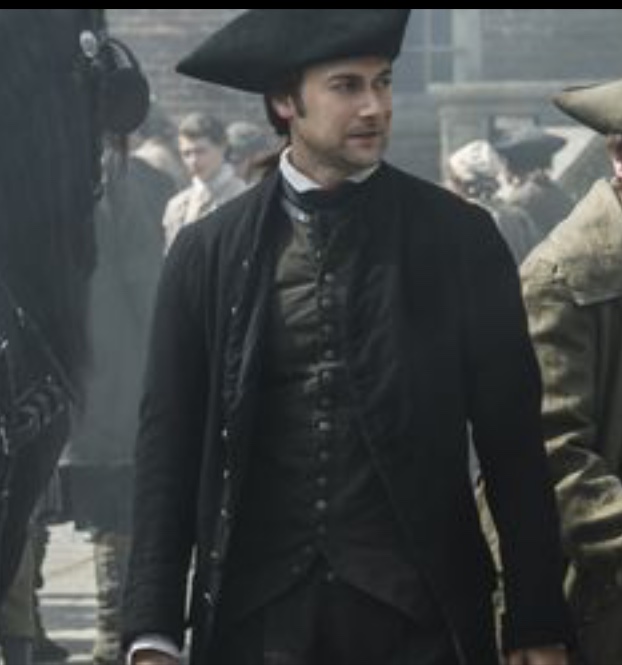 Physical Stats
Height
Taller than George Washington's bodyguards were allowed to be – a disqualifying 6 feet 2 inches
Hair colour & style
Coal black and 18th-century longish, past the shoulder, worn back with a black silk ribbon tie giving him the look of a pirate
Eye colour
Silvery blue
Dress sense  
Always a gentleman
Resembles…
I confess to not liking Hollywood (though I love anything BBC) so this is tricky for me. But as you'll see from the images I unearthed, the inspiration was partly from Ryan Eggold who played Dr. Joseph Warren, an actual historical figure, in Sons of Liberty. The lovely Emily Barrington who played Margaret Kemble Gage is a dead ringer for Lady Elisabeth in The Lacemaker. I'd love to hear any other ideas though from those who read the book and had a different image in mind!
Can't live without… 
Rachel McMillan Pulitzer Prize winning type review!
Strengths
Noble is as true as his name, decisive, intelligent, a man of thought and action – and romantic to the core!
Vulnerabilities
He detests war but must become a soldier, among other things…
Passions
Liberty, both the woman and the concept 😊

What book or movie would he recommend?
The BBC's North & South

Your inspiration for the character
Noble is a mix of America's Founding Fathers – George Washington's courage, Patrick Henry's conviction, and George Rogers Clark's derring-do!
Believe it or not, it all began with Felicity, an American Girl doll. I went on a little adventure a few years ago to the Seattle store and lo and behold, they had nary a one as she has been retired, so to speak. So, my two very thoughtful sons both found her for me on Amazon and Craigslist and I ended up with two Felicity's in excellent shape and in her original garments. I gave one to a reading friend in Virginia whose little girl is named Liberty! And I kept one. Since Felicity's favorite place is Colonial Williamsburg that started me thinking…
When colonial Williamsburg explodes like a powder keg on the eve of the American Revolution, Lady Elisabeth "Liberty" Lawson is abandoned by her fiancé and suspected of being a spy for the hated British. No one comes to her aid save the Patriot Noble Rynallt, a man with formidable enemies of his own. Liberty is left with a terrible choice. Will the Virginia belle turned lacemaker side with the radical revolutionaries, or stay true to her English roots? And at what cost?

Historical romance favorite Laura Frantz is back with a suspenseful story of love, betrayal, and new beginnings. With her meticulous eye for detail and her knack for creating living, breathing characters, Frantz continues to enchant historical fiction readers who long to feel they are a part of the story.
Thank you, dear Laura, for giving more of your time to do a second feature here at Relz Reviewz to delight your readers…especially one Rachel McMillan!
Relz Reviewz Extras
All Things Frantz @ Relz Reviewz
Visit Laura's website and blog
Buy at Amazon: The Lacemaker or Koorong