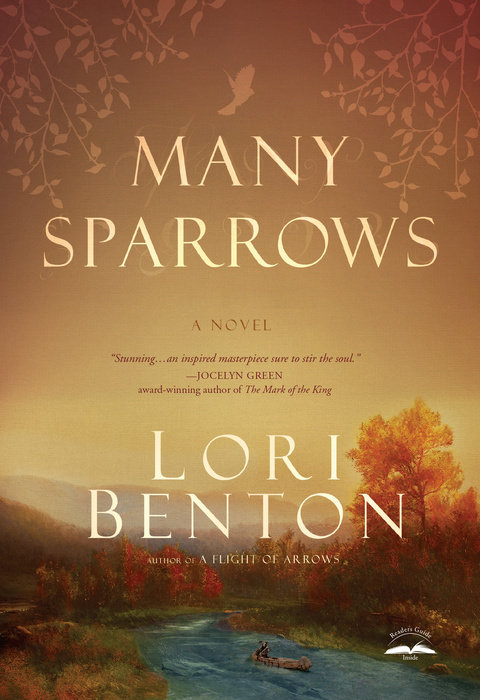 Meet a desperate mother & a conflicted frontiersman in
Lori Benton's
historical
Many Sparrows
Waterbrook Press
*****
The Story

Either she and her children would emerge from that wilderness together, or none of them would.

In 1774, the Ohio-Kentucky frontier pulses with rising tension and brutal conflicts as Colonists push westward and encroach upon Native American territories. The young Inglesby family is making the perilous journey west when an accident sends Philip back to Redstone Fort for help, forcing him to leave his pregnant wife Clare and their four-year old son Jacob on a remote mountain trail.
When Philip does not return and Jacob disappears from the wagon under the cover of darkness, Clare awakens the next morning to find herself utterly alone, in labor and wondering how she can to recover her son…especially when her second child is moments away from being born.

Clare will face the greatest fight of her life, as she struggles to reclaim her son from the Shawnee Indians now holding him captive. But with the battle lines sharply drawn, Jacob's life might not be the only one at stake. When frontiersman Jeremiah Ring comes to her aid, can the stranger convince Clare that recovering her son will require the very thing her anguished heart is unwilling to do—be still, wait and let God fight this battle for them?
Introducing Clare & Jeremiah
Clare Margaret Inglesby
Wealthy physician's daughter, farmer's wife, frontier settler, 26 years old
Brief physical description
Clare is blond-haired and green-eyed, but the rest is best told through Jeremiah Ring's eyes:
"Clare Inglesby," she said, then frowned. "Mrs. Philip Inglesby, I mean."
He'd noted her momentary confusion, the coloring of her cheeks. He felt it too, the disconcerting intimacy that oughtn't to lie between two people just exchanging names.
Now he had space to really look at her, Jeremiah noted she'd a comeliness undiminished by months of child-carrying or the ordeal just past. She'd eyes wide-spaced, a nose not small but nicely sculpted, a sharp jaw ending in a delicately pointed chin.
Resembles…
The actress Katheryn Winnick strongly resembles Clare. I've included a photo of her on my Many Sparrows Pinterest board. Have a look!
Many Sparrows board: https://www.pinterest.com/lorilbenton/novel-many-sparrows/
Strengths and weaknesses
Clare is stubborn, strong, courageous, tender-hearted, a fierce protector of her children. Each of these attributes works at different times as strengths or weaknesses. Her greatest flaw is her impatience with and lack of trust in the Almighty's plans and timing in her life. She has difficulty handing over the reins of control to Him, or in placing her trust in a man, even one as competent and generous as Jeremiah Ring.

Your inspiration for the character
My research into the time period, and my on-going fascination with characters who crossed the 18th-century frontier and were forever changed, inspired Clare Inglesby into being. This time I wanted the character who crossed that frontier to be female, someone strong enough to defy expectations of what a woman of that time would do if her child was taken captive by Shawnee Indians. I hovered over those unformed waters and eventually breathed life into Clare. It took a while, however, for me to really understand her. She was stubborn with her creator as well as everyone else!

Jeremiah Ring 
Virginia frontiersman, adopted Shawnee, 30 years old
Brief physical description
Clare notes it best in Chapter 7 of Many Sparrows:
Now, in the firelight, Clare studied the man, who seemed absorbed in like inspection of her daughter, cradled along his forearm. He'd worn a battered, round-brimmed hat for most of the day but had removed it, baring dark hair pulled back into a tail that fell below his shoulders. His forehead was high, his brows level and thick, the bridge of his nose long and narrow…. his face was longer than it was wide, rather mournfully cast until her gaze travelled downward to his mouth, which had softened in a smile. It crinkled the corners of his eyes, which captured a glint of firelight as though sight of her baby's face had kindled warmth behind them.
Resembles…
Jeremiah Ring looks like Noah Wyle from Falling Skies. I watched that show shortly before I began writing Many Sparrows, so those actors were fresh in my mind. My Pinterest board has photos of Jeremiah and other characters I ended up "casting" from that show.
Many Sparrows Board: https://www.pinterest.com/lorilbenton/novel-many-sparrows/
Strengths and weaknesses
Jeremiah is loyal, steadfast, wise in the ways of the frontier. He's a man who keeps his promises and doesn't make them lightly. He can be taciturn and struggles with the failures of his past, but he has a strong faith in the Almighty and the courage to risk the pain he knows can come with opening one's heart to another human being. Though he's adaptable and can live in two cultures, he struggles with which has the greatest claim on his soul.

Your inspiration for the character
I needed the type of frontiersman who could come to Clare Inglesby's aid and be to her both a guide and a guardian, a friend and a frustration, someone as different from her and her life experiences up to that point as I could muster. Jeremiah Ring was created to suit that need, but as I wrote Clare's story, his story became as important as hers. He's become one of my favorite characters.

Background to the story
The Yellow Creek Massacre, the historical event I used as the inciting incident for Many Sparrows, was the murder of nearly the entire family of a Native American man called John Logan, or Chief Logan. I'd known about Logan for years, having run across his story in research for earlier novels; from my first reading of the letter he wrote during that fateful year of 1774 (known as Logan's Lament), I'd wanted to work him into a novel someday. Many Sparrows proved to be the right story.
While on a research trip along the Ohio River during the autumn of 2016, I spent a night on the spot where this tragic event took place. A large hotel stands where once was a trading post and tavern. I lay awake in the dark that night thinking of Logan, who stood on that spot in a time of grief, of how the years have flowed past him like the wide river rushing by, and I longed to write a better ending for the man. The best I could do was give him space to live and breathe, and lament, in the pages of my story.
Background to the story
As Clare's Uncle Alphus muses in Chapter 16 of Many Sparrows…
A person could vanish on the Virginia frontier without much fuss and bother. A hunter gone out for meat meets instead with mortal mishap crossing a river—or a bear—leaving his bones to bleach lonely on a mountainside. A child playing in the dirt of a cabin yard is snatched by tawny hands and carried off to grow up Seneca or Shawnee. A man pulls up stakes, carts his family over the next blue ridge westward, never to be seen again.
It happened in a hundred different ways and not just to strangers, so why it never entered the mind of Alphus Jacob Litchfield that it could happen to his niece, her husband, and his namesake great-nephew, he couldn't rightly have said. Maybe the notion had tried to slip its way in and he'd slammed the gate on it like a skunk come nosing. Clare was like a daughter to him, the nearest he'd ever know, confirmed and grizzled bachelor that he was at forty-nine. Thought of her disappearing from the face of the earth was unimaginable.
Until now.
Thanks Lori!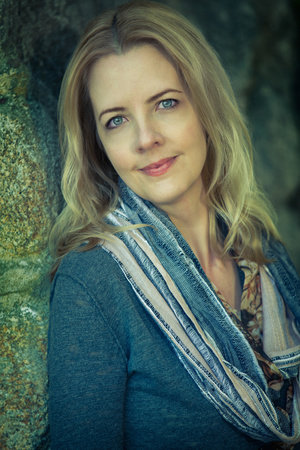 Lori Benton was raised east of the Appalachian Mountains, surrounded by early American history going back three hundred years. Her novels transport readers to the eighteenth century, where she brings to life the Colonial and early Federal periods of American history. When she isn't writing, reading, or researching, Lori enjoys exploring and photographing the Oregon wilderness with her husband. She is the author of "Burning Sky," recipient of three Christy Awards, "The Pursuit of Tamsen Littlejohn," Christy-nominee "The Wood's Edge," and "A Flight of Arrows."
Find out more about Lori at http://loribenton.blogspot.com.
Relz Reviewz Extras
All Things Benton @ Relz Reviewz
Visit Lori's website
Buy from Amazon: Many Sparrows or Koorong