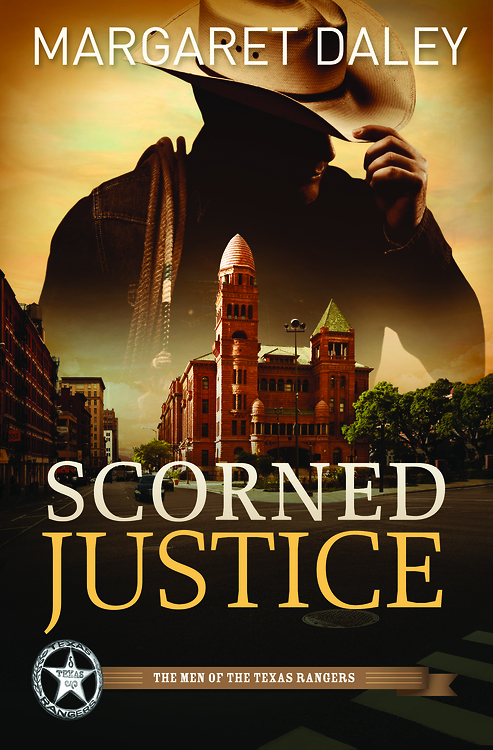 Meet a Ranger and a judge in
Margaret Daley's 
Romantic Suspense
Shattered Justice
Abingdon Press
The Story
Texas Ranger Brody Calhoun is with his parents in west Texas when an unexpected attack injures the brother of Rebecca Morgan, Brody's high school sweetheart. The local sheriff, a good friend, asks for Brody's help. At first, it seems like an open-and-shut case. 
As Brody digs deeper, he realizes the attack may be related to an organized crime trial Rebecca will be overseeing. With Rebecca's help, he compiles evidence involving cattle rustling, bribery, and dirty payoffs that shatter the entire community and put Rebecca directly in the line of fire.
Brody expects to protect her. What he never expects is to fall for Rebecca all over again, or for a murder to throw the case wide open. Is Brody's faith strong enough to withstand not only deep-rooted corruption and cattle rustling, but also love?
Enjoy meeting Brody & Rebecca
My inspiration for Scorned Justice was the question: how far would a person take revenge against another? What does that kind of drive do to a person? How does God's word help us against thoughts of revenge?
Previously a DA, Rebecca Morgan (with long, wavy auburn hair, clear blue eyes and  medium height) is a San Antonio judge who is a widow. Her husband was a police officer, killed in the line of duty. She is devoting her life to bringing justice to San Antonio and being a good sister and aunt. She was lucky to have a love of her life, even if he was taken from her. She counts herself blessed for what little time she had with her deceased husband. Now she wants to make the world safer for her family (two nieces and an older brother). When she isn't working, she is usually at the ranch her brother and her own outside San Antonio. She loves to ride. It helps clear her mind.
Rebecca Morgan looks like is Nicole Kidman.
Rebecca's strengths are her determination and sense of justice. Her weaknesses are impatience and needing to control her life. Rebecca's faith in the Lord is what helped her through her grief when Garrett was killed.
Texas Ranger, Brody Calhoun (tall, muscular and dark haired with gray eyes) grew up best friends with Rebecca's older brother, Thomas. Rebecca had followed Brody and Thomas around when they were growing up. When they became teenagers, he was attracted to Rebecca and she to him, but it never seemed the right time for them. Then she met her future husband, Garrett, fell in love and married him. Brody left the San Antonio police department and joined the Texas Highway Patrol. He comes back to San Antonio as a Texas Ranger when his father has a heart attack. He loves his father but trying to take care of him can be difficult when his father fights his limitations. Brody is a cowboy at heart.
The actor Brody Calhoun looks like is Dylan McDermott.
Brody's strengths are his integrity and patience. His weaknesses are sometimes caring too much and needing to be in control. Brody believes in the Lord but has fought his doubts over the years, especially with some of the cases he has been on. There is a lot of evil in the world, and he has seen it.
Thanks Margaret!
Relz Reviewz Extras
Reviews of Saving Hope and Shattered Silence
Character Spotlight on Wyatt & Kate
Visit Margaret's website and blog
Buy Scorned Justice at Amazon or Koorong