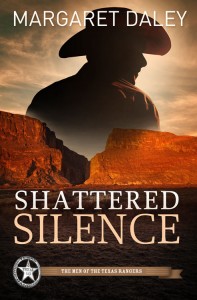 Synopsis:~
A serial killer is targeting illegal aliens in southern Texas. Texas Ranger Cody Jackson is paired with a local police officer, Liliana Rodriguez, to investigate the murders.
While the case brings Cody and Liliana ever closer, the tension between Americans and Mexican Americans heightens. As Cody and Liliana race to discover who is behind the murders and bring peace to the area, what they uncover isn't what they expected. Will Cody and Liliana's faith and love be strong enough to survive the storm of violence?
My take:~
Margaret Daley's excellent storytelling is on display in her Men of the Texas Rangers series and there is much more to this series than meets the eye. Many novels featuring Texas Rangers are all brawn and no brains but Shattered Silence is a multi layered novel that captures the impact of racial tension, the challenges of cross cultural relationships, single parenting and domestic violence. Margaret tempers the heavy issues with a blossoming attraction between Liliana and Cody, spiritual threads and a good dose of healing and hope. With suspenseful twists and the killer's first person voice, Shattered Silence captivates, keeps the adrenaline pumping and satisfies the reader who wants something more in their romantic suspense tales.
With thanks to Abingdon and Wynn~Wynn Media for my review copy via NetGalley
Relz Reviewz Extras
Review of Saving Hope
Character Spotlight on Wyatt & Kate
Visit Margaret's website and blog
Buy Margaret's books at Amazon or Koorong