The Eyes of E'veria Stories
The Ryn 
DESTINED by prophecy. GUARDED by deception. PURSUED by Love.
Centuries ago, an oracle foretold of the young woman who would defeat E'veria's most ancient enemy, the Cobelds. But after two centuries of relative peace, both the prophecy and the Cobelds have been relegated to lore—and only a few remain watchful for the promised Ryn.
Finally, a child is born who matches the oracle's description, but a Cobeld curse accompanies her birth. Led to believe they succeeded in killing the prophesied child, the Cobelds emerge from hiding with plans to overtake the Kingdom.
But the child survived.
Secreted away and called "Rose" for the first nineteen years of her life, Rynnaia E'veri has no idea of her true identity until a chance meeting with an injured knight reveals not only her parentage and true name, but the task assigned her by the oracle: discover the Remedy that will destroy the Cobelds' power.
Now, her time has come.
Offered the assistance of pirates, scribes, storytellers, a young woman who died centuries ago, and the knight who is quickly working his way into her heart, Rynnaia is fortified with friends. But if the Ryn is to complete her task, she must come to terms with not only who she is, but for whom she must be willing to die. For the kingdom's survival depends on her.
The Remedy
Nine marks stand guard to guide the way. Three tasks upon the Ryn will prey. Death stalks the path with fierce desire, and a council of four will light the pyre.
Having come to terms with her long-hidden identity, Princess Rynnaia E'veri is ready to take her rightful place. But before she can join her father at Castle Rynwyk, she must endeavor to fulfill a 200-year-old prophecy and defeat the Kingdom's ancient enemy, the Cobelds. Joined by her faithful knight, Sir Julien de Gladiel, and a gifted group of friends, Rynnaia must trek a dangerous path through canyons, forests, and into the very depths of a mountain where, if the prophetic scrolls prove correct, she will face an unknown foe, alone.
Treacheries will be discovered, sacrifices will be made, friends will be lost, and love will be tested, but if even one line of the riddled prophecy is misinterpreted, Rynnaia will fail . . . and the Kingdom will fall.
Enjoy meeting Rynnaia & Julien
Brief physical description
Rynnaia E'veri is quite tall and her eyes are a bright, deep blue. She has long, wavy hair, dark copper in colour—but for the first 17 years of her life, her hair is dyed black to protect her identity.
Sir Julien de Gladiel is a knight. He has a lean, but strong form and is even taller than Rynnaia. He has emerald-green eyes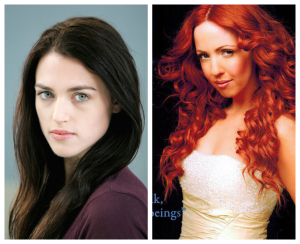 and his near-shoulder length golden-blond-with-touches-of-bronze hair has a slight wave to it. Circling his lips and covering his chin is a triangular beard (a bit like a goatee) known as the Knight's Beard.
Resembles…
In my mind, Rose is a cross between Katie MacGrath (BBC's Merlin series) and Lisa Lambe (Celtic Women). Julien looks quite a bit like Chris Hemsworth's character in Red Dawn, but with the adjustments to hair and eyes as listed above.
Strengths and weaknesses
Rynnaia is very insecure about how she is viewed by others, and often feels as though she belongs nowhere. She is also quite stubborn, but even though she doesn't know where she comes from in the beginning, she has a strong sense of family (thanks to her foster family) and is intensely loyal—she also possesses a particularly well-developed love of good-natured teasing.
Julien is loyal, protective, and skilled in every knightly way. He can be overprotective, especially when it comes to Rynnaia or his sister, Erielle, and jealous of others who he thinks might want to claim Rynnaia's heart or hand. He is a natural leader, but a bit too easily offended. His loyalty to the King (and the Ryn) can cause him to take remarks and actions too much to heart and his desire to defend the King and realm can lead him to insult or threaten those who might not take insults well–like pirates for instance! But Julien is also a good friend and quick to forgive the offenses of those he loves. And, while his sense of humour is more guarded than Rynnaia's, it runs deep.
Quirk (if any)
Rynnaia's Veetrish brogue grows stronger when she is telling a story or engaged in teasing/pranking someone. It's quite charming.
When Julien is thinking about something troubling, he tends to either run his thumb and forefinger around his beard, or run his hand back and forth over the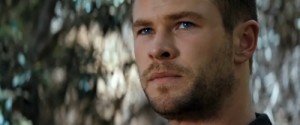 top of his head.
Background to the story
Originally, the story was inspired by the classic Grimm fairy tale, Snow White & Rose Red—a tale in which two young girls befriend a lost and injured bear… who turns out to be a Prince under a curse. But what it became… I really can't take credit for that because the story just kind of flowed through me and became something entirely bigger and much more involved than I ever dreamed it could!
Your inspiration for the character
Snow White & Rose Red was one of my very favourite stories growing up, but I hated that meek and (in my opinion) boring Snow White got the Prince in the end. I identified better with spunky Rose Red! So… I decided to turn the tables on . . . everyone . . . and make the story, and the characters, come more to life.
Thanks Serena!
Relz Reviewz Extras
Review of The Ryn
Serena's Author Alert
Visit Serena's website and blog
Like Serena's FB page
Buy at Amazon ~ The Ryn and The Remedy

Enter Serena's amazing contest ~ necklace, t-shirt, Kindle copies of The Ryn & The Remedy