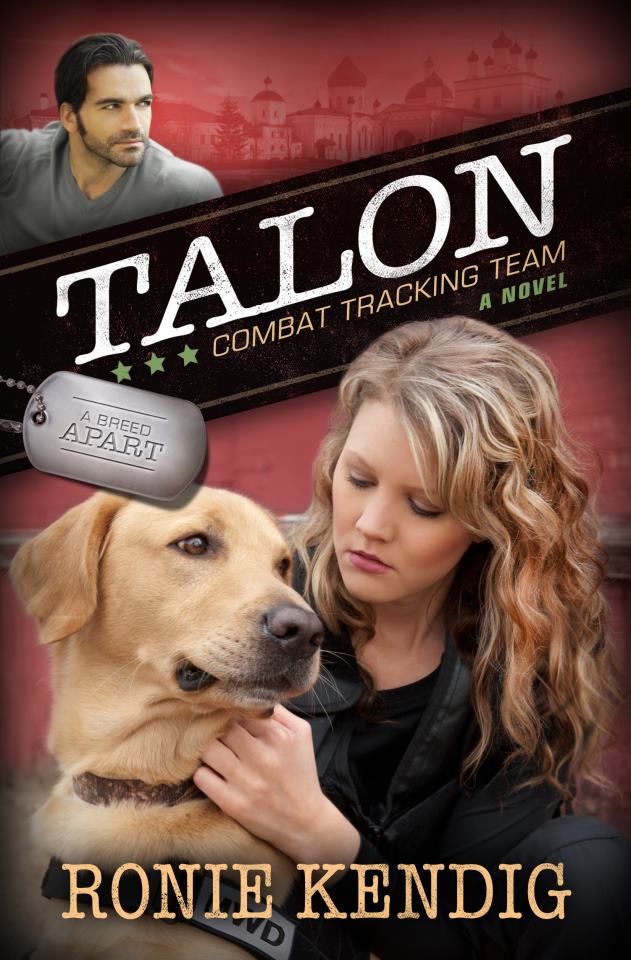 Synopsis:~
She's on a mission to find her missing brother. Only his combat tracking dog knows where to look. . . .
Air Force veteran Aspen Courtland just wants her brother back—dead or alive. The US Marine Corps declared him dead, but Aspen is unwilling to let him die without a fight. Aspen adopts her brother's combat tracking team dog, Talon, hoping to come closer to finding peace about Austin. But after the brutal attack that separated dog and handler, Talon is afraid of his own shadow.
Military Intelligence OperativeDane Markoski has run from the truth most of his life. Now, it's the only thing that can save him—and his mission—if he dares to face the past. Talon is the key to achieving his objective…but the only way to Talon is through his new owner. But Dane swore he'd never work a woman.
Teamed up in Djibouti, Dane and Aspen battle the elements and extremists. Survival depends on his skills, her optimism, and the courage of a traumatized combat tracking dog. Can Talon muster the valorfor one last mission?
My endorsement:~
Ronie Kendig takes readers on another journey of gut wrenching emotion,  heart palpitating danger, and unfailing devotion in Talon: Combat Tracking Team, the second novel in her A Breed Apart trilogy. Be prepared to fall in love with Talon and Aspen as they battle real and imagined fears, and discover a man who could help them heal or just as easily, wreak havoc in their lives. Once again this gifted author pens an unforgettable story of courage, sacrifice and heroism with an unrivaled combination of intense human emotion and relentless, adrenaline laced adventure. Talon is not just a story – it's an experience!
Rel's special comments: Just wanted to say a little more about the brilliant Ronie Kendig and her books. Firstly, I want my readers to know upfront that I have established an amazing friendship with Ronie over the years since I first had the privilege to read Ronie's debut novel, Dead Reckoning. She has no idea that I've decided to add an editorial to this post, and she will probably be a little embarrassed by it, but I'm willing to risk it!
We had chatted a little via email prior to Ronie asking me if I'd be interested in reading Dead Reckoning and as romantic suspense is my genre of choice, I jumped at the chance. I didn't know Ronie or her writing and I was blown away by her novel, hardly believing it was the her first published book. I fell in love with her deeply engaging characters, adrenaline pumping action scenes, and the authentic love story that never interfered with the suspense. Then came her Nightshade series and whoa, baby~ what's not to love about her discarded heroes?! The trauma they have suffered, the emotional and spiritual crossroads they endure, and their fabulous comaraderie, make you thoroughly invested in their journeys. And the romance ~ swoon, swoon, swoon! Not in a sappy, sentimental kind of way at all, as the love story blends seamlessly and naturally into the tale. The honour Ronie brings to those serving in the military through her stories is exceptional. Now, she is two books into A Breed Apart, again recognising the sacrifice of our soldiers but their canine buddies, too, who also protect and serve. More spine tingling, heart pounding stories to get lost in.
I've also had the privilege of reading some of her other works-in-progress ~ she doesn't just have a talent for romantic suspense, let me assure you ~ she is a gifted writer and I truly hope all her stories get into readers' hands one day!
So, why am I saying all of this? Well, I love introducing readers to books I love and there are none higher on my list than Ronie's stories. So, if you are a fan of Dee Henderson, Dani Pettrey, Irene Hannon, DiAnn Mills, or Lynette Eason and you are yet to read a Ronie Kendig book, you are MISSING OUT! So, be sure to enter either of the giveaways Ronie and I are offering below ~ beware though, once you have read one Kendig book, you will need to read them all ;-D
Relz Reviewz Extras
Watch Talon's trailer
Check out the cover and synopsis for Beowulf
Character interviews with Heath & Darci
Character spotlight on Heath, Darci & Trinity
Reviews of Trinity, Dead Reckoning, Firethorn, Wolfsbane, Digitalis and Nightshade
Meet the Nightshade team: Max ~ Colton ~ Canyon ~ Griffin ~ Azzan ~ John  ~ Marshall
Meet the Nightshade women: Sydney ~ Piper ~ Dani ~ Kazi
Character spotlights: Max & Syd ~ Colton & Piper  ~ Canyon & Dani
Visit Ronie's website and blog
Visit Ronie's Discarded Heroes website
Buy Talon at Amazon or Koorong