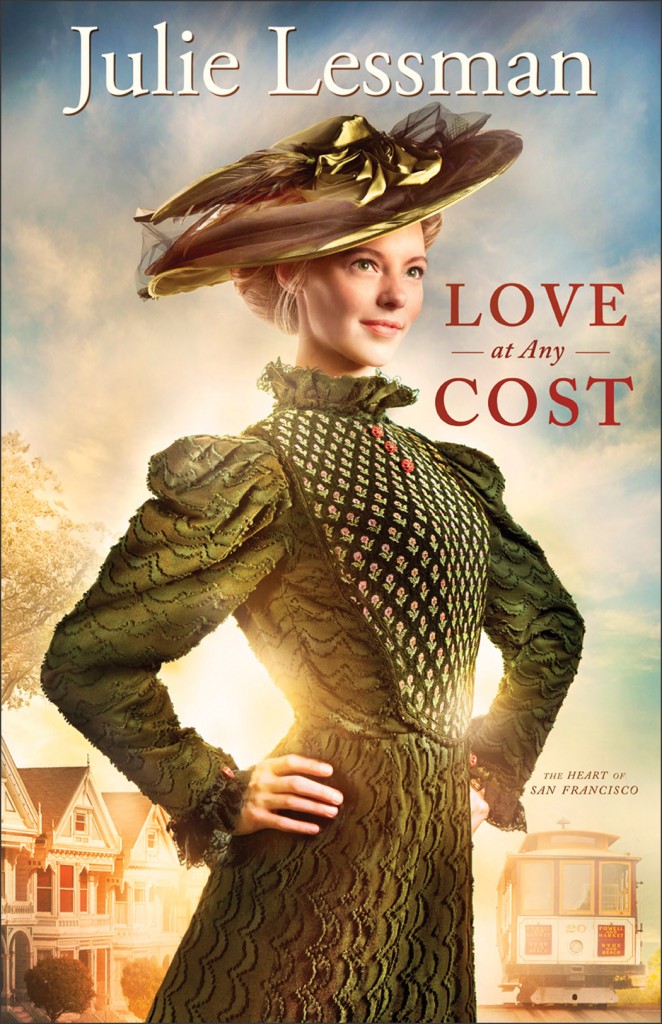 Synopsis:~
Jilted by a fortune hunter, cowgirl Cassidy McClare is a spunky Texas oil heiress without a fortune who would just as soon hogtie a man as look at him. Hoping a summer visit with her wealthy cousins in San Francisco will help her forget her heartache, Cassidy travels west. But no sooner is she settled in beautiful California than Jamie McKenna, a handsome pauper looking to marry well, captures her heart.
When Jamie discovers the woman he loves is poorer than he is, Cassidy finds herself bucked by love a second time. Will Jamie discover that money can't buy love after all? And can Cassidy ever learn to fully trust her heart to a man?
My take:~
Love at Any Cost is the highly anticipated beginning to Julie Lessman's Heart of San Francisco series, introducing readers to the McClare family with its raft of young and attractive cousins, with energy and personality to spare and their elders, widowed Caitlyn McClare and her bachelor brother in law, Logan. Julie has a gift for creating a loving and inclusive family, and her readers will quickly become fascinated with the McClares, who have many similar qualities to the O'Connors of her earlier series, yet will stand uniquely on their own.
This story revolves around Cassidy, the jean wearing, lariat wielding Texan cousin, who has come to San Francisco to heal from a broken heart with the help of her beloved aunt and her family. I love the family relationships, the love and loyalty that is shared between the McClares, which is reflected in the close knit McKenna family. The spiritual element is strong, as in all Julie's stories, as Jamie and Cassidy wrestle with their fears and their need to control their own destinies, both discovering that God has so much more in store for them. A surprising plot twist towards the end of the story was intriguing but I'm not telling!
That said, not all was to my liking in this tale. Passion and attraction has always been a significant feature of Julie's stories but I was surprised by the intense focus on that part of Cassidy and Jamie's relationship. Feisty is Cassidy's middle name yet she continually places herself in situations where the hero of the tale can take advantage of her, and he promptly does, time and time again. There is a fine line between rogue and rake and in the first half of the story, Jamie crosses that line, enough to make me feel uncomfortable. He is a contradiction ~ on the one hand he is a deeply respectful and loving son, with a noble dream to improve the life of his beloved mother and crippled sister yet once with an attractive woman he becomes brazen, constantly overstepping the bounds of propriety without regret, until he can no longer get his own way. So much focus on Cassidy and Jamie's  physical beauty and stolen kisses was to the detriment of a substantial story line. The same sensual tension also exists in every scene between Aunt Caitlyn and her brother in law, Logan, who is trying to convince Caitlyn that he is not the same man who betrayed her in their youth. There is a realism to Julie's writing that reflects they way some men think when it comes to women and vice versa and I admire that. However, I discovered that while I crave authenticity in characterisation there is a level of integrity and spiritual maturity (or growth as the case may be) that I prefer in my heroes and Jamie just didn't have enough of that for me.
Despite my reservations, I have no doubt Love at Any Cost will appeal to many of Julie's readers who will be thrilled to fall in love with another family of fun and interesting characters as they pursue love and faith in San Francisco.
With thanks to Revell for my review copy
Relz Reviewz Extras
Reviews of A Light in the Window, A Love Surrendered, A Hope Revealed,  A Hope Undaunted, A Passion Most Pure, A Passion Redeemed & A Passion Denied
Character spotlights on Sean & Emma, Cluny & Katie, Lizzie & Brady and Marceline, Patrick & Sam
Julie's FamilyFiction Plus
Interview with Julie
Visit Julie's website
Buy Love at Any Cost at Amazon or Koorong