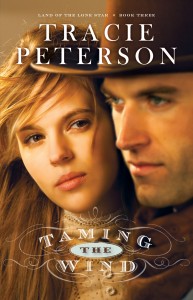 Meet Carissa & Tyler from 
Tracie Peterson's
Taming the Wind
Bethany House
The Story
When Cassie Lowe goes to live with her sister in the years following the Civil War, she is reacquainted with a man who once saved her life, Tyler Atherton. But Cassie is no longer the lighthearted young woman he once knew. She is now a widow with a young daughter, and she is nursing the disappointments and hurts from a difficult marriage.
Tyler has demons of his own. Still haunted by the knowledge that his father was murdered by Comanches, he puts all his focus on reclaiming his inheritance: the ranch stolen from his family as punishment for his fighting for the Confederacy. With his affection for Cassie growing, he longs to provide a home and future for her and her daughter. Though yearning to pledge their love, both Cassie and Tyler struggle to conquer their fears.
Introducing Carissa & Tyler
Brief physical description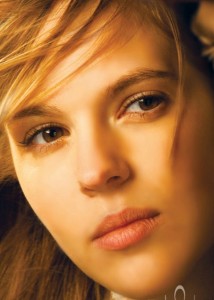 Carissa (Cassie) Lowe – petite, caramel blond hair, dark brown eyes.
Tyler Atherton – blond-brown hair, blue eyes, tall, lean cowboy.
Actor/famous person
The book cover captures these two completely – even the sassy, self-confidence of Carissa.
Strengths and weaknesses
Carissa – has been through a lot that has hardened her and strengthened her to be a widowed mother, but her fear causes her to shy away from God's blessings.
Tyler – has suffered loss in his life that makes him bitter so he has to learn to trust God and let go of his desire for revenge. His strength is his great capacity to love.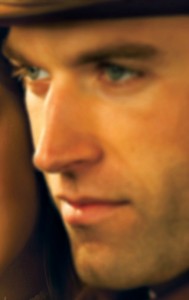 Your inspiration for the character
As I developed the plot line for this series, these characters just began to develop themselves. I started with just a sketch of what I thought I needed and then began fleshing them out in contrast to what I was putting them through in the story. I wanted to have flawed characters who learned to trust God and each other.
Background to the story
Taming the Wind is book 3 in the Land of the Lonestar series. This story will bring characters Carissa Lowe and Tyler Atherton together against the backdrop of post-Civil War Texas and the booming cattle market. Life conspires to keep these two apart, however, and there are a great many personal demons and obstacles to overcome before they can learn to trust and love.
Relz Reviewz Extras
Visit Tracie's website
Buy Taming the Wind at Amazon or Koorong