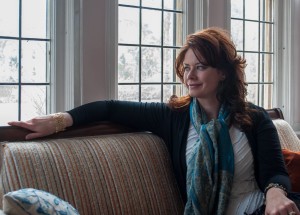 The lovely Brandy Vallance impressed with her debut novel, The Covered Deep, and readers have been hungering for her next offering since 2014. It's a pleasure to share with you Within the Veil, along with an sneak peek excerpt for your reading pleasure!
Brandy takes readers to the wilds of Scotland in this intriguing novel, delving into the Gypsy lifestyle, Scotland's Holyrood Castle, prejudice, longing, and love. If you have had the pleasure of reading The Covered Deep, you know that Brandy writes stunning prose and pens stories beyond the ordinary. I have no doubt (and I may have had a tiny sneak peek!) that Within the Veil will be another intriguing, romantic, and captivating read.So, we have to hang on until June but to help with the reader angst, be sure to pre-order your copy now!
Within the Veil

They never should have met. But they might be made for each other.
Feya Broon, a Scottish half-gypsy, knows what it is to go hungry. Trapped in the Edinburgh tenements with a father lost to his past and only the faded memory of her mother's faith, Feya is desperate to provide for her siblings. When an ill-conceived plan leads to thievery, she finds herself in the last place she'd ever want to be–captured by an English palace guard. But there's something about this man that tears at every preconceived notion she's ever had. 
Alasdair Cairncross never dreamed he'd be forced to transport a gypsy woman halfway across the wilds of Scotland. The timing is disastrous, considering his fiancée's imminent arrival and his father's political goals. Not only that, but the fiery young woman threatens to lay bare secrets Alasdair would rather keep hidden. And the farther they travel together, the more conflicted he finds himself with duty–both to the crown and to the plans his family has for him.
As their walls begin to crumble, Feya and Alasdair must fight to survive a decades-old feud, a Highland kidnapping, and the awakening of their own hearts.
If the exotic cover and fascinating plot aren't enough to tempt you, here's a taste of Brandy's writing and the captivating story of Feya and Alasdair!
EXCERPT

            Feya closed her eyes again. Every time she looked at him the oddest sensations coursed through her body. It must be the lingering sickness from Holyrood. Perhaps it was the effects from lack of breathing. And, precisely at this minute her breath was coming too fast.

            Alasdair's hand was on her cheek. "Can you breathe? Perhaps you should lie down again." He placed his hand upon her back as if she were too weak to recline.

            Feya rested her weight against his hand. Above her, sitting so near, Alasdair filled her sight and blocked out all the darkness and shadows of the cave.

            He moved his hand to the back of her neck, cradling her. "How do you feel now?"

            "Better." The thoughts she'd had at the gypsy camp—they moved on her like a reckoning. Him. Her. Together. But the possibility of Alasdair Cairncross wanting her . . . She knew it was a wispy hope, floating on a sea of dreams.

            Such were his eyes, she realized. There were things unreachable in those dark blue depths. She saw them now. It was in the powerful way that he looked at her—studied her every move. There were things in his eyes, fresh and unsullied by the filth that was her constant companion. He was full of life and unquenchable warmth.

            He slid his hand from her neck and laid it at his side, casually. "Feya, if you're worried that you're dying . . . Well, I don't think so."

            Yes, she was dying. But perhaps not in the way he spoke. "No?" The word came out raspy. He still hadn't looked away. The orange light of the fire arched over his head, pulsing and reaching, reflecting her desire to touch him—to feel the skin of his cheek under her hand. 
Yep, that ought to do it! I can't wait to peel back the pages and discover more about Feya and Alasdair ~ anyone else feeling a little swoon coming on?!
Brandy Vallance is a member of American Christian Fiction Writers, Romance Writers of America, and Pikes Peak Writers. She is the 2013 winner of the Christian Writers Guild Operation First Novel Contest. In 2012, she won the American Christian Fiction Writers Genesis Contest for historical romance.
Brandy's critically acclaimed and bestselling novel, The Covered Deep, has been featured by Writer's Digest and USA TODAY.
Relz Reviewz Extras
Character spotlight on Bianca & Paul (The Covered Deep)
Visit Brandy's website and blog
Pre-order at Amazon: Within the Veil