The Reading Habits
of
Melissa Tagg
*******
Are you a re-reader? Why, or why not? And if you are, what are some of the books you have read over and over?
Absolutely! In fact, I just finished a run of re-reading every Lori Benton book…even her latest, which is just releasing this month. I scored an early copy from her super kind publicist and read it back in January and have already read it a second time. I've reread Christy by Catherine Marshall about a million times. I could reread Susan May Warren's Sons of Thunder once a year and never get tired of it. The list goes on…
I think the reason I reread so often is because I read for the experience…not just the ending. So it doesn't matter to me if I already know how a book ends. If I love and feel connected to the characters and setting, I can't help wanting to revisit. Too, my reading time is more limited these days, so sometimes—possibly purely out of laziness—I prefer to pick up a book I already know I love than wade through the first pages of several books trying to find something I connect with.
When is your optimal time to read – do you prefer to read in one long block, or do you also read for five minutes here or there when you can?
I definitely prefer long blocks! In fact, my favourite time to read is almost the same time every day—right around 9:30 p.m. That's when I tend to start winding down for the night. In fact, I'm pretty habitual about it—book, bubble bath, bedtime.
I'd love your thoughts on novellas. Are you thumbs up or down? Or does it depend?!
Writing them: totally thumbs up! I LOVE writing them. Reading them: Uhhhh. I don't really read them. LOL! And I don't know why I don't. I will say, I did read Julianne Donaldson's Heir to Edenbrooke novella and really enjoyed it. (Oh goodness, speaking of her, I reread both of her books recently too after only reading them for the first time last summer! See? Total re-reader.)
Are you faithful to a genre, an author, or simply quality writing?
Is it cheating to say all three? Lately, I read almost exclusively historical. I live contemporary life, I write about contemporary life…so when I'm reading, I prefer to escape to a different time period. Then, within that genre, I definitely have my author faves.
Which factors most influence your selection of a book?
The first chapter or two, definitely. If I'm not into the book early in the first act, I'll put it down. And I hope that doesn't sound snotty, but again, with limited reading time, I tend to need to be hooked quickly. Which is why I love Amazon's "Look Inside" feature. I'm not too swayed or un-swayed by covers, actually, or even back cover blurbs.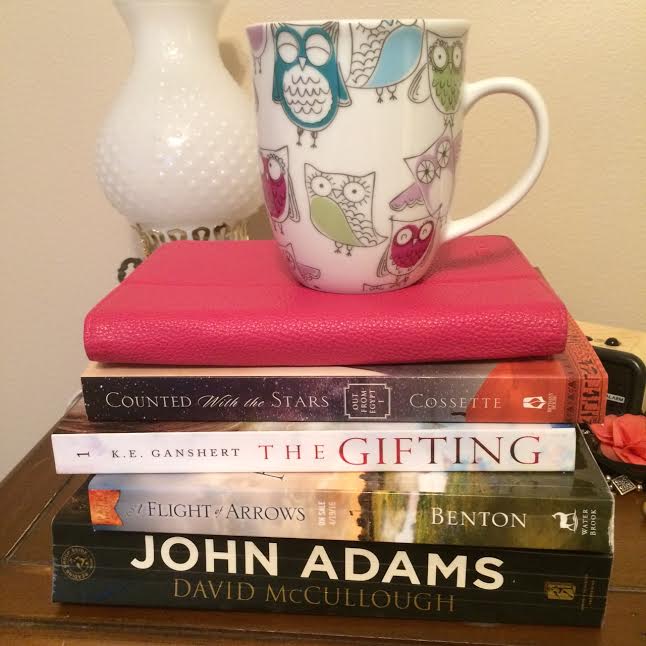 Melissa's TBR
(The photo: That's my Kindle on the top since I do probably 75% of my reading with it. And let's get honest: Will I really make it all the way through that massive John Adams bio? Umm…
)
Your fiction pet peeve?
Perfect characters! AHHH. I can't keep reading if the characters are perfect. I just can't! I also get easily frustrated if an entire plot is based upon simple misunderstanding…you know, when you're reading and thinking, "Um, guys, if you'd just talk to each other, you could easily sort this out!" That annoys me.
What book have you read this year that you could not put down, and why?
Can I say two, pretty please?? Lori Benton's new book, A Flight of Arrows, is gorgeous and stirring and heart-wrenching in the best possible way. I. LOVE. IT. (As is evidenced by the fact that I've already read it twice in a three-month period!) I really just can't say enough about how much I love her books.
And then, I finally read the first of Julianna Deering's Drew Farthering mysteries a few weeks ago…and promptly read the next three within the same week. I can't believe it took me so long to pick them up, but once I started, I couldn't stop. The voice, the setting and time period, the absolutely charming characters…I'm in love. (Particularly, with Drew…
)
How do you mark your spot – folded page corner, bookmark, dollar bill, whatever is at hand?
Well, if I'm reading on my kindle, it marks the spot for me. But if I'm reading a paperback (nobody throw anything please) more often than not I fold the page corner. I really do. I'm glad to finally get that out in the open…it's a confession I've carried with me for a long time.
Whose debut novel impressed you more than you anticipated?
Am I going to sound like a broken record if I say Lori Benton's Burning Sky? I'd heard a lot about this book for a long time, but for whatever reason, just hadn't picked it up. I think perhaps because I'd marked it "women's fiction" in my brain and (confession!) that's generally not a genre go-to for me. But once I started reading, I realized it was unlike anything else I'd read. Oh my goodness, I loved it.
When reading, what makes or breaks a story for you?
Sympathetic but flawed characters! I just love to fall in love with characters…and to me, that's what makes or breaks the book. Of course, if you pair those awesome characters with a perfectly paced plot and fabulous writing, even better!
What are some of your favourite CF reads from around 10 years ago, or further back?
Oh, this is a fun question! I LOVE some older series by Michael Phillips and Judith Pella. The Russians, for instance. Oh my goodness, I've read that series over and over. Also, The Stonewycke trilogies. LOVE. And Michael Phillips "Secret of the Rose" series…so, so good!
Snack/drink of choice while reading?
Coffee for morning reading, tea for nighttime reading. As for snacking, ice cream and M&Ms for sure. Or if I'm feeling super healthy, carrots and grapes.
What book cover has really caught your eye?
Jenny B Jones' new YA cover, I'll Be Yours, is possibly the most adorable cover I've seen in ages. I love it. I also love all of Katherine Reay's covers!
Which author makes it easy to turn off your internal editor?
I so badly want to answer Lori Benton AGAIN but for the sake of variety, I'm going to say Sarah M. Eden. I ploughed through a bunch of her books last year and there was just something about them…they were soooo easy to fall into. My internal editor couldn't have piped up if she wanted to.
What book do you wish you had written? Why?
You know, I honestly can't think of an answer for this. And I think the reason is, the books I love more than any others are so perfect as is…and so tied to their authors' voices. And I just know if I'd written them, they'd feel nothing like they do now.
EXCEPT WAIT! I know my answer: Little Women. I wish I'd written Little Women because then I could make Jo marry Laurie like she should've!! Hehehe…
Thanks Melissa!
Don't miss meeting Logan in Melissa's latest novel…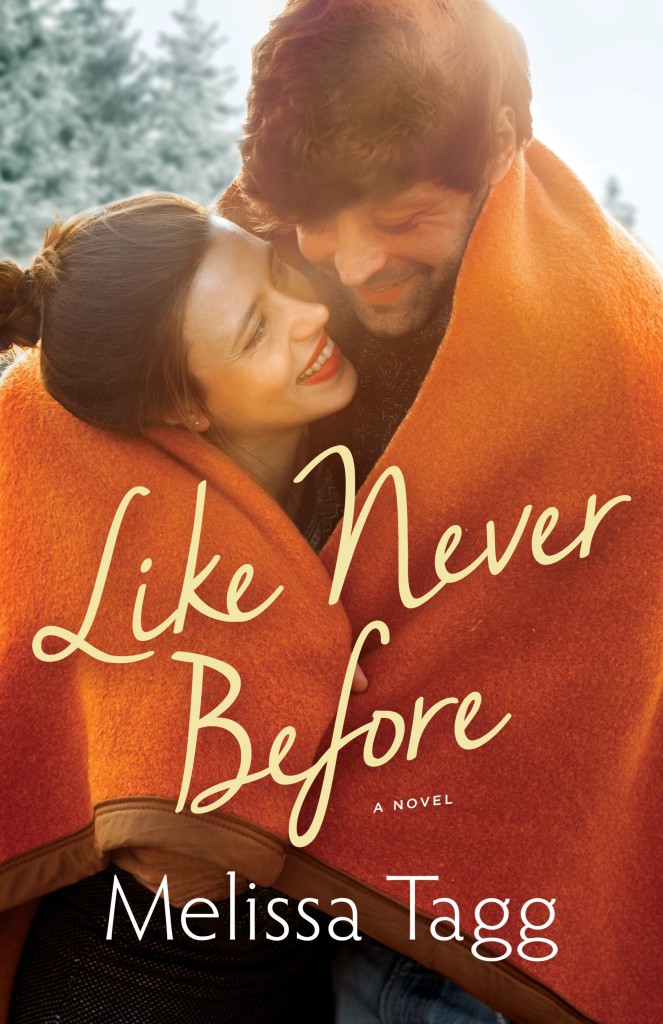 Maple Valley became Amelia Bentley's haven after her heart and her dreams of a family were shattered, but her new life as a newspaper editor is shaken when the paper is bought out by a chain that plans to incorporate it into a regional paper.
After his biggest campaign success yet, speechwriter Logan Walker is approached to work on a presidential campaign. But he already lost his wife three years ago, and saying yes to the job means he'll see his young daughter even less. When Logan hears of a special election campaign in his hometown, helping out sounds like the perfect way to occupy himself while deciding what to do.
When Amelia hears Logan is back in town, she begs him to lend his previous experience in the newspaper world to help turn her paper's numbers around in time. They may butt heads more than they expected, but a lead on a story that could help save the paper is just the start of the sparks that fly in the office and in their hearts
Relz Reviewz Extras
Reviews of From the Start and Made to Last
Melissa's Pop Quiz
Character Spotlight on Miranda & Matthew
Melissa's Author Alert
Visit Melissa's website
Buy from Amazon: Like Never Before or Koorong