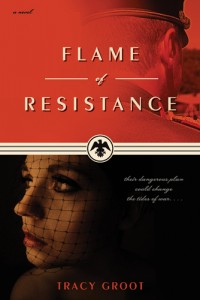 Synopsis:~
Years of Nazi occupation have stolen much from Brigitte Durand. Family. Freedom. Hope for a future, especially for a woman with a past like hers. But that changes the day American fighter pilot Tom Jaeger is shot down over occupied France. Picked up by the Resistance, Tom becomes the linchpin in their plan to infiltrate a Germans-only brothel and get critical intel out through Brigitte, a prostitute rumored to be sympathetic to the Allied cause.
D-day looms and everyone knows that invasion is imminent. But so is treachery, and the life of one American pilot unexpectedly jeopardizes everything. He becomes more important than the mission to a man who cannot bear to lose another agent and to a woman who is more than just a prostitute, who finally realizes that her actions could change the course of history.
My take:~
Readers who thrive on a challenging and intellectually stimulating novel need look no further than Tracy Groot's intense World War II novel, Flame of Resistance.  Cleverly weaving the Biblical story of the prostitute Rahab into a tale of a young French woman who has found a way to survive the Nazi occupation of France, Groot ensnares readers with accurate historical detail and gripping prose.  With complex characters, authentically reflecting good and evil within both the French Resistance and German camps, this story overflows with intrigue, passion, sacrifice and humanity. Flame of Resistance is an excellent read and one I thoroughly recommend, not only for history buffs but for anyone who enjoys reading a book a cut above the usual fare.
With thanks to Tyndale for my review copy
Relz Reviewz Extras
Visit Tracy's website and blog
Buy Flame of Resistance from Amazon or Koorong