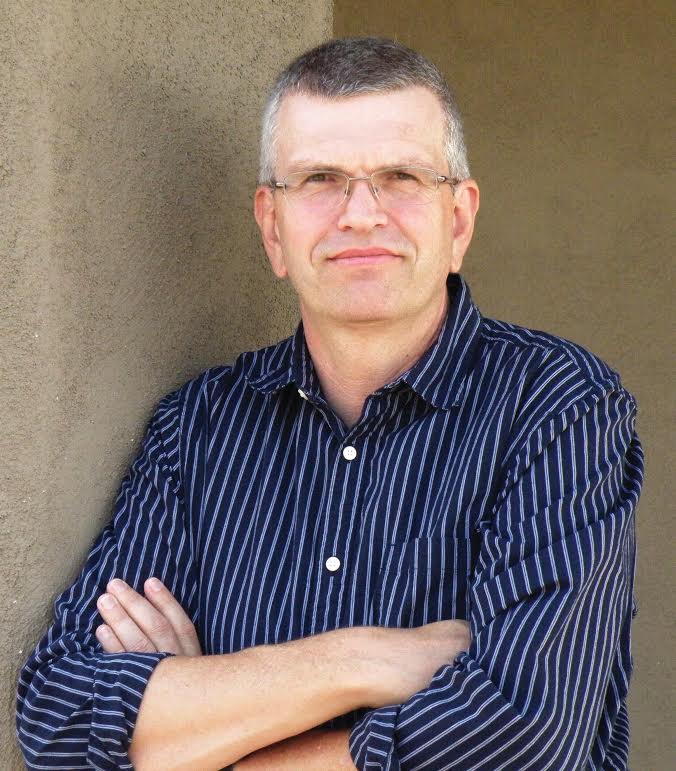 In writing the novelisation of the Kendrick brothers movie, War Room, Chris Fabry found inspiration from a devoted mother in his church.
Chris shares her story…
*********
The Kendrick brothers have their story about how the film War Room originated. I have my own story that I brought to the writing of the novel based on the film.
Our family was living in Illinois and attending a new church. We went through the new members' class and met a couple a little older than us, originally from China. They told their story, smiling as they spoke of the grace of God in their lives, and asked us all to pray for their son, Christopher.
"He is in prison now," Angela said.
Christopher had informed his parents years earlier that he was gay. He had moved to Atlanta, was in the party scene there, and dealt drugs. He was arrested and incarcerated.
But God had done something miraculous in Christopher's life. He had found a Bible in a prison trash can and began to read. This was just before he discovered he was HIV+. The news hit him hard, but God's Word hit him harder.
Angela's husband, Leon, was a dentist and we began taking our kids to have their teeth cleaned at his practice, which was in an office attached to his home. Years later, I was at their house and Angela asked if I would like to see her prayer room.
I had heard much about how hard Angela prayed for Christopher. She stormed the gates of heaven on her knees. She took me to a bathroom off the second floor of the house. It looked like any other bathroom, except that the shower stall was covered with notes and verses and people's names. The tub was covered by a thin rug.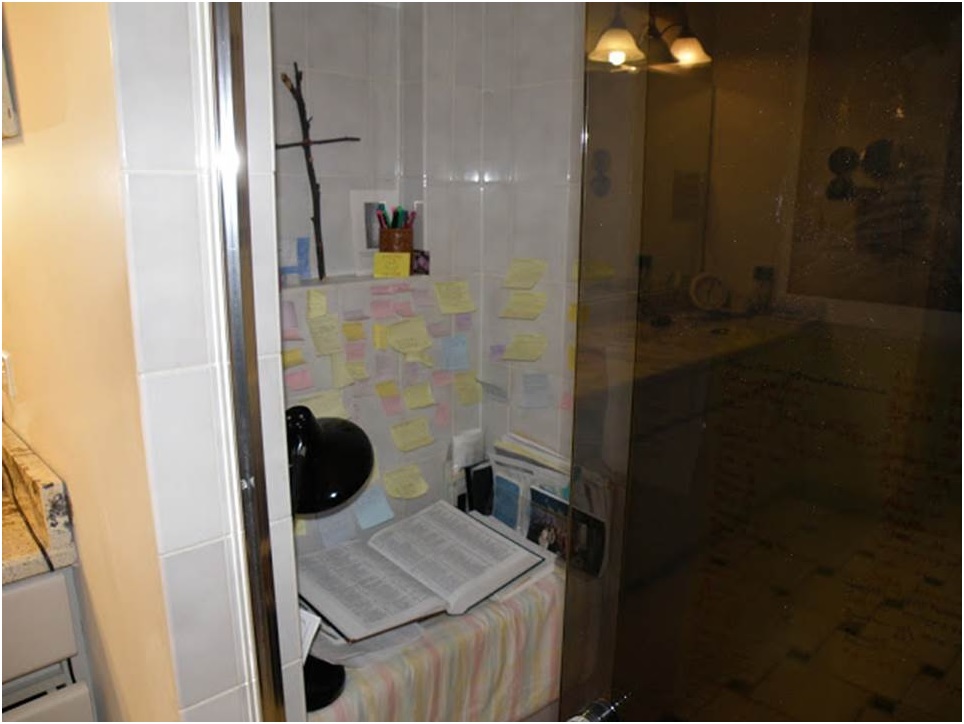 Angela was so committed to praying for her son that she set apart that bathroom exclusively for prayer. I never forgot that scene, nor what happened to Christopher. When he was released from prison, he attended Moody Bible Institute and Wheaton College. Today, he teaches the Bible at Moody.
No one is saying that if you find a "War Room" and use it that your children will become Bible teachers or that your marriage will be fully restored or that any of the cause-and-effect types of answers to prayer will happen. But when you bring God into the equations of your life and you allow Him access to your heart, and you surrender yourself and your problems to Him, He will honor that commitment and that trust you put in Him.
I don't know how prayer works. But I know it does. And I believe God is drawing us to Himself in times of our desperate need of Him. And I'm grateful for those who are willing to surrender and display that with their lives.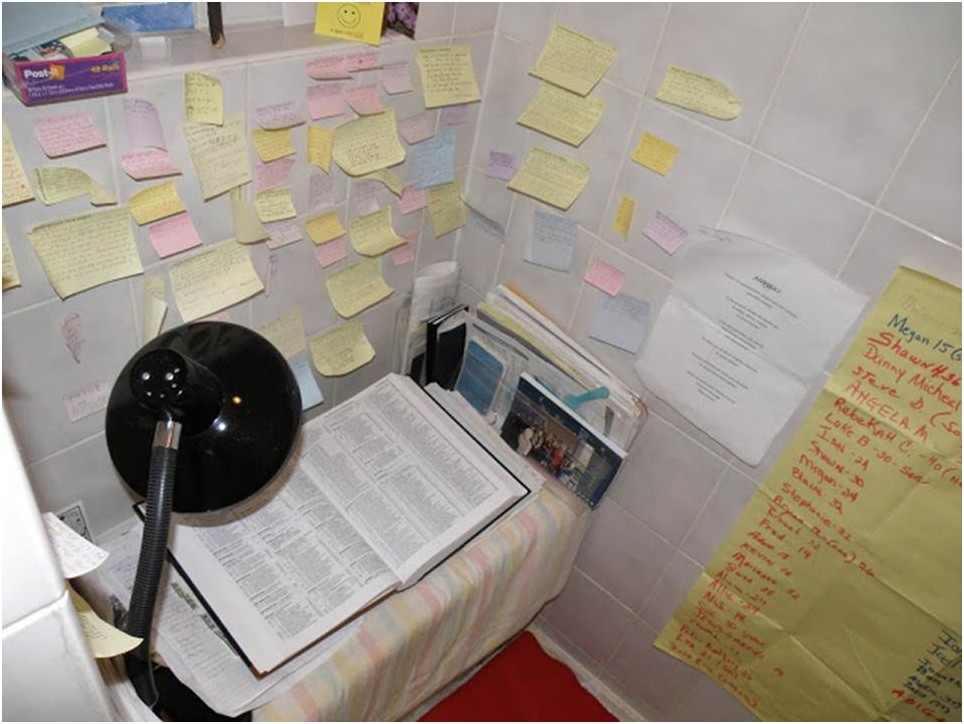 **Photographs courtesy of Chris Fabry
War Room

From the award-winning creators of Fireproof and Courageous comes WAR ROOM, a compelling drama with humor and heart that explores the power that prayer can have on marriages, parenting, careers, friendships, and every other area of our lives.

Tony and Elizabeth Jordan have it all—great jobs, a beautiful daughter, and their dream house. But appearances can be deceiving. Tony and Elizabeth Jordan's world is actually crumbling under the strain of a failing marriage. While Tony basks in his professional success and flirts with temptation, Elizabeth resigns herself to increasing bitterness. But their lives take an unexpected turn when Elizabeth meets her newest client, Miss Clara, and is challenged to establish a "war room" and a battle plan of prayer for her family. As Elizabeth tries to fight for her family, Tony's hidden struggles come to light. Tony must decide if he will make amends to his family and prove Miss Clara's wisdom that victories don't come by accident.

Opening nationwide in theaters August 28 and filled with more of the authentic characters loved by millions in previous Kendrick Brothers' films, WAR ROOM is a vivid reminder that prayer is a powerful weapon.
Bio: Chris Fabry is an award-winning author and radio personality who hosts the daily program Chris Fabry Live! on Moody Radio. He is also heard on Love Worth Finding, Building Relationships with Dr. Gary Chapman, and other radio programs. A 1982 graduate of the W. Page Pitt School of Journalism at Marshall University and a native of West Virginia, Chris and his wife, Andrea, now live in Arizona and are the parents of nine children.
Chris's novels, which include Dogwood, June Bug, Almost Heaven, and Not in the Heart, have won two Christy Awards and an ECPA Christian Book Award, but it's his lyrical prose and tales of redemption that keep readers returning for more. He has also published more than 65 other books, including nonfiction and novels for children and young adults. He coauthored the Left Behind: The Kids series with Jerry B. Jenkins and Tim LaHaye, as well as the Red Rock Mysteries and the Wormling series with Jerry B. Jenkins. RPM is his latest series for kids and explores the exciting world of NASCAR. Visit his Web site at www.chrisfabry.com.
Relz Reviewz Extras
Discover more about Chris
Reviews of Almost Heaven, June Bug & Dogwood
Visit Chris' blog
RBC Book Club interview with Chris
Buy at Amazon: War Room or Koorong