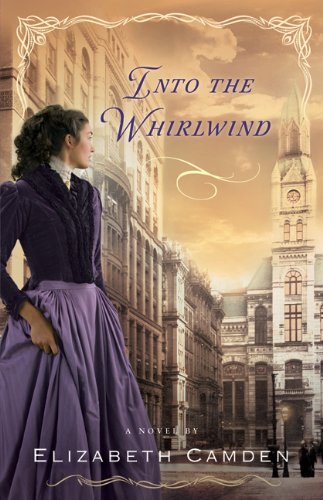 Synopsis:~
As owner of the 57th Illinois Watch Company, Mollie Knox's future looks bright until the night the legendary Great Chicago Fire destroys her beloved city. With her world crumbling around her, Mollie will do whatever it takes to rebuild in the aftermath of the devastating fire.
Zack Kazmarek, an influential attorney for one of Chicago's finest department stores, is a force to be reckoned with among the city's most powerful citizens. Bold and shrewd, he's accustomed to getting exactly what he wants–until he meets Mollie Knox, the beguiling businesswoman just beyond his reach.
In the tumult as the people of Chicago race to rebuild a bigger and better city, Mollie comes face-to-face with the full force of Zack's character and influence. Zack believes this may finally be his chance to win her, but can Mollie ever accept this man and his whirlwind effect on her life, especially with her treasured company on the line?
My take:~ 
Elizabeth Camden pens another detailed and romantic historical novel, Into the Whirlwind, set against the backdrop of the tragedy that was the Great Chicago Fire.  Ripe with fascinating historical detail about the ferocity of the fire and the aftermath of lost dreams and shattered futures, this is a story that tugs at the heart. Mollie is an intriguing heroine, a woman ahead of her time with a head for business matched only by her caring nature. Zack is engaging from top to toe, his Polish heritage, charismatic nature, brashness, and lack of tact gives him a uniqueness among most literary heroes. Each aspect of this novel held my interest ~ the fire, the watch company, the department stores maneuverings, and the restoration of both city and broken hearts ~ all confirmed that Elizabeth Camden is a force to be reckoned with in this ever popular genre.
With thanks to Bethany House for my review copy
Relz Reviewz Extras
Character spotlight on Zack (Into the Whirlwind)
Review of The Lady of Bolton Hill
Character spotlight on Bane & Lydia (Against the Tide)
Visit Elizabeth's website and blog
Visit Into the Whirlwind's Pinterest page
Buy Into the Whirlwind at Amazon or Koorong