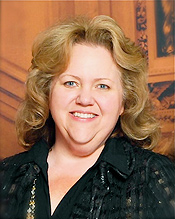 Discover more about
Mindy Starns Clark
and her Amish novel
The Amish Groom
Harvest House
A favourite childhood book of yours?
I loved all the classics of course (Charlotte's Web, Heidi, etc.), but one lesser-known novel that stands out for me was Two on an Island, a Scholastic Book by Bianca Bradbury. The story was about a brother and sister who get stranded on an island together and are forced to unite in order to survive.
At that age, my older brother and I were always butting heads, so I feel sure my love of the tale involved a certain amount of wish fulfilment. Eventually, he and I did become great friends—but without an island to push us together, it took a bit longer for us than it did for the two kids in the story. J
Do you remember the title of the first story you ever wrote? What was it about?
Don't recall the title, but I wrote a thriller in the second grade, about a girl who falls in a hole in the ground and then has to make her way back out through a creepy, crazy sort of underground world full of ghosts and goblins, etc. In the end it turned out she'd simply fallen into a movie set, and all the things that had happened to her were part of filming the movie.  Guess I was victim of one too many episodes of Scooby Doo!
My first "published" book was in the eighth grade, a Thanksgiving-related story I wrote and illustrated that my teacher liked so much she had it duplicated and given out to the whole school. Of course, the fact that the duplication process involved me re-writing and re-drawing the pages onto mimeograph paper will give you an idea of how long ago that was.
If you weren't a writer, what career would you/did you/do you have pursued?
When I was younger, I considered going into psychology, but as I've gotten older I've come to realize that what I really wanted was more along the lines of sociology. I'm fascinated by human behavior, especially how and why we make decisions and how those decisions can be manipulated by external forces. For example, I'm intrigued by the way grocery stores are laid out for maximum sales, or how theme parks are designed to process hordes of people. I would've loved being a corporate sociologist, studying human behavior and creating systems to accommodate and perhaps even influence it. J
My interest in this field is probably one reason I like to write about the Amish, because they are such a remarkable people group from a sociological perspective. Every time I come to some new conclusion or realization about them, I'm eager to explore it further through my stories and characters.
Why do you write stories?
My mind has always been an "idea factory," which is kind of a mixed blessing: There's constant fodder for new projects, but on the other hand I can't turn it off even when I want to. All those ideas have to go somewhere, so I write. If I didn't, I suppose one day my poor brain would simply explode.
The Amish Groom
Born to an ex-Amish mother and an Englisch father, 23-year-old Tyler Anderson was raised as a military kid until the age of 6, when his mom passed away. His dad, shipping off to yet another overseas post, placed Tyler in the care of his Amish grandparents, an arrangement that was supposed to be temporary. It lasted a lifetime.
Rachel Hoeck is the young woman waiting for Tyler's proposal. She senses that though he loves her and wishes to make a commitment to her and his Amish beliefs, part of him still wonders whether an Amish lifestyle is truly for him.
When an opportunity to connect with his father unexpectedly arises, a visit to California causes Tyler to question everything, including a future with Rachel. Will the new girl in his life, Lark, cause him to remain in the Englisch world? Or will he choose to be an Amish groom after all?
Describe your novel in 5 adjectives
Compelling. Endearing. Tearjerking. Rewarding. Satisfying.
Please share a little about one of your main characters
Our primary character is Tyler Anderson, a young man who was raised Englisch until the age of six, when his mother died and he was sent to live with his Amish grandparents. Our story picks up with him in his early 20's as he struggles to decide which of the two worlds—Englisch or Amish—he really belongs in. Though he has loving family members on both sides, he has never felt fully a part of either world. Now it's time to make a choice, one that will have a tremendous impact on the rest of his life.
This impending decision is further complicated by the fact that the woman he loves is already a church member. He knows his decision can't be based on a girl, that it must be about God's will for his life and future. But he also knows that leaving the Amish would mean leaving her as well.
Tyler's a fascinating and endearing character. He's quiet and contemplative, mature and responsible, eager to connect with the non-Amish side of his family, and curious about the world beyond Lancaster County. When he has the opportunity to spend some time with his younger brother out in California, he seizes it, hoping the trip will shed light on his situation. But soon after he arrives, he meets an intriguing and attractive young woman, which quickly complicates matters.
I think Tyler's introspective nature makes his journey from Amish country into the real world both humorous and perceptive.  For example, when he gets to California, he begins to keep a list of some of the more ironic differences, jotting down observations about the Englisch such as, "One man can own three cars," and "Young women tint their hair with colors not found in nature," and "Generations are very divided, even in church."
Now that I think about it, that's a good example of how my fascination with sociology works its way into my stories. As a man who has been a part of both worlds, Tyler has a unique sociological perspective. Hopefully, our readers will love his insight even as they come along on this journey with him!
What spiritual theme or question does your story deal with?
At its core, this is a story about making choices and discerning the will of God. Forced to decide between two worlds, Tyler must explore his own heart even as he learns to trust God's leading on an entirely new level.
Share a recent movie or tv show that you have loved, and why?
My favorite TV show is Castle, which is about a mystery writer who works frequently with the police, researching his novels while also helping solve crime. Thanks to his unique and imaginative writer's perspective, he makes the perfect brainstorming partner for the beautiful and talented NYC detective to whom he's assigned. She also happens to serve as his muse and the inspiration for the fictional heroine of his bestselling mystery series.
I think I love this show for four reasons. First is the relationship between the two of them, which is complex but also quite functional—and very sweet. Second are the actors, both in the major roles and the minor ones, who make each episode sparkle. Third is the fact that he's a writer. Though their depiction is far from reality—he spends more time off with the police than at the computer—there are still moments of delightful commonality, for example when he struggles with writer's block or is facing a looming deadline.
Fourth and final are the plotlines, which frequently have me stumped until the last moments. As a mystery writer myself, it's usually quite hard to fool me, but for some reason this show does a super job of obscuring the real killer while also playing fair—which are the hallmarks of any great mystery.
What novel are you working on now?
Susan and I have finished the next book in this series, The Amish Blacksmith, and we're currently working on the third and final one, The Amish Clockmaker.  Each focuses on the men of Lancaster County and the women who love them.
So far, we've been really pleased with how the books have turned out. Now we just hope folks have as much fun reading them as we did writing them!
Thanks Mindy – what a wonderful interview!
Relz Reviewz Extras
Visit Mindy's website
Buy The Amish Groom from Amazon or Koorong