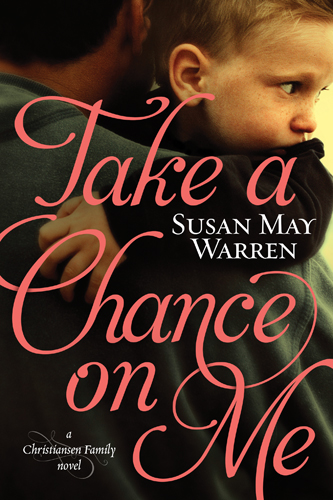 Synopsis:~
Darek Christiansen is almost a dream bachelor—oldest son in the large Christiansen clan, heir to their historic Evergreen Lake Resort, and doting father. But he's also wounded and angry since the tragic death of his wife, Felicity. No woman in Deep Haven dares come near. 
New assistant county attorney Ivy Madison simply doesn't know any better when she bids on Darek at the charity auction. Nor does she know that when she crafted a plea bargain three years ago to keep Jensen Atwood out of jail and in Deep Haven fulfilling community service, she was releasing the man responsible for Felicity's death. All Ivy knows is that the Christiansens feel like the family she's always longed for. And once she gets past Darek's tough exterior, she finds a man she could spend the rest of her life with. Which scares her almost as much as Darek learning of her involvement in his wife's case. 
Caught between new love and old grudges, Darek must decide if he can set aside the past for a future with Ivy—a future more and more at risk as an approaching wildfire threatens to wipe out the Christiansen resort and Deep Haven itself.
My take:~
Susan May Warren pens a delightful story of heartache and healing in her latest Deep Haven novel, which introduces the Christiansen family and a new series of contemporary romance tales.  Love blossoms between two couples, with all four characters authentically struggling to move past hurts in their lives. Conflict, regret, and the need for forgiveness etch each page as Darek, Ivy, Jensen, and Claire negotiate an emotional minefield as they try to discover the courage to love again. As Deep Haven is threatened by wildfire, danger and sacrifice refine each heart in this tender and compelling story.
With thanks to Tyndale and Litfuse for my review copy
Relz Reviewz Extras
Character spotlight on Lilly
Character spotlight on Jinx Worth
Reviews of The Shadow of Your Smile, Hook, Line, & Sinker, Waiting for Dawn, My Foolish Heart, Baroness, Heiress, Nightingale & Sons of Thunder
Visit Susie's website and blog
Buy Take A Chance on Me at Amazon or Koorong