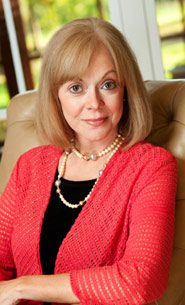 Discover more about
Terri Blackstock
and her thriller
Twisted Innocence
Zondervan
*********
A favourite childhood book?
Little House in the Big Woods
Do you remember the title of the first story you ever wrote? What was it about?
I made up many stories before I ever committed one to paper, but the first one I wrote down was when I was eleven or twelve years old. It was a story about a girl whose brother was killed in Vietnam, and it was in poetry form.
 I'm sure I wrote it because my father had just served a tour in Vietnam and it was good therapy for me to write that.
If you weren't a writer, what career would you/did you/do you have pursued?
I probably would have been a psychologist. I'm a good listener and I enjoy hearing about others' problems and relationships.
Why do you write stories?
I have a very fertile imagination, and I see stories in everything around me. If I see a man in a store with a strange expression, my mind immediately begins working out what his problems are—Cancer? Sorrow? Anger?—and before I know it I'm what-iffing and thinking about what got him here, who hurt him, etc. It's kind of a sickness, but I consider it a blessing because I never run out of ideas.
Twisted Innocence

Holly Cramer's past choices have finally caught up to her, but she never expected them to endanger her baby.

Though Holly's stumbled through most of her adult life as a party girl, she longs to live a more stable life for her daughter. Then police show up to question her about the whereabouts of Creed Kershaw, Lily's father. She has kept his identity a secret from friends and family—she never even told him about the pregnancy. Now he's a person of interest in a drug-related murder case.

Determined to keep him out of their lives and turn him over to police, Holly uses her private investigating skills to search for him. But her bravado backfires when he turns the tables and takes her and the baby hostage. As desperate hours tick by, Holly realizes his connection to Leonard Miller—the man who has gunned down several members of her family. Creed claims he's innocent and that Miller is after him too. His gentleness with Lily moves her, but she can't trust a man who has held her at gunpoint . . . even if he reminds her so much of herself.

Dangers old and new threaten Holly and her baby, and lives are demanded as sacrifices for love. Through a complex web of mistakes and regret, redemption is the one hope Holly has left to hold on to.
Describe your novel in 5 adjectives
Redemptive, dangerous, suspenseful, illuminating, challenging
Please share a little about one of your main characters 
In Twisted Innocence, Holly starts out with two-tone hair—blonde with pink tips. Because she's working part-time as a private investigator and the pink tips are too identifiable, and because she's trying to put her past life behind her, she bleaches out the pink tips and becomes a regular blonde. Because she's had trouble holding a job, she's been working as a taxi driver. She moonlights as a private investigator, and sometimes combines the two (doing stake-outs in her cab). She's cynical about religion and church because her father was a pastor, and when she was a child, he ran off with the church secretary and left his family behind. The church evicted her family from the parsonage and they were left to fend for themselves. For that reason, she doesn't trust church people. She has a hard time with faith, but God is gently working on her to bring her back.

What spiritual theme or question does your story deal with?
Redemption, and how it's not too late for another chance to wipe your slate clean. God is not disgusted with Holly for having a messy life, and He's not disgusted with us. He has big plans for us if we'll just turn to Him.
Share a recent movie or tv show that you have loved, and why?
I loved the TV show "Parenthood." I don't endorse everything that was in that series, but I loved the relationships and the functional dysfunction of that extended family. Best TV finale ever.
What novel are you working on now?
I just finished my next book, which is the first in a new series. It features a young woman who's running from the law, but that's all I want to share right now. I'm really excited about it because I've taken a different approach than usual in telling this story. Readers can stay tuned and I'll keep them informed about when it'll be out. They can subscribe to my updates at http://www.terriblackstock.com/contacts, or join me at Facebook (http://www.facebook.com/tblackstock) or Twitter (http://www.twitter.com/TerriBlackstock).
Thanks so much, Terri!

Relz Reviewz Extras
Character spotlight on Holly Cramer
Review of Shadow in Serenity
Visit Terri's website and journal
Buy Distortion at Amazon or Koorong