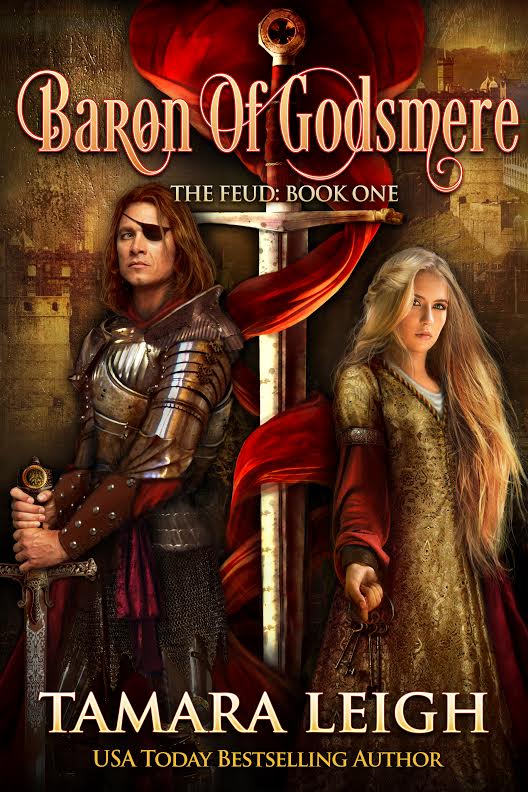 Synopsis:~
THE FEUD
England, 1308. Three noblemen secretly gather to ally against their treacherous lord. But though each is elevated to a baron in his own right and given a portion of his lord's lands, jealousy and reprisals lead to a twenty-five year feud, pitting family against family, passing father to son.
THE DECREE
England, 1333. The chink in Baron Boursier's armor is his fondness for a lovely face. When it costs him half his sight and brands him as one who abuses women, he vows to never again be "blinded" by beauty. Thus, given the choice between forfeiting his lands and wedding one of his enemies to end their feud, he chooses as his betrothed the lady said to be plain of face, rejecting the lady rumored to be most fair.
THE ENEMY
On the eve of the deadline to honor the king's decree of marriage, the fair Elianor of Emberly takes matters into her own hands. Determined none will suffer marriage to the man better known as The Boursier, she sets in motion her plan to imprison him long enough to ensure his barony is forfeited. But when all goes awry and her wrathful enemy compels her to wed him to save his lands, she discovers he is either much changed or much maligned. And the real enemy is one who lurks in their midst. One bent on keeping the feud burning.
My endorsement:~
Life is rarely certain, but one of the few certainties is Tamara Leigh's unmatched skill as a wordsmith and storyteller. Each new story she pens is better than the one before, the one where you thought she couldn't improve if she tried! Baron of Godsmere is a wonderfully enthralling tale of a widow, abused by her first husband, now forced to wed The Boursier, whom tales tell is of the same ilk as the man who ruined her. Everything about this story is of exceptional quality, from the complex characters to the tension and danger, from an insidious unknown enemy to the emotion that wreaks havoc with your own, all combine to create a tale that is engaging, evocative, and heart-wrenching as two damaged hearts place their brokenness on the precipice once again. If you love an honourable and sacrificial hero, read Baron of Godsmere. If you delight in a heroine who is strong in her weakness and determined not to be the victim, read Baron of Godsmere. If you adore novels that sweep you to another place and time, are full of adventure, danger, romance, wit, and elegant prose, read Baron of Godsmere! And the best part? There are two more books in The Feud series to come ~ can't wait for Magnus and Griffin's stories.
*Currently available in digital format only
**This is an endorsement not a review, due to my personal connection with the author and her manuscript. My words remain true, regardless!
Relz Reviewz Extras
Reviews of Lady of Fire, The Kindling, The Redeeming, The Yielding, The Unveiling and Dreamspell
Review of Restless in Carolina and Character spotlight on Bridget & J.C.
Review of Leaving Carolina and Character spotlight on Piper & Axel
Review of Nowhere, Carolina and Character spotlight on Maggie & Reece
Interview with Tamara
Visit Tamara's website (she has great recipes, too!)
Buy at Amazon: BARON OF GODSMERE: Book One (The Feud 1)