The Reading Habits
of
Dawn Crandall
*******
Are you a re-reader? Why, or why not? And if you are, what are some of the books you have read over and over?
I do have a kindle app on my iPad mini, and I do read about half of the books I read using it. I still like my paper books—which is a reason I couldn't wait for The Everstone Chronicles to release in print!  A lot of the books I love, I will buy in print—and they are titles like: Rebecca by Daphne du Maurier, Jane Eyre and all of Jane Austen's books. Now, as for current authors, my favorites to buy in print are books by Jody Hedlund, Sarah Ladd, Julie Klassen, Elizabeth Camden and Lori Benton.
When is your optimal time to read – do you prefer to read in one long block, or do you also read for five minutes here or there when you can?
I would totally prefer to have giant chunks of time!—I just don't get many of those anymore since I have an 18 month old little boy….
I'd love your thoughts on novellas. Are you thumbs up or down? Or does it depend?!
Honestly, I haven't read a ton of them. Of the ones that I have read, I found that I really loved some and really disliked others… just like any other type of book. I do plan on reading more lately, and then maybe try my hand at it. I don't think anyone else writes novellas from first person POV, and that's what I would do.
Are you faithful to a genre, an author, or simply quality writing?
I am usually faithful to my favorite authors once I've been impressed by them… and it usually has a lot to do with quality of writing.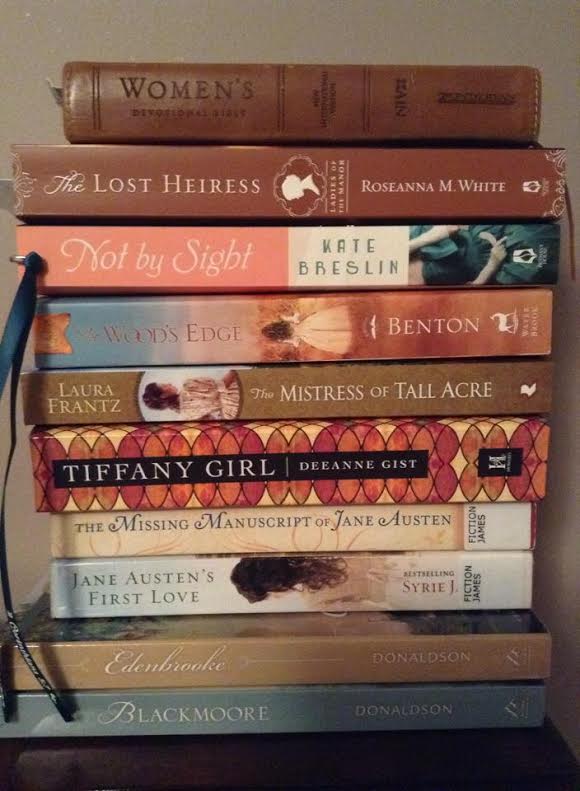 Dawn's Bookshelf
Which factors most influence your selection of a book?
If it's a new-to-me author, it is usually determined by whether or not I am pulled into the first chapter.
What book have you read this year that you could not put down, and why?
Hearts Made Whole by Jody Hedlund and The Thorn Bearer by Pepper Basham…. because the characters are so personal.
How do you mark your spot – folded page corner, bookmark, dollar bill, whatever is at hand?
I usually use whatever piece of paper I can find handy.
Whose debut novel impressed you more than you anticipated?
For Such a Time by Kate Breslin.
When reading, what makes or breaks a story for you?
When characters don't make sense, the dialogue doesn't sound real, the plot doesn't work right, or the characters aren't deep enough for me. I also don't really like more than two character point of views.
What are some of your favourite CF reads from around 10 years ago, or further back?
From ten years ago… let's see, that was when I first discovered CF! My first favorites were books by "new authors" Julie Lessman, Julie Klassen and Deanne Gist. I read every other CF book I could get my hands on at the time as well, but when I found these, I knew I'd found the place my own to-be-written novels belonged.
Snack/drink of choice while reading?
Hot tea.
What book cover (any genre – ABA or CBA) has really caught your eye?
There have been SO MANY beautiful book covers lately!—but if I have to choose, I choose Sarah Ladd's May 2016 release, Dawn at Emberwilde.
Which author makes it easy to turn off your internal editor?
Jody Hedlund. Her books are AMAZING!
Thanks Dawn!
Don't miss Dawn's latest historical romance…
The Captive Imposter
For her own protection following the murder of her brother Will, hotel heiress Estella Everstone assumes the alias of Elle Stoneburner and takes a job as companion to an elderly widow. Never did she imagine that her position would lead her back to her beloved Everston, a picturesque resort property tucked away in the rugged mountains of Maine. Living below her station in a guise of anonymity has its struggles, but her spirits are buoyed by a newfound friendship with the hotel manager, Dexter Blakeley. And his distaste for the spoiled socialites who frequent his hotel causes her to take a close look at her own priorities and past lifestyle.
When Estella finds herself in need of help, Dexter comes to the rescue with an offer of employment she can't refuse. As the two interact and open up to each other, Estella feels a growing attraction to Dexter; and increasing discomfort over concealing her identity. Yet, in spite of the false pretense she's putting forth, she's never felt freer to be herself than in his presence. But will he still love her when he learns the truth about who she is?
Dawn Crandall is an ACFW Carol-nominated author of the award winning series The Everstone Chronicles from Whitaker House. The series consists of three books: The Hesitant Heiress, The Bound Heart and The Captive Imposter. 
Without a doubt about someday becoming traditionally published, her husband encouraged her to quit working in order to focus on writing The Hesitant Heiress  from  2010  to 2012 . It didn't take her long to realize that writing books was what she was made to do. Dawn is represented by Joyce Hart of Hartline Literary. Apart from writing books, Dawn is also a first-time mom to a precious little boy (born March 2014) and also serves with her husband in a pre-marriage mentor program at their local church in Fort Wayne, Indiana.
Relz Reviewz Extras
Enter Dawn's Goodreads giveaway
Character spotlights on Amaryllis & Nathan and Estella & Dexter
Visit Dawn's website and blog
Buy at Amazon: The Captive Imposter (The Everstone Chronicles Book 3)