The Reading Habits
of
Victoria Bylin
******
Are you a re-reader? Why, or why not? And if you are, what are some of the books you have read over and over?
There are several books I'd like to read again, but when I look at the stack of new ones on my desk, I usually grab one of those. What I frequently do is reread favorite passages–the ones where the language sings or the kiss is just too exquisite not to read again … and again.
Charles Martin's books do that for me. There's always a paragraph or two that's so beautiful I just want to hold on to it. I've also read Penelope Williamson's The Outsider about five times. You might have seen the movie awhile back. The book was a thousand times better. Her writing sings off the page.
When is your optimal time to read – do you prefer to read in one long block, or do you also read for five minutes here or there when you can?
One long block. I have no discipline at all when it comes to setting a book down, which explains why I've shown up at the day job bleary eyed and yawning. That's why my favorite time to read is in the afternoon, preferably outside on a sunny day. Or better yet, let's go to the beach
I have another favorite reading place, and that's on an airplane. I've made the flight between Washington DC to LAX several times. Six hours is just the right amount of time to read a 350 page book cover to cover.
I'd love your thoughts on novellas. Are you thumbs up or down? Or does it depend?
They're fun to write, but I don't read a lot of them. In general I prefer to read longer books with lots of complexity. The better I know the characters, the more I enjoy the story. On the other hand, a novella can pack a real emotional wallop. Joanne Bischof did that in This Quiet Sky. What a powerful story!
Rel: Love This Quiet Sky, Victoria, and I've just had the absolute pleasure of reading her August release, The Lady and the Lionheart…simply exquisite!
Are you faithful to a genre, an author, or simply quality writing?
I stick pretty much to romance and women's fiction. But every so often I'll be in the mood for something completely different. That's when I browse my husband's bookcase. Michael Connelly totally hooked me with The Lincoln Lawyer, and I enjoy Dick Francis's horse racing mysteries. He's written some of the best first lines ever.
Which factors most influence your selection of a book?
I love reading first time authors. You can feel the writer's enthusiasm leaping off the page. I also like to try new-to-me authors. When it comes down to picking the actual book, I'll notice the cover, but the back cover copy is what gets me to open the book and read a few paragraphs. If the writing grabs me, I'm sold.
I also go for books with an edgy feel to them. I'm a big fan of Nancy Rue's Reluctant Prophet series. I read them with a book club, and they generated more discussion than just about any other title.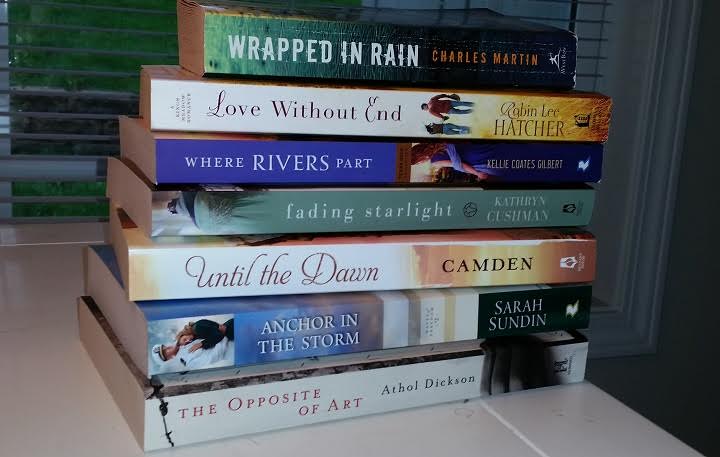 Victoria's TBR
Your fiction pet peeve?
Drawn out endings! Once we know what's going to happen, I'm eager to get to it. There's a real art to keeping the drama going up to the last few pages.
What book have you read this year that you could not put down, and why?
Earlier this year I glommed on to Charles Martin's books and read several. When Crickets Cry left me in tears. So did The Mountain Between Us. Stunning! Can't wait for the movie. Where the River Ends is the second biggest tearjerker I've ever read. The first biggest was Old Yeller. If you've read that children's story, you know what I mean!
Rel: Charles' books are amazing, I agree! When Crickets Cry is an all time favourite novel. And the movie…with Idris Elba, hopefully! Can't wait
How do you mark your spot – folded page corner, bookmark, dollar bill, whatever is at hand?
Last night I used the foil from a piece Dove Mocha Latte Dark Chocolate. Whatever's handy!
Whose debut novel impressed you more than you anticipated?
Monica Mynk is a friend of mine through a Kentucky writers group. She recently published Cavernous through Mantle Rock Publishing. It's the first book in a YA series and I just loved it. We need more books that give teens positive role models in real world situations.
When reading, what makes or breaks a story for you?
I want to read about real life–the hard stuff, the funny stuff, the things that make us laugh and cry at the same time. Nothing thrills me more as a reader than a strong spiritual story line. It doesn't have to be heavy handed or in your face. Not at all. But the books that touch me the deepest are about God changing lives.
What are some of your favourite CF reads from around 10 years ago, or further back?
Ten years ago I was reading mostly secular fiction–historical sagas, western romance, Americana, and women's fiction. That type of reading became progressively less satisfying, but I was a little gun-shy about reading inspirationals. The first CBA books I read in the mid-1990s didn't match my life experience at all.
Then I discovered Francine Rivers' Redeeming Love. There was no going back after that. I read several of her novels back to back. The Scarlet Thread and And The Shofar Blew changed how I viewed Christian fiction at the time.
I also have to mention to Deborah Raney's Beneath The Southern Sky. It won the RWA Rita Award in 2002 in Denver. I was at the conference as a newly published author, wearing my pink first sale ribbon, when she won the award. I bought the book and read it on the flight home. Cried my eyes out!
Rel: I remember my husband and I having quite the discussion over the outcome of Deb's novel – we both took a different view!
Snack/drink of choice while reading?
More of those Dove Dark Chocolates please! Except I'm trying to lose 10 lbs. Ack! Maybe just a few . . .
What book cover has really caught your eye?
Irish Meadows by Susan Anne Mason grabbed my eye the instant I saw it. Talk about intriguing! It's as if the heroine is about to open her mouth and speak. I love that one.
Which author makes it easy to turn off your internal editor?
When I pick up a Lisa Samson book, my internal editor says, "Oh! You're reading Lisa! See you later!" Lisa's voice is so unique that it defies any kind of interference. Songbird, Embrace Me and especially The Passion of Mary-Margaret are my favorites.
Rel: I think we are reading twins! The Passion of Mary-Margaret is such a powerful story. I miss Lisa's creative plots and soul-serching writing.
What book do you wish you had written? Why?
Francine Rivers' Bridge to Haven touched me to the core. She does real life with honesty, conviction, and profound compassion. I have the deepest respect for her work and can't wait for the next book. At the risk of going all fan-girl, she's simply the best.
Rel: That she is! Thanks Victoria for sharing about your reading habits.
Don't miss Victoria's latest novel, and be sure to enter the giveaway via the Rafflecopter form below.
Julia Dare is trying to run her own business, raise her young son, Max, and help her widowed mother. Her biggest worry, though, is keeping Max's father from being a bad influence while still allowing the boy to spend time with his dad. When an account from her event-planning business sends her to Caliente Springs resort, she's shocked to encounter Zeke Monroe, her college sweetheart.

Zeke is determined to keep Caliente Springs running despite financial trouble. When Julia walks back into his life, he's surprised at the feelings she stirs up. As they work together on an important client's wedding, the fate of the resort soon depends on their success. With Zeke and Julia both pushed to their limits, will their history put up walls between them or bring them together?
Victoria Bylin writes contemporary and historical romances acclaimed for their true-to-life characters and plots. Her work has finaled in contests such as the Carol Awards, the RITAs, and the Reviewers' Choice Award. A native of California, she and her husband now make their home in Kentucky. Visit her website at www.victoriabylin.com to find out more.

Relz Reviewz Extras
Discover more about Victoria
Character spotlight on Nick & Kate (Until I Found You)
Visit Victoria's website
Buy at Amazon: Someone Like You or Koorong