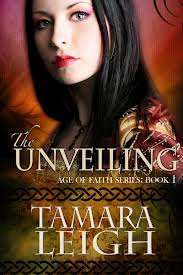 Synopsis:~
12TH CENTURY ENGLAND: TWO MEN VIE FOR THE THRONE: KING STEPHEN THE USURPER AND YOUNG DUKE HENRY THE RIGHTFUL HEIR. AMID CIVIL AND PRIVATE WARS, ALLIANCES ARE FORGED, LOYALTIES ARE BETRAYED, FAMILIES ARE DIVIDED, AND MARRIAGES ARE MADE.
For four years, Lady Annyn Bretanne has trained at arms with one end in mind—to avenge her brother's murder as God has not deemed it worthy to do. Disguised as a squire, she sets off to exact revenge on a man known only by his surname, Wulfrith. But when she holds his fate in her hands, her will wavers and her heart whispers that her enemy may not be an enemy after all.
Baron Wulfrith, renowned trainer of knights, allows no women within his walls for the distraction they breed. What he never expects is that the impetuous young man sent to train under him is a woman who seeks his death—nor that her unveiling will test his faith and distract the warrior from his purpose.
My take:~
Admired in the inspirational market for her witty contemporary romances, Tamara Leigh's initial foray into the publishing world was a series of medieval romance novels for the general market. The first in the Age of Faith trilogy, The Unveiling reignites her passion for the medieval genre, this time for readers of inspirational romance, and her talent for historical romance is not left in any doubt.  Using the familiar plot of a woman disguising herself as a man, Tamara makes it her own with crisp dialogue, historical nuances and appealing characters.  Annyn's determination to exact revenge on the man she blames for her brother's death is matched by Wulfrith's devotion to his men and his pursuit of justice.  When the truth of Annyn's gender is revealed, Wulfrith battles with his attraction to the woman who would sooner see him in a grave.  This story has all you would wish for in a captivating historical tale, adventure, court intrigue, evil villains, sword play, a tenacious heroine, and a resolute hero and an engaging  journey towards love.  If you love the medieval romances of Linda Windsor and Lisa T Bergren, you will be well pleased with The Unveiling.
The Unveiling is only available in digital format
With thanks to the author for my review copy
Relz Reviewz Extras
Review of Dreamspell
Review of Restless in Carolina and Character spotlight on Bridget & J.C.
Review of Leaving Carolina and Character spotlight on Piper & Axel
Review of Nowhere, Carolina and Character spotlight on Maggie & Reece
Interview with Tamara
Visit Tamara's new look website (she has great recipes, too!)
Buy The Unveiling at Amazon or Koorong