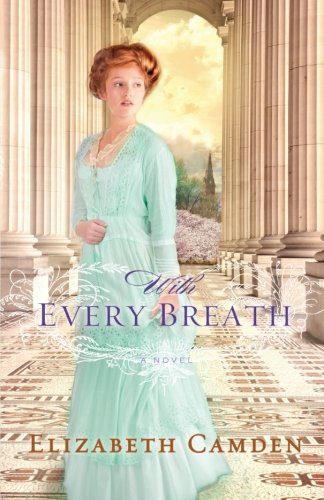 Synopsis:~
In the shadow of the nation's capital, Kate Livingston's respectable life as a government worker is disrupted by an encounter with the insufferable Trevor McDonough, the one man she'd hoped never to see again. A Harvard-trained physician, Trevor never showed the tiniest flicker of interest in Kate, and business is the only reason he has sought her out now. 
Despite her misgivings, Kate agrees to Trevor's risky proposal to join him in his work to find a cure for tuberculosis. As Kate begins to unlock the mysteries of Trevor's past, his hidden depths fascinate her. However, a shadowy enemy lies in wait and Trevor's closely guarded secrets are darker than she ever suspected.
As revelations from the past threaten to destroy their careers, their dreams, and even their lives, Trevor and Kate find themselves in a painfully impossible situation. With everything to lose, they must find the strength to trust that hope and love can prevail over all.
My take:~
Elizabeth Camden continues to impress with another intriguing tale, with a unique plot and Camden's trademark unconventional characters, not only for their time but also in the historical romance genre. Trevor is hardly designed as a romantic hero with his cold and abrupt demeanour, yet it is here where Camden truly shines. Despite these unappealing traits, she quickly generates understanding for this man in the reader and it becomes no hard task  to care for this brusque and often discourteous doctor. In contrast, Kate is bright and caring, emotionally connected and engaged, but with an intelligence and determination that appeals to Trevor the doctor, and Trevor the man. Exposing readers to the prejudice and fear that tuberculosis generated, With Every Breath, is both educational, engaging, and romantic. Elizabeth Camden seems to be a writer who travels under the radar a little but her stories shine very brightly and she has quickly become one of my must read authors when it comes to historical fiction. Do yourself a favour, buy With Every Breath and immerse yourself in another time and place with stellar characters and a meaningful and fervid story line.
With thanks to Bethany House for my review copy
Relz Reviewz Extras
Review of  With Every Breath and Into the Whirlwind
Character spotlight on Zack (Into the Whirlwind)
Review of The Lady of Bolton Hill
Character spotlight on Bane & Lydia (Against the Tide)
Visit Elizabeth's website and blog
Visit With Every Breath's Pinterest page
Buy at Amazon: With Every Breath or Koorong