I grew up in…
Central Florida. At least from age eight forward. Before that I lived in Wadsworth, Ohio. What I remember about Ohio is the cold winters, playing outside and being determined I was going to enjoy it, chattering teeth and all. All these years later, I still don't like the cold. My husband, of course, is the opposite. He would live in Alaska if he could. We always have thermostat wars going on at our house.
I was inspired to write my first published novel by…
I wouldn't say that my first published novel was inspired by something in particular. It was an inspirational romantic suspense story titled Midnight Shadows, published by Love Inspired Suspense, about a young woman being stalked. But there is a strong theme of forgiveness throughout. I wanted to write a reunion story, where a couple has to work through their past hurts against a backdrop of danger and suspense.
The books that have most influenced my life are…
The book that has influenced my life the most is, of course, the Bible. But aside from that, the Nancy Drew books were what instilled in me the love of reading as a child. I got started and couldn't stop. I think I read every one of them. As an adult, The Five Love Languages by Gary Chapman went a long way in helping my husband and me understand each other. I guess it worked, because we just celebrated our thirty-sixth anniversary. My favourite devotional book is The Well, by Mark Hall with the singing group Casting Crowns. I've read it twice, and several of the chapters feel as if they're speaking directly to me.
My biggest challenge when writing is…
Time, as in having enough of it. I'm not a fast writer. One of my critique partners routinely writes 1,000 words per hour, and the other one has written 10,000 words in a 24-hour period when running behind on a deadline. If I tried that, I think my brain would short circuit. Like just about every other writer out there, I struggle with juggling family responsibilities, church work, a part-time job, and the business end of writing while still having time to create my stories. I always admire writers who can somehow keep all those balls in the air while having little ones at home.
One of my favourite authors is… Why?
I have too many authors that I really like to pick just one. I enjoy a wide range of fiction as long as it's clean. One of my favourite genres is young adult. I especially enjoyed the Hunger Games trilogy by Suzanne Collins. Collins' world building was incredible, and Katniss was a character I could really root for.
If I wasn't a writer, I would be…
It's hard to imagine NOT being a writer. Although my first novel was published just under four years ago, I've been writing in some fashion or another for most of my life. As a child and teenager, I wrote poetry. That evolved into writing articles that found their way into some Christian and children's publications. While working with Marriage Encounter, I wrote talks that my husband and I presented as part of the program. I even did a short stint writing commercials and skits for a radio station.
The superhero talent I would love to have is…
Being able to fly, the way Superman does. Like most of the rest of the world, I occasionally dream that I can fly. Except it's never easy. I have to work really hard at it, flapping my arms like a madwoman until I slowly start to rise. I stay vertical, and if I stop working at it, I fall. It's not fun. I want to take a leap and sail through the air, arms extended in front of me, body parallel to the ground, just like Superman. Effortless.
Grant McAllister arrives in Murphy, North Carolina, with one aim: to sell his inherited property and leave as quickly as possible. The big-city lawyer has no interest in his late, estranged grandparents or the dilapidated mansion he just acquired. After his high-profile divorce, he should be avoiding perky reporters, too. But Jami Carlisle is honest, funny, and undeniably appealing.

After breaking up with her safe-but-smothering boyfriend, Jami is determined to ace her first big assignment. A story about the McAllister estate is too intriguing to ignore—much like its handsome, commitment-phobic heir. Thanks to her digging, the pieces of Grant's fraught family history are gradually fitting into place, but also upending all his old beliefs.

The two draw closer as they share their dreams, until misread signals and misunderstandings begin to test their trust. But in the unspoiled beauty of the Smoky Mountains, there's healing and forgiveness to be found. And for Grant, this unplanned detour may be just what's needed to finally guide him home…
My latest novel can be described by these 5 adjectives…
Fun, poignant, humorous, emotional, filled with small-town warmth. I guess that last one isn't an adjective.
My main character is… 
Jami Carlisle – Auburn-haired, green-eyed newspaper reporter, determined to fill the shoes of her predecessor. She's a bit scattered, a dreamer who organizes her life with Post-It notes.
Grant McAllister – Dark-haired, blue-eyed big-city lawyer who is suffering from burnout and searching for meaning in life. He guards his heart and keeps a tight rein on his emotions. He's serious but with a dry sense of humour.
My main characters resemble….
Jami resembles Amy Yasbeck. Jami is younger but has Amy's striking auburn hair.
Grant resembles Brant Daughtery. (I just realized their names rhyme!) I love the combination of the blue eyes with dark hair.
A previously unknown fact about this novel is…
This book started as a joint project between my older daughter and me back in the late 1990s. She was about sixteen at the time, and we thought it would be really fun to write a book together. Neither of us were published, and I think we made it through about three chapters before we fizzled out. But years later, I decided to pick up that story and dust it off. I changed the setting from a fictional town in the mountains to Murphy, North Carolina, and started rewriting. Not much of the original draft remains, but Jami and Grant are easily recognizable in those early pages as are a few of the plot elements.
My story's spiritual theme is…
Forgiveness, letting go of the hurts of the past to find healing in Christ. That theme has found its way into several of my stories.
While writing this novel I was challenged by…
The length! All the books I had written and had published previously were the shorter "category" length for Harlequin. Trust My Heart is "single title" length, which is half again as long. After I turned the book in, the developmental editor had me add in an additional seven scenes, things I had summarized that really needed to be played out on the page. I was so used to writing short, it was interesting having those extra 25,000 words to work with.
The title was chosen by…
Colleen Wagner, my developmental editor. For several days, Colleen, my editor Erin Mooney, and I tossed around title ideas. I have to admit, I'm terrible with titles. For me, it's easier to write the book than to name it! Colleen came up with this one and Erin and I both loved it.
As an author, the hardest scenes for me to write are… Why?
The kiss! I'm not sure why those are so hard to write. I think it's the challenge of making it different from book to book and trying to work in that swoon factor. When I finally get those scenes finished, I always love them, but getting them written can feel like climbing uphill with a 60-pound pack. Sort of like coming up with a good title.
The story I'm currently working on is…
One By One (working title). It's an inspirational romantic suspense story under contract with Harlequin's Love Inspired Suspense. It's the fifth book in my Cedar Key series and is about a group of people who were friends in high school and are now, ten years later, being murdered one by one.
You may not know this about me, but I…
…am terrified of spiders. Not a spiders-give-me-the-creeps fear, but a genuine nightmare-causing phobia. While my general contractor dad was building our new house, we lived four months with my grandmother who didn't believe in killing spiders, because they ate roaches. (I'll take a plain ol' cockroach any day.) Four months living in Spider Central at the tender age of fourteen scarred me for life!
If I could be a character in any novel, I would want to be…
Ayla in the Earth's Children series. The first of these books, The Clan of the Cave Bear, came out in the 1980s and is set during the Ice Age. It's been years since I read them, but I remember Ayla being a really compelling character. She was kind, strong, smart, creative and adventuresome.
Thank you, Rel, for inviting me to be on your blog. It's been fun!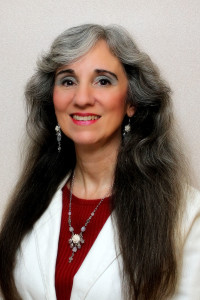 From medical secretary to court reporter to property manager to owner of a special events decorating company, Carol J. Post's resume reads as if she doesn't know what she wants to be when she grows up. But one thing that has remained constant through the years is her love for writing. She currently pens fun and fast-paced inspirational romance and romantic suspense stories. Her books have been nominated for a RITA® award and an RT Reviewers' Choice Best Book Award.
Carol lives in sunshiny Central Florida with her husband, who is her own real-life hero, and writes her stories under the shade of the huge oaks in her yard. Besides writing, she works alongside her music minister husband singing and playing the piano. She enjoys sailing, hiking, camping—almost anything outdoors. Her two grown daughters and grandkids live too far away for her liking, so she now pours all that nurturing into taking care of a fat and sassy black cat and a highly spoiled dachshund.
Connect with Carol at her website, www.caroljpost.com, Facebook (www.facebook.com/caroljpost.author), or Twitter (www.twitter.com/caroljpost). For regular updates, sign up for Carol's newsletter (http://bit.ly/2dKK9CE)
Relz Reviewz Extras
Visit Carol's website and blog
Buy at Amazon: Trust My Heart or Koorong