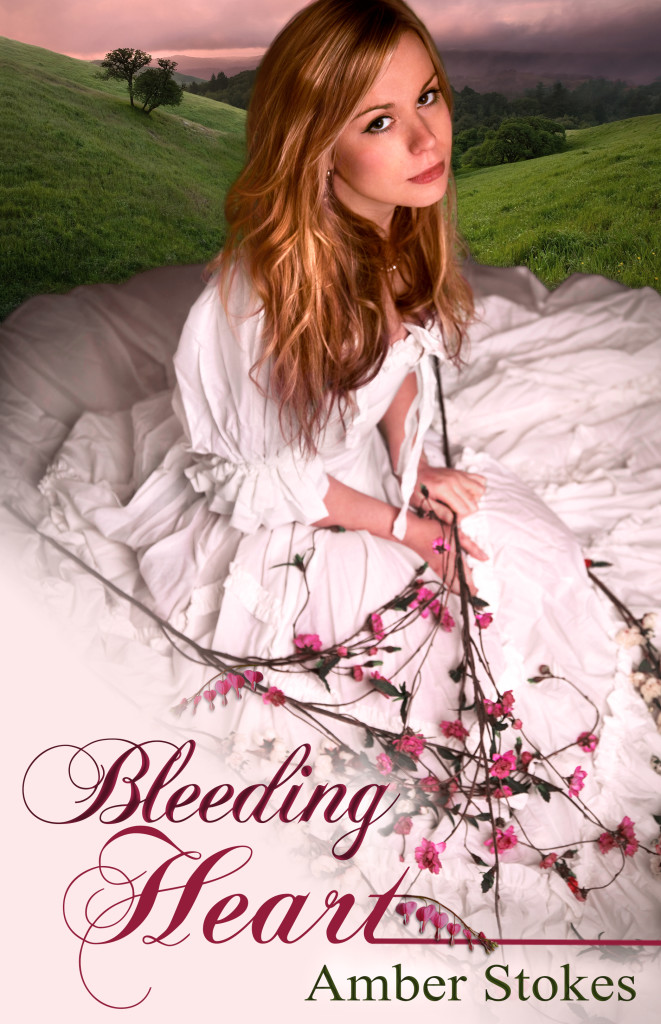 Meet five wounded souls in
Amber Stokes'
historical romance
Bleeding Hearts
~~~~~~~~
The Story
Five bleeding hearts. One profound journey.
Summer 1886
Sally Clay's livelihood has been snatched away, but in its place arises an opportunity to escape from her sordid past and an unrelenting, unwanted suitor. Boarding a train with a heartsick rancher and an enigmatic miner, she leaves Virginia City behind and heads to Northern California, waiting for the chance to make right what went wrong three long years before.
But the road to revenge is far from smooth. Sally soon learns that the jagged pieces of a broken heart can far too easily wound the hearts of others – and hers isn't the only heart that's broken. Tragedy and fear dog her steps as she flees from the redwood forests to the high desert and back again. Will her bleeding heart ever find a way and a place to heal?
A desperate soiled dove. Three men who come to care for her. One man determined to claim her.
All on a journey that will show them what true love really involves.
Enjoy meeting Sally, Joe, Myghal, Seth, & Rufus
The tagline for Bleeding Heart is: "Five bleeding hearts. One profound journey." So, if it's not too much, I'd love to introduce you to those five bleeding hearts…
Brief physical description
Sally: Short and a bit curvy, with wavy blond hair and blue eyes. 20 years old at the start of the story.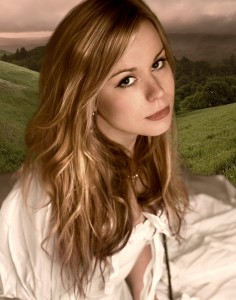 Joe: Medium build, with dirty-blond hair and a moustache. 23 years old.
Myghal: A redheaded Cornish man, tall and thin. 33 years old.
Seth: Joe's older brother – a bit darker in countenance and hair color than Joe. 35 years old.
Rufus: Tall, with brown hair and hazel eyes. 44 years old.
Resembles… 
Sally: The girl on the cover fits really well, except for the eye color. Also, Jodie Foster as Annabelle Bransford in the movie Maverick, although a bit younger (and no southern accent!).
Joe: Scott Bairstow as Miles Tuck in Tuck Everlasting – not just in looks, but also in his gruffness and his broken heart.
Myghal: Michael Mahonen as Gus Pike in the Road to Avonlea series, but with red hair. I know this isn't a super-close fit, but it's more his wisdom, joviality, and fiddle-playing that remind me of Myghal.
Seth: John Newton as Cody Cullen in The Christmas Card. The dark hair, the serious demeanor, and the quiet strength of this character match Seth's character.
Rufus: Frank Converse as Morgan Harris in Anne of Green Gables: The Sequel. Refined, used to getting his own way, strong in personality, and rather handsome in a mature way.
Strengths and weaknesses 
Sally: Resilient – a survivor – but also very sensitive. (One reviewer called her a "fragile soul," and I think that describes her well. But she still finds the courage to move forward.)
Joe: Outwardly, he's very gruff and quick to pick an emotional fight. Inwardly, he cares deeply.
Myghal: Thoughtful, wise, and willing to have fun. He's often content to fade into the background, though.
Seth: He has his vices, and he doesn't like change. When he's tested, though, he's able to embrace growth.
Rufus: Physically strong – a fighter in various senses of the word, who doesn't back down from a challenge. His weakness? Sally (or anything that he can't have).
Quirk (if any) 
Sally: She tosses her hair and falls back on flirting when the situation calls for it. Oh, and she sleepwalks…
Joe: Rubbing his moustache – I guess that sort of counts as a quirk. *wink*
Myghal: He has a very poetic soul, and he loves to play his fiddle. And his accent? It's a little mixed-up, LOL. Some Irish from his mother, and some "western" he's picked up since coming to America.
Seth: He likes to smoke his pipe or a cigar in the evening.
Rufus: Everything is in "war" terms to him – including love – ever since the Confederates lost the War Between the States.
Your inspiration for the character 
Most of these characters were secondary characters in my first manuscript, Forget Me Not (which has not yet been published – but that might be one of my next projects!). Sally had a very brief scene in that book, but I wanted to explore her story more in Bleeding Heart. I ended up pouring a lot of my own emotions and questions into her. Joe was the spurned suitor from the first book, so I wanted to give him another experience with love. Myghal was introduced in the first book after I visited an archaeological site in Virginia City, where I learned that one of the highest streets back in the day (the city is built on a hillside) used to be where the Cornish miners lived. Had to include a Cornish character after that! But he's definitely taken on a life of his own. *wink* And Seth (originally named John – but yeah, I had way too many J-names, LOL) was a rather somber character from book 1 with a Jewish wife. Since he runs the ranch he and Joe grew up on, he had to return in this book.
Rufus is a new character, inspired by the silver barons of the Comstock Lode and by a "definition" of love I wanted to explore.
Background to the story
Bleeding Heart was partly inspired by characters from my first book that needed their own stories. It was also inspired by my fascination with the American West and a logging town that's faded back into the woods – all that's left are some signs about the town along a trail and the remnants of a couple of buildings. And it was inspired by some of my own uncertainties and questions about heartbreak and love, things that I wanted to work through and explore.
Thanks Amber!
Relz Reviewz Extras
Review of Bleeding Heart
Amber's Author Alert
Visit Amber's blog
Visit the Bleeding Heart website
Buy Bleeding Heart at Amazon