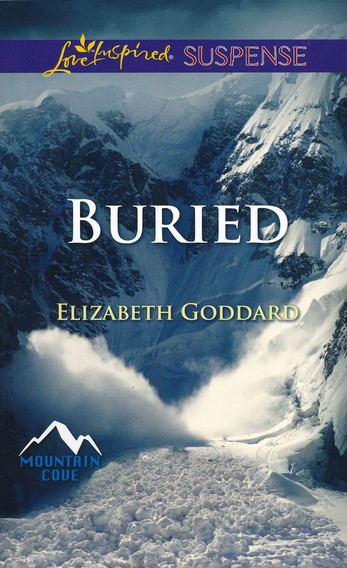 Meet an avalanche specialist & a survivor in
Elizabeth Goddard's
romantic suspense
Buried
Love Inspired
*******
The Story
NOWHERE TO HIDE 
Fleeing to Alaska is the only option for Leah Marks after witnessing a murder. Afraid for her life, the legal investigator hopes a remote cabin will be a safe shelter. But the killer has tracked her to Mountain Cove. As he chases her into snow-packed Dead Falls Canyon, an avalanche buries them both. Saved by daring search and rescue specialist  Cade Warren, Leah longs to tell him the truth. But how can she, without bringing even more danger into Cade's life? Especially when they discover the killer is very much alive and waiting to take them both down. 
Introducing Cade & Leah
Brief physical description
Cade Warren—athletic, medium build, warm, caring eyes, always looking, always thinking how to help. Saving people is in his blood. His eyes are determined, and Leah describes them as the fierce green of a country spring in the mountains. He has coffee-colored, wavy hair, and yeah, he's a little rough around the edges—or has that rugged scruffy look. He's an avalanche specialist and a search-and-rescue volunteer so stays physically fit.
Leah Marks—golden streaks in ash-blond hair, vivid blue-green eyes in a clean, natural make-up free face. She has an open, honest look about her that says she has nothing to hide.
Resembles…
Cade Warren soap opera actor Greg Vaughn with wavy hair.
And I like to think of Emily Blunt for Leah Marks.
Strengths and weaknesses
Cade has a strong sense of family and purpose and is a keen sense or protectiveness for anyone in need. But he doesn't believe he'll ever measure up to his hero father who died in an avalanche, still he'll keep trying to reach that unattainable goal. After the woman he loved cheated on him, he struggles to trust and never lets anyone get too close—even those he rescues.
Leah is a woman on a mission—keeping the innocent out of prison drives her, but that same tumultuous childhood that drives her to this one end, keeps her from trusting anyone. She's strong, practical, and determined, but her coloured-past won't let her love, even though she aches from loneliness.
Your inspiration for the character
Cade — I came across an avalanche specialist, someone who also trained local search and rescue volunteers. I spoke with him at length and realized I had everything I needed for my character. In fact, from this real-life hero, I had more than I could have dreamed up for creating my fictional character and his world.
Leah—Once I had Cade, I created Leah to be resourceful but on the run and where better to hide than an off-grid Cabin in Alaska.
Background to the story 
After reading some search-and-rescue stories and learning about real-life heroes and their sacrifices to save people in precarious situations, I knew I wanted to write a SAR series set in Alaska. Most are volunteers and they train regularly and assist in rescues at their own expense, giving up their time and resources. I purchased books filled with endless rescue stories. I could write these stories forever!
Thanks Beth!
Relz Reviewz Extras