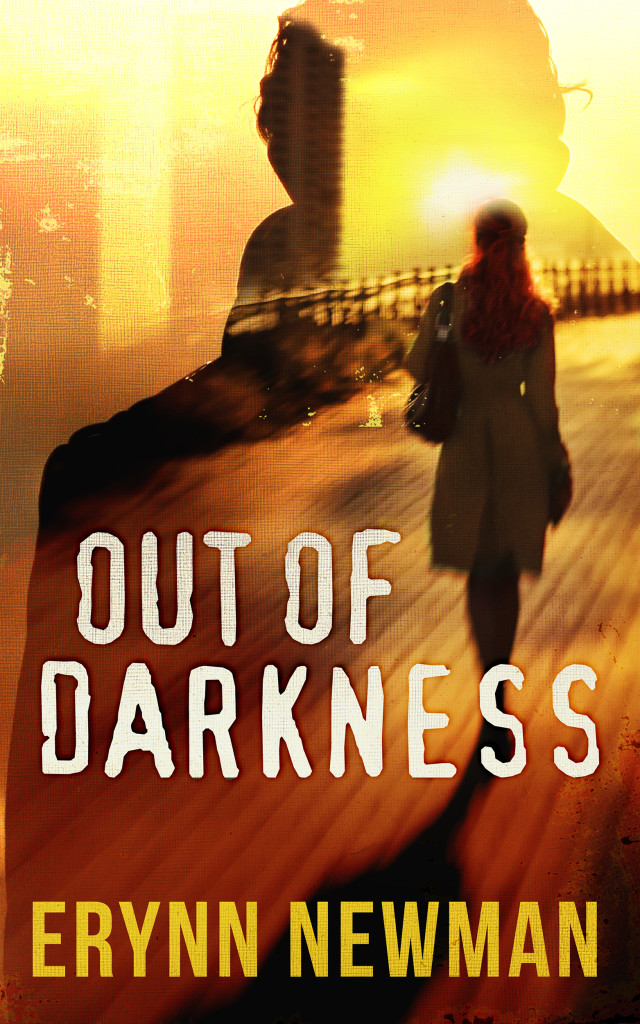 Meet an unusual trio in
Erynn Newman's
romantic suspense
Out of Darkness
******
The Story

A bride and a widow in the same day, Elisabeth's prayers are about to be answered . . . if the CIA, international arms dealers, and her best friend don't stand in the way.

Elisabeth Allen gave her heart to Jesus as a little girl and to Drew Marek as a teenager. When their wedding day finally arrives, it's the happiest day of her life–until a car bomb transforms her dream come true into a living nightmare.

As Best Man at the wedding, Gabriel Di Salvo promises Drew–his best friend and CIA partner–he'll look after Elisabeth, but he never dreams it will become necessary so soon. As Elisabeth struggles to put the pieces of her life back together without Drew, Gabe becomes her rock, and as they share their grief and begin to heal, their friendship gradually deepens into something more.

Three years later, Gabe and Elisabeth are planning a future together when he receives a shocking call from the one man who can upend his happiness: Drew. Suspecting someone at the CIA is behind his abduction, Drew refuses to come home. Instead, he asks Gabe to bring Elisabeth to him. Now Gabe just has to figure out how to let her go.

Drew and Elisabeth race across Europe, dodging international arms dealers and attempting to reclaim what was stolen from them. But years of captivity and torture have left their mark on Drew. He is no longer the same boy Elisabeth fell in love with, but he is still her husband, and she's determined to build something new and leave her relationship with Gabe in the past, if her heart will get the memo.

When their enemies close in and the threat of a terrorist attack escalates, Gabe may be the only person they can trust. Drew, Elisabeth, and Gabe are thrown into a fight for their lives–one that will test their loyalties to God, country . . . and each other.
Introducing Elisabeth, Drew, and Gabe
Brief physical description
Drew: Athletic but lean, average height, wavy black hair, crystal blue eyes
Elisabeth: Curly auburn hair, brown eyes, light smattering of freckles, always has a speck of paint somewhere on her body
Gabe: Tall and muscular; short, sandy brown hair; gray-green eyes; designer clothes
Resembles…
Drew: Matt Bomer
Elisabeth: This beautiful model
Gabe: Michael Weatherly
Strengths and weaknesses

Drew: Fluent in seven languages (eight if you count Latin), extremely perceptive and sensitive. A bit of a nerd. Maybe too sensitive. Suffers from PTSD.
Elisabeth: Incredible artist, kind, never gives up. But seriously. Never. Gives. Up. This can be a weakness too. She also cries a lot.
Gabe: Great sense of humor, excellent taste, strong and assertive, incredibly loyal. Can be hot-headed. Grew up a spoiled rich kid and into a bit of a lothario.
Quirk (if any)

Drew: Doesn't really have any.
Elisabeth: Fiddles with her necklace when nervous.
Gabe: Coffee snob.
Your inspiration for the character

Drew: He's a bit of Bryce Larkin from the TV series Chuck plus every girl's dream.
Elisabeth: If Drew is the guy every girl wants to sweep her off her feet, Elisabeth is who she wants to be. She's the best parts of a lot of women I admire.
Gabe: Tony Dinozzo from NCIS.
Background to the story
A show I used to watch, which shall remain nameless, had a storyline about a long lost love coming back from the dead, and they just bungled it so completely. I wanted to see that idea done justice, and I wanted to see how it would change the outcome if everyone involved knew Jesus. The answer is a LOT.
Thanks Erynn!
Relz Reviewz Extras
Erynn's Author Alert
Visit Erynn's website
Buy at Amazon: Out of Darkness