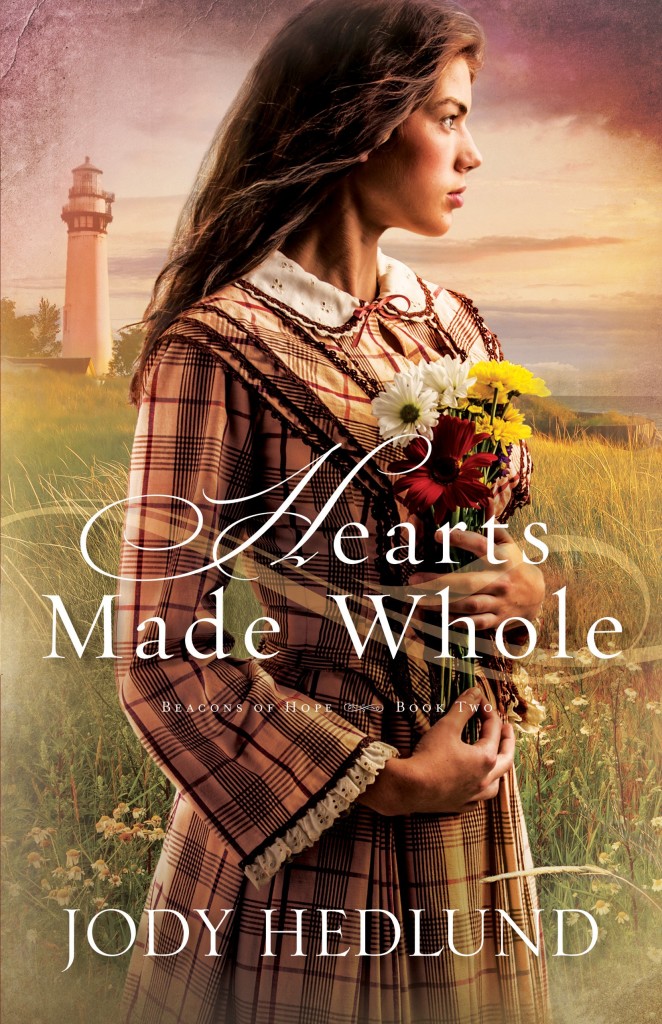 Meet a lighthouse keeper & a Civil War veteran in
Jody Hedlund's
historical romance
Hearts Made Whole
Bethany House
********
The Story

After her father's death, Caroline Taylor has grown confident running the Windmill Point Lighthouse. But in 1865 Michigan, women aren't supposed to have such roles, so it's only a matter of time before the lighthouse inspector appoints a new keeper–even though Caroline has nowhere else to go and no other job available to her.

Ryan Chambers is a Civil War veteran still haunted by the horrors of battle. He's been given the post as lighthouse keeper, and the isolation where he can drown in drink and hide from his past is appealing. He's not expecting the current keeper to be a feisty and beautiful woman who's none-too-pleased to be giving up her position. They both quickly realize he's in no shape to run the lighthouse, but Ryan's unwilling to let anyone close, ravaged by memories and guilt. Caroline is drawn to this wounded soul, but with both of them relying on that single position, can they look past their loss to a future filled with hope…and possibly love?
Introducing Ryan & Caroline
Brief physical description
Caroline Taylor: Willowy and slender, heart-shaped face, light blue eyes, straight brown hair that goes halfway down her back.
Ryan Chambers: After the war he's thin and scraggly, sandy blond hair, brown eyes, scruffy face (that Caroline helps to shave in a very romantic scene!).
Resembles…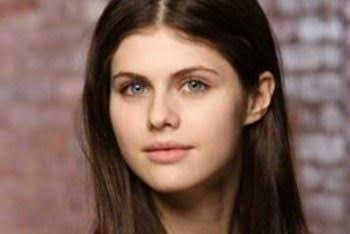 Caroline resembles Alexandra Daddario
Ryan resembles Alex Pettyfer
Strengths and weaknesses
Ryan is coming home as a Civil War veteran. While he's a kind and compassionate man, he's facing some post-traumatic stress as well as debilitating war wounds that leave him addicted to his pain medicine.
At the same time the Caroline is struggling to act as both father and mother to her four siblings while holding down a position as light keeper. She has the overwhelming job of trying to take care of everyone and everything while always remaining strong.
Both characters come to a point where they recognize they can't face all of their overwhelming troubles on their own and cry out to God their desperate need for Him. 

Your inspiration for the character

Caroline Taylor is inspired by a real light keeper named Caroline Antaya. Caroline lived at the Mamajuda Lighthouse on the Detroit River a short distance away from Windmill Point Lighthouse.
Caroline's husband served with honor in the Union army during the Civil War, losing several fingers on his hand at Gettysburg. Eventually after returning from the war, her husband was named as keeper of the Mamaju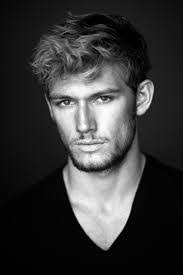 da Lighthouse, but he passed away of tuberculosis.
Part of what really impressed me about Caroline Antaya's situation was that she had been doing a fantastic job as a light keeper. But the district lighthouse inspector trumped up charges against her saying that she was in ill-health and incompetent. He took away her position simply because she was a woman and gave it to a man instead. Fortunately, her community rose to her defense and enlisted the help of a Michigan Senator to help her get her position back and she went on to serve as a light keeper for another three years.
Background to the story 
In my first lighthouse book (Love Unexpected), the lighthouse was set at Presque Isle which is on Lake Huron on the north eastern side of the state. For this second book, I picked a lighthouse in a completely new location with the intention of giving readers a different flavor of climate, geography, and the population.
Windmill Point Lighthouse once existed on Lake St. Clair near Detroit, a much more urban and highly trafficked area than the remote wilderness of Presque Isle. Windmill Point Lighthouse was a strategic beacon that helped ships cross from Lake Huron over into Lake Erie as those ships transported raw goods from the Northwest states to eastern cities and seaports.
The lighthouse is named after the old ruins of a windmill where early frontiersmen brought their grain for grinding. Also, legends attribute the area to being an old battle field of a savage encounter between the early French settlers and Indians.
Today, all traces of the original windmill and lighthouse are long gone. If you visit Grosse Pointe in the Detroit area, all that remains is a small conical structure with a white flashing light.
Thanks Jody!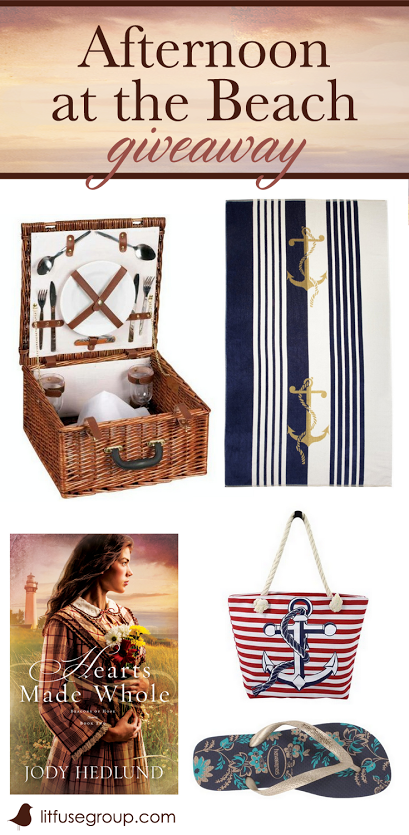 Relz Reviewz Extras
Enter Jody's Afternoon at the Beach giveaway
Reviews of A Noble Groom, Unending Devotion, The Doctor's Lady, and The Preacher's Bride
Character spotlight on Patrick & Emma
Character spotlight on Carl & Annalisa
Character spotlight on Lily & Connell
Jody's Pop Quiz
Q&A with Jody
Character spotlight on Eli & Priscilla
Visit Jody's website and blog
Download Jody's FREE novella Out of the Storm (Beacons of Hope): A Novella
Buy at Amazon: Hearts Made Whole or Koorong