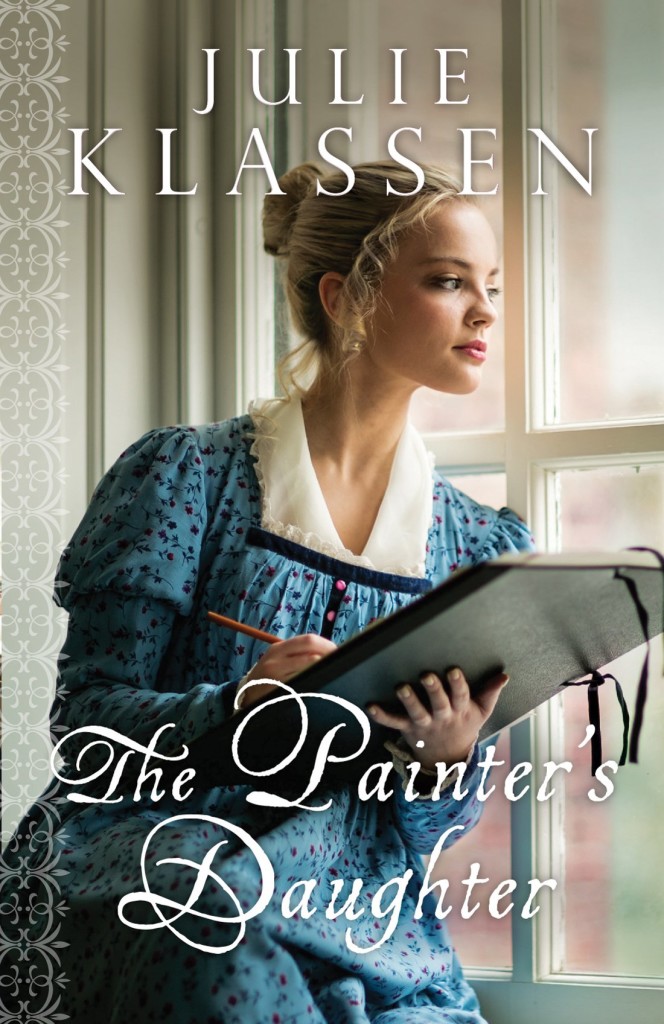 Meet an artist and an Army captain in
Julie Klassen's
Regency romance
The Painter's Daughter
Bethany House
**********
The Story

Sophie Dupont, daughter of a portrait painter, assists her father in his studio, keeping her own artwork out of sight. She often walks the cliffside path along the north Devon coast, popular with artists and poets. It's where she met the handsome Wesley Overtree, the first man to tell her she's beautiful.

Captain Stephen Overtree is accustomed to taking on his brother's neglected duties. Home on leave, he's sent to find Wesley. Knowing his brother rented a cottage from a fellow painter, he travels to Devonshire and meets Miss Dupont, the painter's daughter. He's startled to recognize her from a miniature portrait he carries with him–one of Wesley's discarded works. But his happiness plummets when he realizes Wesley has left her with child and sailed away to Italy in search of a new muse.

Wanting to do something worthwhile with his life, Stephen proposes to Sophie. He does not offer love, or even a future together, but he can save her from scandal. If he dies in battle, as he believes he will, she'll be a respectable widow with the protection of his family.

Desperate for a way to escape her predicament, Sophie agrees to marry a stranger and travel to his family's estate. But at Overtree Hall, her problems are just beginning. Will she regret marrying Captain Overtree when a repentant Wesley returns? Or will she find herself torn between the father of her child and her growing affection for the husband she barely knows?
Introducing Sophie & Stephen
Sophie
Brief Physical Description
Sophie Dupont has a willowy figure and pale skin, with golden blonde hair and blue-grey eyes.
Resembles…
I envision Sophie as resembling actress Alice Orr-Ewing, as she appeared in Scapegoat.
Strengths and Weaknesses
Sophie is gentle, kind, and artistic, though often too trusting of others and too critical of herself.
Quirks (if any)
She refuses to show anyone her artwork.
Your inspiration for the character
Sophie embodies several traits I hope readers may empathize with or recognize. She has grown up being taken for granted, and overlooked as a female in the male-dominated art world of 19th century. She lacks the confidence to call herself an artist or show anyone her work. Also, knowing she does not meet the voluptuous feminine ideal of the time, she never believed anyone would call her beautiful, and is too easily lead astray when someone finally does. I wanted to write about a woman who grows as a person after a mistake, and gains confidence in her worth and talent.
Background to the story
I have always wanted to write a marriage of convenience story, and have also been intrigued by the former Church of England laws that prohibited a widow from marrying her brother-in-law and vice versa. So when Sophie contemplates marriage to an army captain she barely knows, she realizes that even if the captain were to die in battle, she could not later marry his brother, whom she loves. During my last trip to England, an old friend and I traveled to North Devon to research another book (Lady Maybe). While we were there, I fell in love with the stunning coastal landscape, and learned it had been a favorite among painters in the 19th century. That spurred me to write about artists, and knew I had found the perfect place to set The Painter's Daughter as well.
Stephen
Brief Physical Description
Stephen Overtree is a broad-shouldered, black-haired, and blue-eyed captain in the British army, with bushy sideburns to help hide a jagged facial scar.
Resembles…
I modelled Stephen after actor Matthew Macfadyen, somewhere between his role as Athos in The Three Musketeers and Mr. Darcy in Pride and Prejudice.
Strengths and Weaknesses
Nicknamed "Captain Black" by his older brother, Stephen has a serious and direct personality that can make him seem overly rigid and brusque. Yet his fierce outward appearance belies his deep loyalty and protectiveness.
Quirks (if any)
His dry sense of humor. Also, the fact that he has carried a portrait of Sophie around with him for a year before meeting her…
Your inspiration for the character
I set out to create a character with many of the traits we love in our fictional heroes. Stephen is the wounded warrior, the strong, silent type, whose brooding exterior hides a passionate, loving heart.
Thank you Julie!
Relz Reviewz Extras