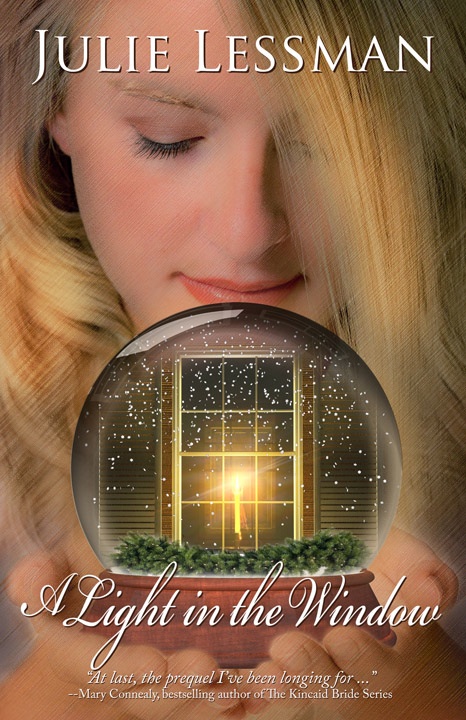 Meet two rogues and a beauty in
Julie Lessman's
historical romance
A Light in the Window
Ten Talents Press
The Story
One Woman. Two Men.
One stirs her pulse and the other her faith.
But who will win her heart?
Marceline Murphy is a gentle beauty with a well-founded aversion to rogues. But when two of Boston's most notorious pursue her, she encounters a tug-of-war of the heart she isn't expecting. Sam O'Rourke is the childhood hero she's pined for, the brother of her best friend and a member of the large, boisterous family to which she longs to be a part. So when his best friend Patrick O'Connor joins in pursuit of her affections, the choice seems all too clear. Sam is from a family of faith and Patrick is not, two rogues whose wild ways clash head-on with Marcy's—both in her faith and in her heart. 
While overseeing the Christmas play fundraiser for the St. Mary's parish soup kitchen—A Light in the Window—Marcy not only wrestles with her attraction to both men, but with her concern for their spiritual welfare. The play is based on the Irish custom of placing a candle in the window on Christmas Eve to welcome the Holy Family, and for Marcy, its message becomes deeply personal. Her grandmother Mima cautions her to guard her heart for the type of man who will respond to the "light in the window," meaning the message of Christ in her heart. But when disaster strikes during the play, Marcy is destined to discover the truth of the play's message first-hand when it becomes clear that although two men have professed their undying love, only one has truly responded to "the light in the window."
Enjoy meeting Marcy, Patrick, & Sam
Brief physical description
Marceline O'Connor is 5'3, sky-blue eyes, very light blonde hair, and moderate build. I picture her looking like the model below whose name I do not know. The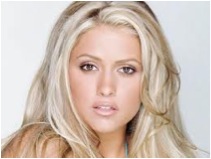 actual cover designed by my artist husband, however, has my daughter as the model.
Patrick O'Connor is 6'2" with dark curly hair, an Adonis face, clear gray eyes, and chiselled features with a lean, muscular build due to a job on the docks of The Boston Herald. The closest I could come to how I picture him is the model attached, but I'd like to see more of the glint of rogue in this model's eye.
Sam O'Rourke, the antagonist hero, if you will, is 6'1", black curly hair and a Roman nose who's not as "pretty" as Patrick, but considered the Southie neighborhood's #2 rogue to Patrick's #1. I picture him as a younger Patrick Dempsey.
Strengths and weaknesses
Marcy's strength's are she is incredibly loyal, compassionate, and harbors a deep love for faith and family. Her weakness is her blindness to the faults of those she loves and her judgmental attitude to those she does not.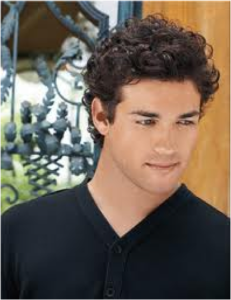 Patrick's strengths are a charismatic personality, good sense of humor, and a keen magnetism that draws women and kids. He is loyal, doesn't hold a grudge and is fun to be around. His main weakness is his propensity toward being a rogue, flirting, and leading women on to satisfy both his own physical needs and his deep desire to be loved. He is also angry at God due to a loveless home life resulting from the age of ten when Patrick caught his pious, church-going father in bed with the neighbor's daughter.
Sam's strengths and weaknesses are similar to Patrick's in that he is loyal and fun and very protective of his close-knit family, but also an insatiable flirt and rogue who has no problem taking advantage of women. His greatest weakness, however, is his secret envy of Patrick's obvious favor at work and with women.
Quirk (if any)
When Marcy gets nervous, she swipes her teeth with her tongue.
Patrick doesn't really have any quirks except he's an outrageous flirt.
Sam's quirk is more serious in that he has a problem saying no to sins of the flesh.
Your inspiration for the character
Believe it or not, my inspiration for Marceline O'Connor came from a composite of two of her daughters from my debut book A Passion Most Pure. I described Marcy as being a shy and gentle bookworm like her daughter Lizzie and a woman of faith like her daughter Faith.
My inspiration for Patrick O'Connor actually comes from my own husband, who was also quite the catch in his day and a very good-looking young man who drew women like a magnet. When I first created Patrick O'Connor, it was as the 39-year-old father in my debut novel A Passion Most Pure, so I depicted him as the type of spouse and father I saw in my own hubby—giving, kind, romantic, tender and yet all male with a stubborn streak a mile long.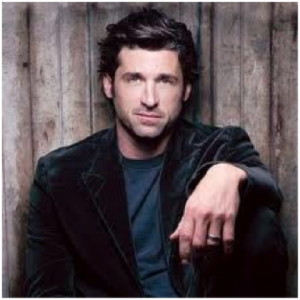 For Sam, my inspiration came from the idea of him looking and acting like a pirate—personable but not trustworthy.
Background to the story
A Light in the Window is the prequel love story of Marcy and Patrick O'Connor, the parents in my two prior series, The Daughters of Boston and Winds of Change. The idea for their love story came when I included a sub story for them in book 3 of The Daughters of Boston series, A Passion Denied. In that book, I hinted at a love triangle that pits Marcy between Patrick O'Connor and his best friend Sam O'Rourke, so I simply expanded on that idea with the underpinnings of a Christmas fundraiser play called A Light in the Window. A lit candle in the window at Christmas is an Irish tradition that symbolizes welcoming the Holy Family to one's home, a fitting theme for a young woman whose glow of deep faith draws two rogues to woo her. And yet, by the conclusion of the play and the novel, only one rogue truly responds to the "light in the window" … a light that leads him to God and to the woman of his dreams.
Thanks Julie!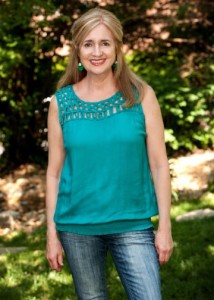 BIO:
Award-winning author of "The Daughters of Boston" and "Winds of Change" series, Julie Lessman was ACFW's 2009 Debut Author of the Year and voted #1 Romance Author of the year in Family Fiction magazine's 2012 and 2011 Readers Choice Awards, #1 Historical Fiction Author, #3 Author, #4 Novel, #3 Series, as well as Booklist's 2010 Top 10 Inspirational Fiction and recipient of 14 RWA awards. ContactJulie and read excerpts from her books at www.julielessman.com.
NEWSFLASH FROM JULIE!!!
ST. PATRICK'S DAY SALE FOR "A LIGHT IN THE WINDOW," MARCH 15, 16 & 17 ONLY!

This is it!! Your chance to download Marcy and Patrick O'Connor's prequel love story A Light in the Window for the lowest price yet–only $ .99!!

Note from Julie: This book is near and dear to my heart, not only because I feel so personally connected to Marcy and Patrick (whose marriage is based on my own), but because my artist hubby designed the cover and my daughter was the model. So I would really like to share this beautiful story with those of you who have not read it, and this is your chance for the lowest price ever! Here are just a few review clips from Amazon:

"This is Lessman's finest work and will hold your heart captive and wanting more." — Angi G.

"Any director looking for a good movie script would have their work already done for them. I loved A Light In the Window and couldn't put it down until I finished it at 5:30 this morning."– Sunshine

"I finished A Light in the Window at 1am this morning! Wowzers! What an emotional rollercoaster!"  — BizLizy

SO … mark your calendars for MARCH 15, 16 & 17 to download A Light In the Window for ONLY 99 CENTS!!  (a love story for all seasons since it takes place June through May). Here are the links:

AMAZON

Relz Reviewz Extras
Reviews of A Light in the Window, A Love Surrendered, A Hope Revealed,  A Hope Undaunted, A Passion Most Pure, A Passion Redeemed & A Passion Denied
Character spotlights on Sean & Emma, Cluny & Katie, Lizzie & Brady
Julie's FamilyFiction Plus
Interview with Julie
Visit Julie's website
Buy A Light in the Window at Amazon or BARNES & NOBLE