Wife, homeschooling mum,
adventurer, &
dark chocolate devotee
Romantic suspense author  Alaskan Courage series
Rel:~ What did you do on/for your 13th birthday?
Dani:~What a great question. While I don't remember specifically how I celebrate my 13th, I'm sure the day was spent with friends and family, and included copious amounts of chocolate.
I know a special treat that particular summer was attending Bruce Springsteen's sold-out Born in the U.S.A concert at R.F.K. Stadium—an amazing performance!
What 3 adjectives would your friends/family use to describe your personality?
Bubbly, quirky and thoughtful.
Where did your penchant for writing romantic suspense begin?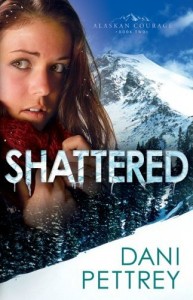 I think it all stems back to my love of mystery, which was fostered while watching Scooby Doo cartoons after school and reading Agatha Christie novels.
Describe Shattered in 5 adjectives
Romantic, adventurous, suspenseful, hopeful and thrilling.
What creepy crawly or critter do you most fear?
Spiders most definitely, especially the large hairy kind. Yuck!
Mmmmm….I'll remember that if you come to Oz ~ we have lots of lovely spiders but not too many hairy ones 😉 
If you could bring one character to life from your own books, who would it be and why?
Probably Gage McKenna because he reminds me so much of my husband.
What's guaranteed to make you laugh?
My husband. He's got a phenomenal sense of humour and has the ability to make me laugh no matter the circumstances. It's a gift.
Well, we should never put your husband and mine in the same room as you have described my guy perfectly, too!!
Please share a favourite Bible verse
"He has made everything beautiful in its time. He has also set eternity in the human heart; yet no one can fathom what God has done from beginning to end." Ecclesiastes 3:11 NIV
I love it because it explains why death is so hard for us to deal with. It is because God has set eternity into our hearts. We know He has created us for more than this life, this world.
Thanks Dani!
Relz Reviewz Extras