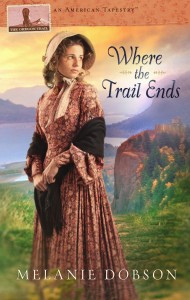 Meet a ferociously determined young woman in
Melanie Dobson's
Where the Trail Ends
Summerside Press
The Story
A young woman traveling the Oregon Trail in 1841 must rely on a stranger to bring her to safety. After losing her parents along the trail to Oregon Country, Samantha Waldron and her young brother, Daniel, must overcome tremendous challenges to reach the Willamette Valley before winter. When their canoe capsizes on the Columbia River, they rely on handsome British exporter Alexander Clarke to escort them to Fort Vancouver.
A number of men vie for Samantha's affections, but the only one who intrigues her is the one she cannot have. When Alex's betrothed arrives from Britain, Samantha becomes determined to create a home far away from the fort. But when Daniel disappears into the wilderness alone one night, Samantha must rely on the man she loves to rescue her brother before it's too late.
Introducing Samantha!
Brief physical description
My main character is a feisty eighteen-year-old woman named Samantha Waldron. She has blue eyes and long, light brown hair that's covered by a dusty yellow bonnet as she travels on the Oregon Trail.
Resembles…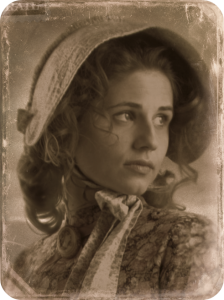 I can't think of an actress who resembles her, but I think the cover artist did an amazing job capturing how I pictured her.
Strengths and weaknesses
Samantha is very bold which can be both her strength and her weakness. She refuses to quit even when it seems impossible for her to continue, and she's not afraid to stand for what is right. Her stubbornness means that she sometimes refuses to back down when she should.
Quirk (if any)
Samantha is a lover of animals which would be considered a quirk if you lived in 1842 in the fur-trapping and trading country of Oregon.
Your inspiration for the character
I wanted a character who loved both adventure and loved her family. I've always wanted to write a story set on the Oregon Trail, and I knew I'd need a strong, stubborn character as a lead. Samantha is a little like Laura Ingalls Wilder. Her impulsiveness can get her into trouble, but she has great intentions of doing the right thing.
Background to the story
Where the Trail Ends is based on multiple accounts of men and women who were among the first pioneers on what is now known as the Oregon Trail. This story is about those who were left behind on the trail and what they did to survive.
Relz Reviewz Extras
Get to know Melanie
Character spotlight on Elena Bissette
Character spotlight on Katie and Rollin from The Silent Order
Character spotlight on Melanie's Anna Brent from Love Finds You in Liberty, Indiana
Visit Melanie's website and blog
Buy Love Finds You at Mackinac Island at Amazon or Koorong