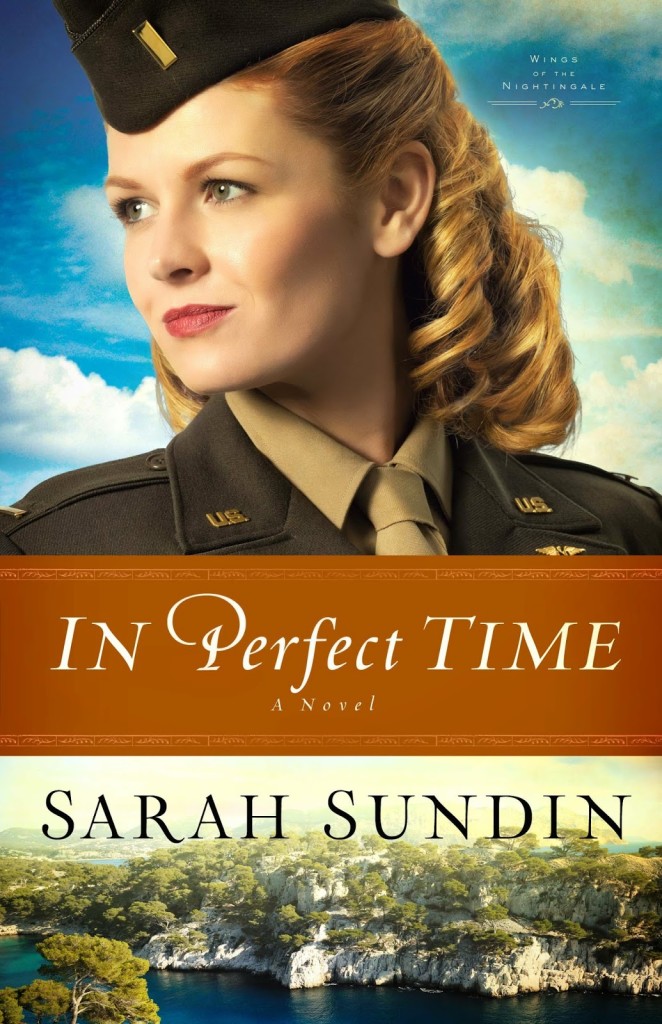 Meet a flight nurse and a would be drummer in
Sarah Sundin's
historical romance
In Perfect Time
Revell
The Story
Bold, sophisticated, and flirtatious, Army Air Force flight nurse Lt. Kay Jobson collects hearts wherever she flies, leaving men pining in airfields all across Europe. So how can ruggedly handsome C-47 pilot Lt. Roger Cooper be all but immune to her considerable charms? In fact, he seems to do everything he can to avoid her. Still, as they cross the skies between Italy and southern France, evacuating the wounded and delivering paratroopers and supplies, every beat of their hearts draws them closer to where they don't want to go. Can they confront the fears and misunderstandings in their pasts?
Introducing Kay & Roger
Brief physical description
Lt. Kay Jobson: beautiful green-eyed strawberry blonde.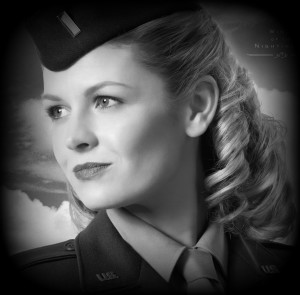 Lt. Roger Cooper: auburn hair, brown eyes, tall with a stocky build.
Resembles…
Kay looks exactly like the cover model. No, really, she does! This is exactly how I've seen her in my mind from the beginning. This is very rare for me.
Roger looks kind of like the man in this WWII poster, but with redder hair—the same kind of rumpled, casual good looks.
Strengths and weaknesses
Kay is confident, a competent nurse, and she doesn't take any nonsense from anyone. She's a good friend and loves to have fun. However, her bold façade masks deep hurt. She feels a need to date lots of men at once, never allowing any of them to get close. She needs to stay in control. But life is about to show her she was never in control in the first place.
Roger is bright and energetic and attracts children wherever he goes. His faith is strong, and he lives it. When he was younger, he was the lazy, goof-off kid who was told he'd never amount to anything. As a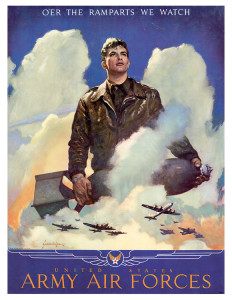 man, he's chronically late, cuts corners, and loves to pull practical jokes and trade barbs with his rival. The circumstances of the war and his friendship with Kay prod him to become more.
Quirk (if any)
Kay can't sing. Completely tone deaf. Deep inside she longs for a house—a home, but she'd never admit it. She also carries her old doll hidden in her barracks bag.
Roger longs to be a big band drummer, and he carries his drumsticks with him wherever he goes. He raps out rhythms on inanimate objects—and the heads of unsuspecting friends.
Your inspiration for the character
I had the inspiration for Kay many years ago when a family from our church sang a cappella—from the littlest on up, they all had gorgeous voices. I said to my husband, "What would it be like to be born into that family and not be able to sing?" Knowing this family, they'd love any child, but what if the family wasn't so loving? What if they saw the "defect" as a judgment from God? Then Kay's story began to form.
Roger's character comes from multiple sources. He was originally meant to be the "spiritual" counterpoint to Kay's hard, wounded heart—and then I found his own wounds, and he became real. His drumming ways come from a high school friend who used to sit in the back of our station wagon (no seatbelts, and yes, that dates me) and rap on our heads. Also, our youngest son is a high-energy, must-touch-everything person, so a lot of Roger's gestures and actions are copied from him.
Background to the story
When I was researching the WWII flight nurses, I read about a particularly exciting incident involving a squadron of flight nurses behind enemy lines. I had to adapt it for story reasons (and make it a bit less exciting to make it believable!), but I knew that would be the key event in the third Nightingale novel and would serve as the pressure cooker to bring Kay and Roger closer together. I also wanted to conclude the story of the Allied effort in the Mediterranean—the drive through Rome and the highly successful invasion of southern France. Not to mention those made rather picturesque settings!
Thanks so much, Sarah

Relz Reviewz Extras Visit Sarah's In Perfect Time Pinterest board Review of On Distant Shores
Character spotlight on Georgie & Hutch
Review of With Every Letter
Character spotlight on Tom & Mellie
Review of Blue Skies Tomorrow
Character spotlight on Ray & Helen
RBC Book Club interview with Sarah ~ Part 1 & Part 2
Character spotlight on Jack & Ruth
Review of A Distant Melody
Character spotlight on Allie & Walt
Visit Sarah's website and blog
Buy from Amazon: In Perfect Time: A Novel (Wings of the Nightingale) or Koorong