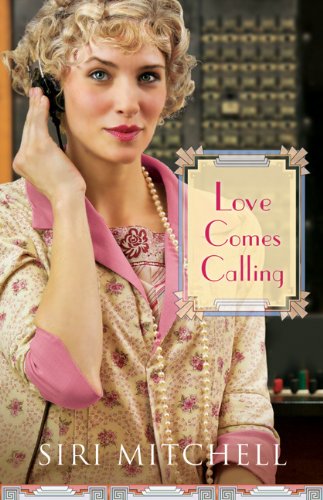 Meet an unusual heroine in
Siri Mitchell's
historical romance
Love Comes Calling
Bethany House
~~~~~~~~~
The Story
A girl with the best of intentions.
A heart set on Hollywood.
An empty pocketbook.
That's all it takes for Ellis Eton to find herself working as a telephone operator for a look-alike friend. For Ellis, this job will provide not only acting practice but the funds to get her a start in the movies. She's tired of always being a disappointment to her traditional Boston family, and though she can't deny the way he makes her head spin, she knows she's not good enough for Griffin Phillips, either. It's simple: avoid Griff's attentions, work, and get paid. But in typical Ellis fashion, her simple plan spirals out of control when she overhears a menacing phone call…with her very own Griff as the target.
Introducing Ellis Eton
Brief physical description
Ellis Eton is a female 'Dennis the Menace'. Blonde, blue-eyed, short, and curvier than she'd like to be in the flapper era, the only thing she's good at is being someone else. She's determined to run away from her wealthy Boston family to Hollywood where she can finally make a success of herself. She's in love with her childhood friend Griff, but she recognizes that she can only be bad for him so she's trying to keep him from stating his intentions.
Resembles…
…this picture I tore out of a magazine. It has a 'madcap' feel that's appropriate to the story. I keep a file of magazine and catalogue tear-outs (for both men and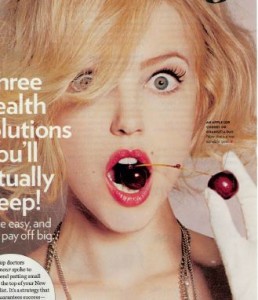 women) and when it's time to start a new novel, I go through them to pull images for a character/mood collage.
Strengths and weaknesses
Though no one seems to value her creativity, it allows her to come up with some unique solutions to her problems…and also causes lots of trouble.
She's very loyal and willing to do just about anything for her friends.
Her desire to please leads her astray when she decides the best thing she can do to save her friends and family from their disappointment in her is to run away.
She isn't like 'everyone else.' She interprets this as a weakness because even though she tries her best to concentrate and follow through with her plans, she just can't due to her ADHD.
She discounts her own abilities because she's heard everyone else do it so often.
Quirk (if any)
She's in almost constant motion – both mentally and physically. It was fun to write a book with a main character who was so frenetic.
Her favourite exclamation of exasperation is 'Oysters and clambakes!' (Don't ask me where I thought that one up. It just sort of appeared in the same way that Ellis did.)
Your inspiration for the character
In an odd way, the biblical David was part of my inspiration. The exchange he has with his brother on the battlefield (before the fight with Goliath) is so telling. In I Samuel 17:28-29 David ends it by saying, "Now what have I done?…Can't I even speak?" (NIV). Ellis embodies that idea of someone everyone thinks will just get in the way or cause trouble. Someone who is automatically discounted because she can never do anything right.
Background to the story
I was reading Encyclopedia of the Exquisite: An Anecdotal History of Elegant Delights and I came across a mention of 'Hello Girls'. The term was popularized during World War I when it was used for bilingual telephone operators. In those days, telephone calls had to be put through by ringing an operator so that she could do it for you.  I started to imagine the possibilities of a story where the heroine, a Hello Girl, is known to the characters in the story only by her voice. As my editor and I played around with the idea, the concept changed (it always does!) and the result was to have the villains of the story known to the telephone operator only by their voices. Having a Hello Girl as a main character locked my novel's setting into the 1920s. By the end of the decade, automatic dialers had begun to replace the telephone operator at the switchboards.
Thanks Siri!
Relz Reviewz Extras
Siri's Pop Quiz
Character spotlight on Charlie & Lucy
FamilyFiction Plus with Siri
Exclusive Book Club Interview with Siri
Review of The Messenger, A Heart Most Worthy, A Constant Heart and She Walks in Beauty
Character spotlight on She Walks in Beauty's Clara Carter, Love's Pursuit's characters and A Constant Heart's Marget & Lytham
Visit Siri's website
Buy Love Comes Calling at Amazon or Koorong