Here's the lineup from Revell Books for late 2014 and I hate to say it but I'm quite disappointed with the majority of these covers. This is all about personal preference and most of these don't ring my bell but I'm sure other readers will adore them. So, for me, the ones that do catch my eye are Jane's, Bonnie's, and Laura's.
While I'm looking forward to reading Patricia's, Lynette's, and Irene's their covers while they aren't terrible, they are a bit more of the same. I think the plain block font, and the stark white, just seem harsh to me and not appealing to the eye. I love the colours on both Irene's and Patricia's but the entire look, not so much.
I love that Laura and Julie's continue the themes of the previous covers in their respective series but the hat on Julie's model just overwhelms the cover. Here outfit is stunning but my eye is constantly drawn to the hat which doesn't appeal. I've commented before on Dan Walsh and Gary Smalley's covers in this series, and unfortunately this one is in the same vein. Despite being squarely in the demographic for this series, the cover on it's own (taking the authors' names off it) would deter me from picking it up.
Sorry to be a grumbly guts today – I have such high expectations for Revell's covers and they rarely disappoint. Sigh…but, covers aside, I'm excited about reading most of these stories. Oh, and I'm fascinated to see that Amanda Cabot is diving into a contemporary romance as her books in the past have been historicals.
So, I'd love to hear from those who are captured by these covers – tell me what you love about them…pretty please!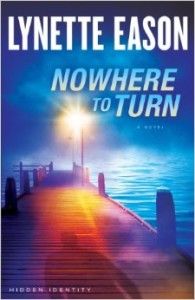 Nowhere to Turn by Lynette Eason
The day Danielle Harding takes her 11-year-old son, Simon, and flees from her abusive husband, is the same day Kurt Harding dies. A relieved Dani believes she and her son are finally safe–but in reality, the danger has just begun. When Kurt was alive, he took something important to a mysterious person. That person wants the item back and believes Dani now has it. As she and her son run for their lives, they have nowhere to turn, until she hires Adam Buchanan of Operation Refuge and goes into hiding. Unfortunately, she won't be able to hide for long . . .
September, 2014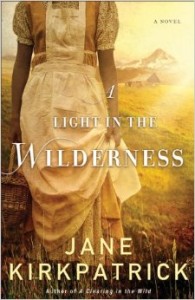 A Light in the Wilderness by Jane Kirkpatrick
Letitia holds nothing more dear than the papers that prove she is no longer a slave. They may not cause white folks to treat her like a human being, but at least they show she is free. She trusts in those words she cannot read–as she is beginning to trust in Davey Carson, an Irish immigrant cattleman who wants her to come west with him.
Nancy Hawkins is loathe to leave her settled life for the treacherous journey by wagon train, but she is so deeply in love with her husband that she knows she will follow him anywhere–even when the trek exacts a terrible cost.
Betsy is a Kalapuya Indian, the last remnant of a once proud tribe in the Willamette Valley in Oregon territory. She spends her time trying to impart the wisdom and ways of her people to her grandson. But she will soon have another person to care for.
As season turns to season, suspicion turns to friendship, and fear turns to courage, three spirited women will discover what it means to be truly free in a land that makes promises it cannot fulfill.
September, 2014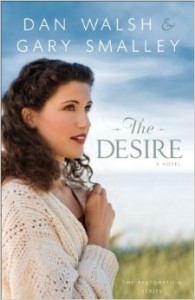 The Desire by Dan Walsh & Gary Smalley
For two years, Allen and Michele have been trying to have a baby. For Michele, it has become an obsession. But Allen seems content to spend his time–and their money–saving orphans in Africa.
As Michele researches their options for fertility treatments, she begins to resent Allen's divided attention. And yet, God has a plan for Allen and Michele that they could never have imagined. All it takes to set it in motion is a change of heart . . .
September, 2014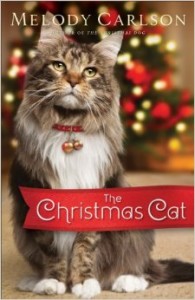 The Christmas Cat by Melody Carlson
After years abroad, Garrison Brown returns home to Vancouver to build a new life. When his beloved grandmother passes away a few weeks before Christmas, Garrison goes to her house to sort out her belongings, including six cats who need new homes. While Garrison hopes to dispense with the task quickly, his grandmother's instructions don't allow for speed. She has left Garrison with some challenging requirements for the future homes of her furry friends–plus a sizeable monetary gift for the new owners. Garrison's job is to match the cats with the right owners without disclosing the surprise gift. Along the way, he may just meet someone who can make him stay.
September, 2014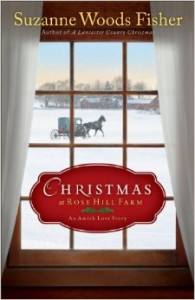 Christmas at Rose Hill Farm: An Amish Love Story by Suzanne Woods Fisher
Bess Riehl is preparing Rose Hill Farm for her Christmas wedding, but her groom isn't who she thought it would be. Billy Lapp is far away from his Amish roots working as a rose rustler for Penn State and wants nothing to do with Stoney Ridge, his family, or Bess. And that suits Bess just fine. Why should she think twice about a man who left without a word, without any explanation? It's time she moved on with her life, and that meant saying yes to Amos Lapp, Billy's cousin and best friend. But as Bess and Amos's wedding day draws near, her emotions tangle into a tight knot. She loves Amos. Yet she can't forget Billy.
When a "lost" rose is discovered at Rose Hill Farm, Billy is sent to track down its origins. Get in, identify the rose, and get out. That's his plan. The only catch is that he's having a hard time narrowing down the identity of the lost rose, and he can't get those tropical blue eyes of Bess Riehl out of his mind.
September, 2014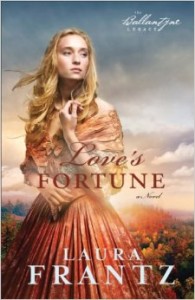 Love's Fortune by Laura Frantz
Sheltered since birth at her Kentucky home, Rowena Ballantyne has heard only whispered rumors of her grandfather Silas's vast fortune and grand manor in Pennsylvania. When her father receives a rare letter summoning him to New Hope, Rowena makes the journey with him and quickly finds herself in a whole new world–filled with family members she's never met, dances she's never learned, and a new side to the father she thought she knew. As she struggles to fit in during their extended stay, she finds a friend in James Sackett, the most valued steamship pilot of the Ballantynes' shipping line. Even with his help, Rowena feels she may never be comfortable in high society.
Will she go her own way . . . to her peril?
September, 2014
In post-apocalyptic America, Selah Chavez is crouched in long grass on a shore littered with the rusted metal remnants of a once-great city. It is the day before her eighteenth Born Remembrance, and she is hunting, though many people refuse to eat animal flesh, tainted by radiation during the Time of Sorrows. What Selah's really after are Landers, mysterious people from a land across the big water who survive the delirium-inducing passage in small boats that occasionally crash against the shoreline. She knows she should leave the capture to the men, but Landers bring a good price from the Company and are especially prized if they keep the markings they arrive with.
Everything falls to pieces when the Lander Selah catches is stolen by her brothers–and Selah wakes up the next morning to find the Lander's distinctive mark has suddenly appeared on her own flesh. Once the hunter, Selah is now one of the hunted, and she knows only one person who can help her–Bohdi Locke, the Lander her brothers hope to sell.
October, 2014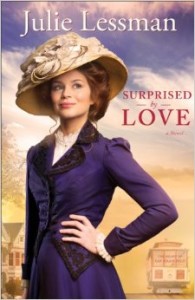 Surprised by Love by Julie Lessman
Shy and unattractive as a child, Megan McClare has always been teased by her classmates. But when she returns home from her senior year in Paris, the wallflower has suddenly blossomed into a beauty.
With ambitions to become a lawyer or doctor, Megan accepts an internship at the district attorney's office only to discover that she will be working with Devin Caldwell, a boy who mercilessly mocked her at school–and with whom she was hopelessly enamored. She turns to her dear friend Bram Hughes for support and advice. But Bram's vision is clouded by his sudden unwelcome attraction to a girl he had always thought of as a kid sister. He advises forgiveness, but can he forgive himself for pushing the woman he loves into the arms of another man?
October, 2014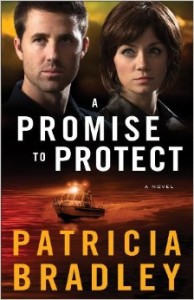 A Promise to Protect by Patricia Bradley
Acting Sheriff Ben Logan hasn't heard from Leigh Somerall in a very long time, but it doesn't mean he can get her–or their whirlwind romance of ten years ago–out of his head. When she calls out of the blue, it is with a strange request to protect her brother, Tony. When Tony dies just days later, Ben is charged with a different task–protecting Leigh and her nine-year-old son, TJ, from the killers.
But how can Ben keep an eye on Leigh if she's doing everything in her power to avoid him? And could the secret that Leigh is keeping change Ben's life forever?
October, 2014
For four years, Kate Marshall has been grieving the loss of her husband and their three-year-old son in a boating accident. But when she spots a familiar-looking child on an escalator in the mall, she is convinced it is the son she thought was dead. With police skeptical of her story, she turns to private investigator Connor Sullivan. The former Secret Service agent is dubious but agrees to investigate. Digging into the case he discovers that the incident may have been no accident at all.
But if Kate's son is alive, someone is intent on keeping him hidden–and may be willing to go to lethal lengths to protect a sinister secret.
October, 2014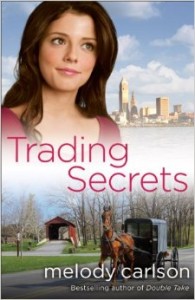 Trading Secrets by Melody Carlson
Back in fifth grade, Micah Knight got an Amish pen pal, and over the years, they've exchanged many letters–and many secrets. At age seventeen, Micah finally has the chance to meet her pen pal face-to-face. The only problem is that because of confusion about her name when the pen pals were assigned, her pen pal was a boy, Zack Miller. And all this time, Micah's never told Zack that she's actually a girl!
While she wants nothing more than to experience life on Zack's Amish farm, she's afraid he'll hate her for deceiving him all these years. But she makes up her mind to face the music–and that's where the fun really begins.
October, 2014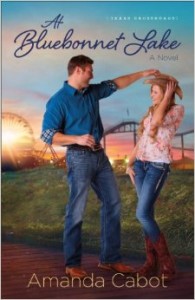 At Bluebonnet Lake by Amanda Cabot
Marketing maven Kate Sherwood's world is fast-paced, challenging, and always changing. The last thing she wants to do is slow down to a crawl at Rainbow's End, a dilapidated resort in the Texas Hill Country. But she cannot deny her ailing grandmother's request to visit the place where she and her deceased husband spent one glorious week (albeit fifty years ago). There Kate meets Greg Vange, the resort's handyman. But there's more to Greg than meets the eye–billions more, in fact, as he recently sold his successful software company and is at the resort in search of what's next for his life.
Kate isn't looking for romance, but she can't deny the sparks of attraction that fly every time she and Greg are together. She even starts to see potential in the rundown resort. Could there be a future there? Or will Kate's long-sought promotion take her back to the big city?
October, 2014